I had the toys when I was growing up, but oddly I don't have any specific memory of the Transformers TV show, the same goes for the animated film that so many fans hold close to their hearts. That being the case, when I saw Michael Bay's first live action entry in the film series that Bumblebee forms a prequel to, I wasn't angry, just bored. I got angry come the second and third films, not only because they were so staggeringly awful but also because at that point I didn't need much knowledge of or affection for the characters to see how Bay was desecrating them. Because, even as a film critic, I have my limits when it comes to being a glutton for punishment, I never saw either the fourth or fifth entries in the main series and i wasn't planning to see this one, but then the reviews came in. They, along with the fact that I kept hearing praise for Bumblebee as a coming of age movie, got me to sit down for it.
Autobots, losing the civil war, are fleeing Cybertron. Optimus Prime sends B127 to Earth, the other Autobots and Prime himself will join him when he signals. On landing, B127 crashes into a military exercise and finds he has been pursued by a Decepticon. The Decepticon is destroyed, but not before taking B127's voice synthesiser. A few months later Charlie (Hailee Steinfeld), about a year on from losing her Father and on the cusp of turning 18, finds a beat up yellow VW Beetle in a junkyard, she's given it for her birthday and is astonished to find her first car is a Transformer she soon names Bumblebee.
Of the many things that hobbled Michael Bay's Transformers films, two always stood out to me: the incredibly thin characterisation and performances of the film's human leads and the almost unwatchably awful action. I get the feeling that those things bothered director Travis Knight and screenwriter Christina Hodson too. The character beats here are not exactly the stuff of divine inspiration: Charlie is struggling to get over the death of her father, is reluctant to dive, which she used to do to a high competitive standard, because it reminds her of him and wants a car so she can be independent. If you know that all of these elements will figure in how she copes in the film's climax, congratulations, you've seen a movie. The thing is, though we've seen these elements before, Hodson, Knight and Hailee Steinfeld make them work.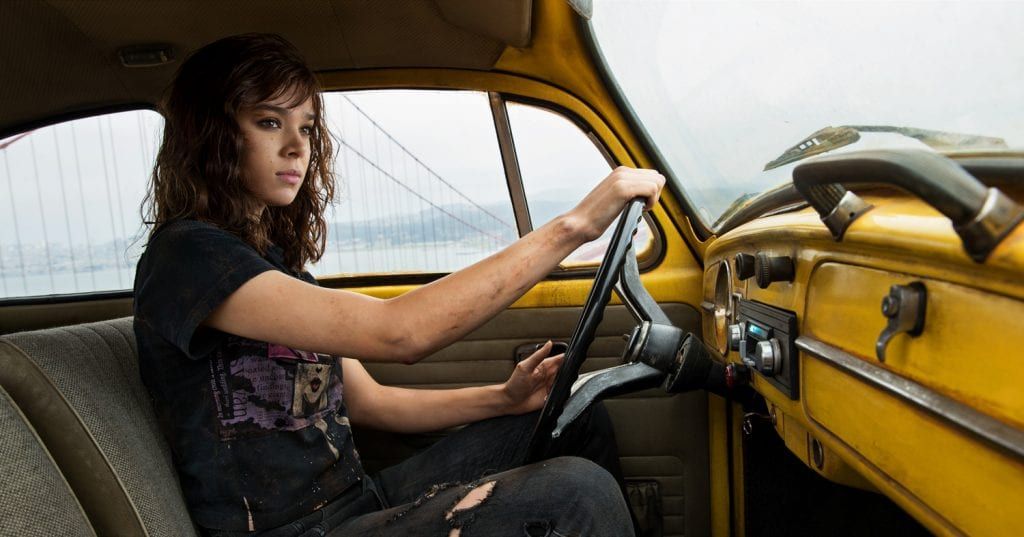 Steinfeld plays Charlie as a girl marking time. Each day she says good morning to her Dad's picture, puts The Smiths on her walkman, rolls her eyes at her mom, stepdad and brother and heads off to work at Hotdog on a Stick. She's waiting to get away, for a drive and then, in ten months time, to college The essential story of Bumblebee is that of how anyone who feels stuck in a rut can be given a greater degree of freedom by a car. Of course, the connection Charlie feels with Bee is heightened by the fact that he's sentient, but it's there the moment she sees it and is something carried over from her connection to the car she'd previously been trying to fix. Another aspect of the film's coming of age story involves Memo (Jorge Lendeborg Jr.), a boy with a crush who lives opposite Charlie. It's sweetly written, and I liked how both the progress and the resolution of this story left Charlie firmly in control, something we also see in the film's action, she's always the (human) character with agency. For as much as I often criticise actors, it's not easy to be good in effects-driven films, and Steinfeld is excellent here. With little or nothing to play against, she gives Charlie's connection with Bee real heart, allowing us, for the first time in the franchise, to feel that the robot has presence in the scene. The film builds their relationship quickly but methodically, finding enough breathing room in the 114 minute running time for moments like a charming scene by the beach in which Charlie explains to Bee why he has to hide from other humans, or the moment she tells him about her Dad. Steinfeld is great in these scenes, clearly emotionally invested in a way I never felt from Shia La Beouf in the earlier films.
These storytelling strengths aren't reflected quite so much in the film's military plot, in which John Cena's Agent Burns is sceptical when his bosses make the mistake of helping the Decepticons look for B127. Cena has great screen presence, but the fact that his character was rewritten is pretty plain to see and neither he nor the military story are particularly interesting except as a setup for the eventual action scenes. The action, along with the general design of the Transformers, is something else Travis Knight has made effective changes to compared to the other films in the series. Michael Bay's action scenes often felt geographically nonsensical and pitted, more often than not, two piles of overly busy grey pixels against each other. Knight seems, in many ways, to have taken his predecessor's action design as a manual for what not to do. Even in the opening scene on Cybertron, which throws us into a large scale battle, Knight generally keeps his focus on smaller battles within a war. The streamlined design of the Transformers, much closer to their looks from the classic cartoons, makes them much brighter and more readily identifiable presences and allows us to follow the fights more easily. On top of this, many of the film's action scenes are more confined, and Knight uses that space very effectively, allowing the fights to flow much better than Bay's ever did.
In an outstanding year of cinema, I won't pretend that Bumblebee is any kind of masterpiece, but it was a genuine and extremely welcome surprise. It takes a franchise that was previously bloated and painfully boring and injects heart, wit and perhaps most importantly fun. It's not just the best Transformers film, it's – largely – the film they were always aspiring to be.