A World War One centenary sculpture by internationally renowned artist Christine Borland has been unveiled.
Christine Borland, 53, spent a year carrying out research and visiting Flanders in Belgium before creating her World War I inspired sculpture – titled I Say Nothing.
The Turner-Prize nominated Scottish artist, from Darvel, East Ayrshire, received support from 14-18NOW, the UK's arts programme for the First World War centenary, and Art Fund to spend two years working with Glasgow Museums WW1 collections.
The large-scale sculpture was unveiled today (thur) and will take pride of place on the south balcony at Kelvingrove Art Gallery and Museum in Glasgow.
As part of her research, Borland travelled to Flanders in Belgium with a non-accessioned white ceramic invalid feeder cup, which is the focus of the artwork, and had it exploded in a controlled detonation.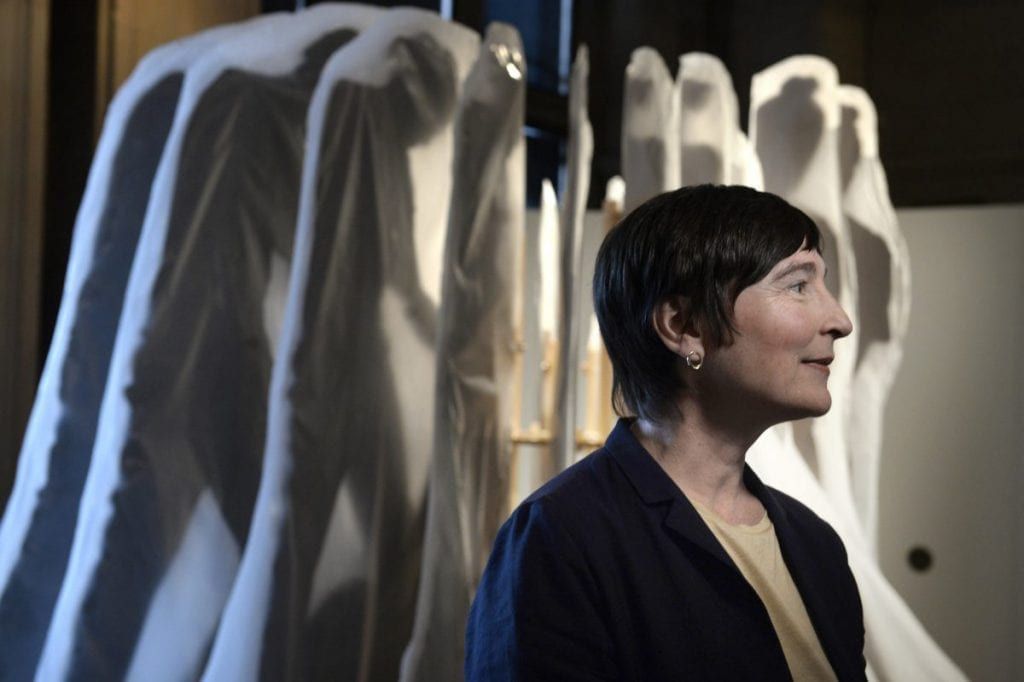 She said: "I was invited to do a project to mark the centenary of WWI, and this particular one was under resourced and under researched.
"I wanted to shine a light on collections from WWI."
Over the period of a year, Borland became an "artist in residence" at Glasgow Museums Resource Centre in the city's Nitshill, where she worked with curators and researchers.
Working through 2,000 objects from WWI, Borland narrowed her focus research collection down to 12 items.
Borland said: "One of the boxes with nothing inside had 'I say nothing' written on it.
"I wanted things that spoke more about their absence than their presence.
"I found feeder cups which were used to help feed injured soldiers.
"Then I found out two hunger-striking sisters that studied at Glasgow University were force fed using the same type of cups after they were arrested while attending a suffragette protest in London."
Having been inspired by the contrast in uses for the seemingly unassuming ceramic cups, Borland was further influenced after several visits to Flanders.
She said: "After all the articles and documents I had read about Flanders, it wasn't until I visited there that I understood the devastation that took place there.
"One thing that struck me was the marks left in the landscape, like the tranches and the mine craters which are still visible.
After negotiating with Glasgow Museums and purchasing a replacement WWI feeder cup, Borland swapped it with a non-accessioned cup from the resource centre's collection.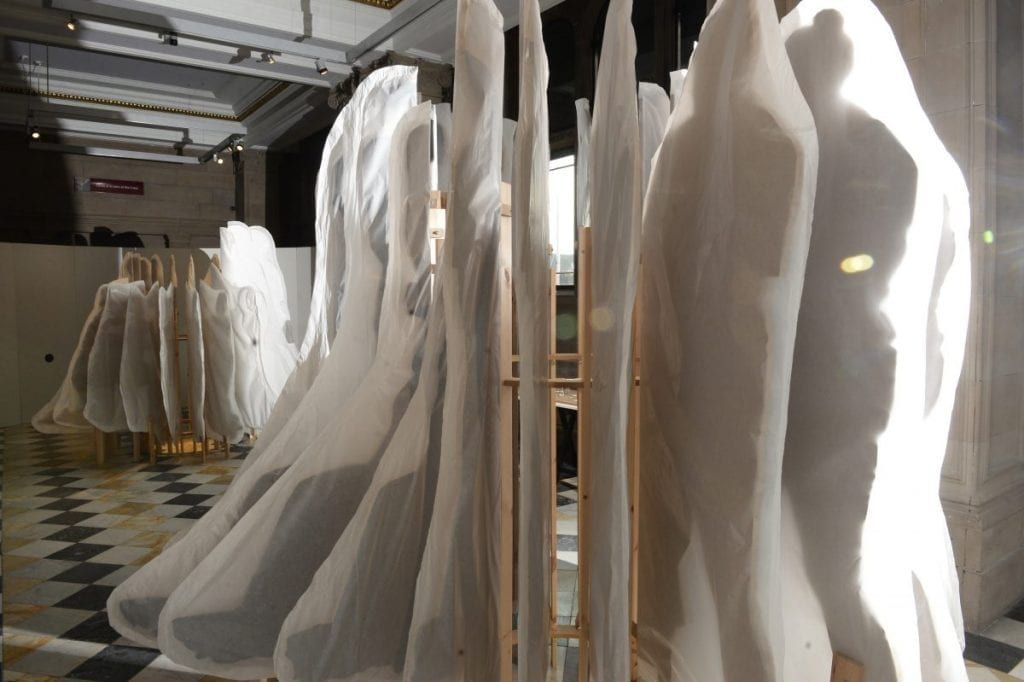 Having kept in contact with the bomb disposal squad in Flanders, she returned to Flanders in May this year to have her feeder cup blown up in a controlled explosion.
Borland said: "It felt like the right amount of time to research and create something like this.
"The piece has been up and installed for six to eight weeks but it's been hidden behind a sheet.
"To come all the way through with the incredible support I've received, it feels amazing.
"And to see people now physically interacting with it is great."
Chair of Glasgow Life, Councillor David McDonald, said: "I Say Nothing is a bold, thought-provoking contemporary artwork for Glasgow.
"It is a striking, powerful addition to the city's art collection.
"The contradiction presented by the sculpture is certain to re-ignite interest in our World War I collection and stimulate debate and reflection on the nature and history of conflicts old and new."
I Say Nothing is on display on the south balcony at Kelvingrove Art Gallery and Museum from October 12 and is free to view.