This hilarious photo shows Libertines star Pete Doherty demolishing a monster breakfast challenge at a greasy spoon cafe – in less than 20 minutes.
The rock star, 39, is seen grinning after getting the 'mega breakfast' for free – because he ate it so quickly.
Pete took only 19-and-a-half minutes to devour four eggs, four slices of bacon, four sausages, as well as a burger.
He also ate all the hash browns, onion rings, bubble and squeak, chips and two slices of bread as well as a huge portion of baked beans.
As well as a cuppa, Pete washed it all down with a strawberry flavoured Yazoo milkshake.
Pete munched the lip-smacking brekkie in under 20 minutes which means he didn't have to pay for it at Dalby Cafe in Margate, Kent.
The mega breakfast costs £17.50 which is paid up front, but if the challenge is completed in less than 20 minutes the money is returned.
Pete was also warned he could not feed his husky dog any of the food.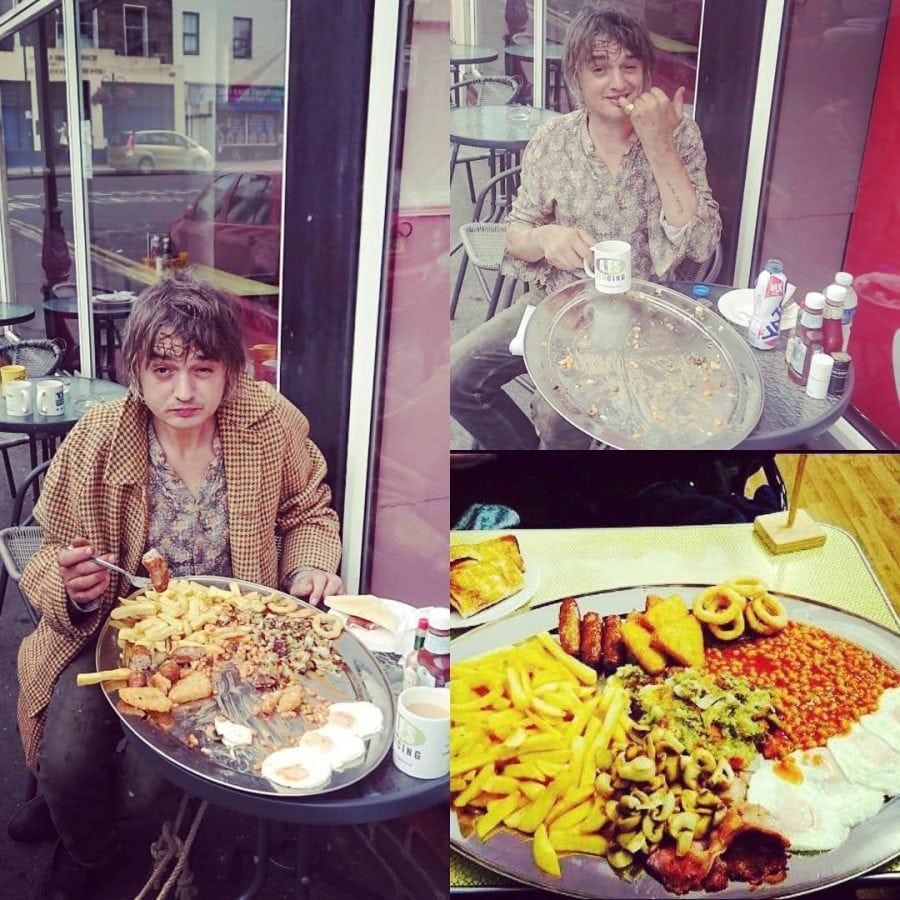 The last person who managed to finish the meal was in 2013.
He apparently said: "Don't worry, I paid £4,500 for this dog and I'm not feeding it any fried food."
The task was so enormous that Pete had to take off his stylish checked overcoat, and smiled for the camera looking cross-eyed for the 'after' pic – wearing shirtsleeves and a signet ring on his little finger.
The Libertines have become the sponsors of Margate FC, and are opening a B'n'B in the seaside town, The Albion Rooms, named after the flat where they used to practice.
Cafe owner Mark Ezekiel, 38, said: "It's the first time he's come into the cafe, Alan, the manager, served him.
"Pete's been known in Margate as the band have moved down here and they're doing a lot for the area.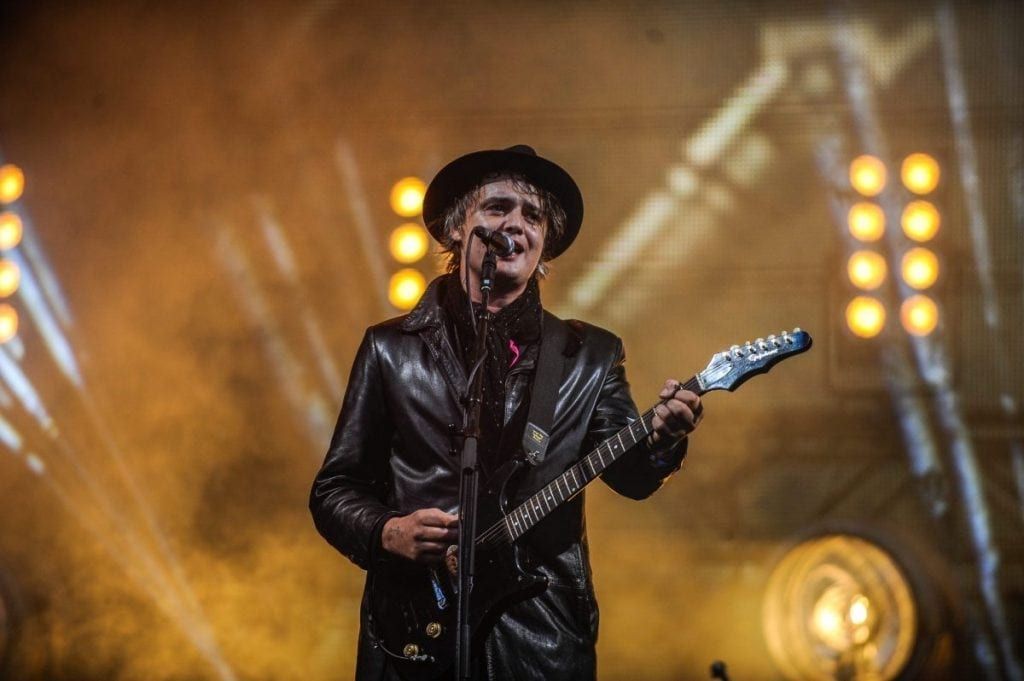 "He's been known to stop and chat with people but he hadn't been into the cafe before.
"He came in with his dog, it's like a husky. He wanted to do the mega breakfast challenge.
"We said to him 'you can't give any food to your dog', and he said he'd paid £4,500 for the dog so he wasn't going to feed it any fried food.
"He started to eat it quite quickly, he wolfed it all down.
"He got it for free – it costs £17.50 up front and you have to do it in under 20 minutes to get your money back."
The cafe opened in 1946, and the breakfast challenged launched in 2003 – around the time that the Libertines became a household name.
Mark added: "He's a bit of a legend, a bit of a lad.
"He didn't have quite enough money for a milkshake so we said 'if you've got it down in 20 minutes you will get it for free'."
Noting that Pete removed his coat part way through the meal, Mark added: "He probably started sweating out.
"A lot of people come in and start eating it but there is so much there they can't finish it."
There was previously a chart of people who had conquered the mega breakfast on display in the cafe, but it was recently wiped clean by a member of staff.