A shopper bought a £40 painting at a car boot sale – and discovered it was a £30,000 original by Dame Joan Collins' son stolen from a multimillionaire.
Lee Broadway, 42, unintentionally found himself at the centre of the international art theft when he innocently bought a rolled up canvas from a Bank Holiday car boot.
It was only when he pulled the painting depicting the devil playing cards out of the cardboard tube at home he realised the true value.
After Googling the scribbled notes on the back he realised the striking work was by Dame Joan's son, Alexander 'Sacha' Newley, 52.
It was reported stolen when the acclaimed artist shipped it from his New York apartment to the Sussex home of multimillionare buyer Ivan Massow last year.
Panicked Lee phoned police who had to take his fingerprints and DNA to rule him out as a suspect – and then contacted artist Mr Newley to tell him about the find.
Officers returned the painting to the millionaire owner.
Lee admitted he doesn't even like car boot sales which are "full of other people's waste" and had originally planned give the painting to a pal to pin up in his SHED.
The landscape gardener even haggled £20 off the price tag from the seller at the Sussex car boot sale last month.
Father-of-two Lee, from the Isle of Sheppey, said: "I hate car boot fairs.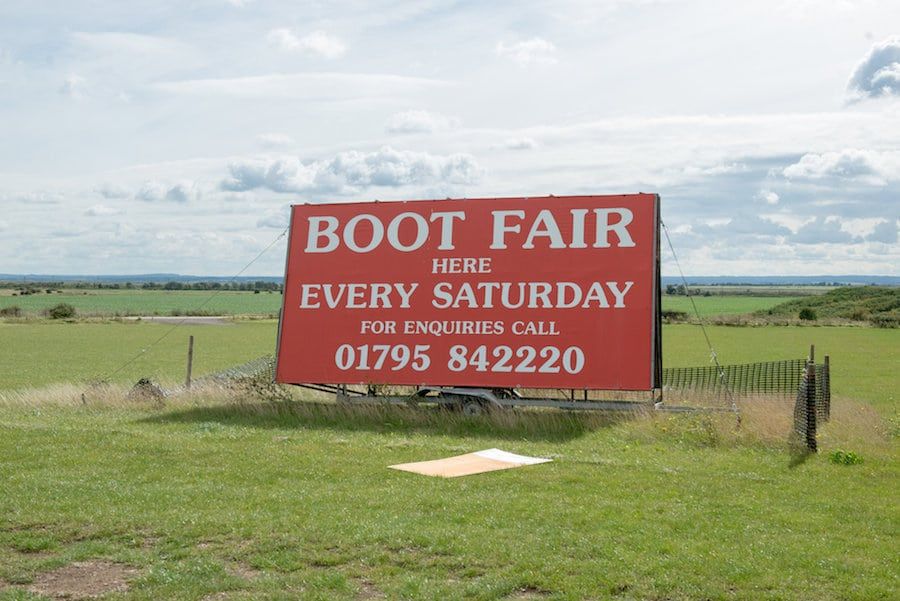 "They're just full of other people's waste but I thought it would kill a bit of time so I had a walk around.
"I saw this tube with an A4 image of what was inside stuck on the outside.
"I asked to see what was inside but the seller said I couldn't.
"Sticking out the top was a bit of paper so I took a chance because I could tell the paper wasn't very good quality, so I offered him £40 for it.
"It was late in the day and I reckon they just wanted rid of it.
"When I found out the true value I was in a state of shock really.
"I sat and thought about it a bit and read more about these paintings and the chap who had the paintings stolen.
"I messaged Sacha Newley to tell him that I had the painting, and thought if he doesn't contact me back by the next morning then I would contact the police.
"I checked the next morning and he hadn't replied so I contacted the police about mid day.
"I was made to feel like a criminal, the police took my DNA. It was as if I had stolen it.
"If I knew the trouble it would have caused me, I would have took it into the garden and burned it.
"What else could I have done with a stolen painting? You can't even hang it on the wall."
The painting was shipped from Newley's New York pad to Massow in Sussex in summer 2016, and reported missing in November 2016,
The crates weren't opened until later – because he had the builders in – leaving the collector unable to work out whether they were stolen in transit or from his house.
Massow even joked in the press the theft would make his remaining artworks by Newley more collectable and therefore valuable.
He reportedly said: "I told Sacha it was a compliment to have his work stolen and it's a validation of my taste in art."
The paintings were apparently never seen again until Lee, who was visiting a friend near Cowstead Corner, decided to pop into a car boot sale to kill some time, on August 26.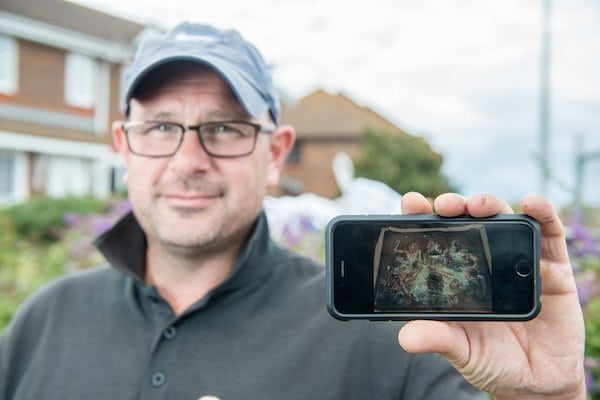 He spotted the cardboard tube with a photo of the painting – seven people playing cards – stuck to the outside.
"I thought it would be a good novelty thing for my friend's man den," said Lee, who admits he knows 'nothing' about books.
"I thought it would be quite novel."
Divorced Lee rolled out the 3ft wide 4ft tall painting and was shocked by the elegance of the piece, and added: "It wasn't bad, to be fair.
He flipped it over and on the back of the canvas were four lines of text, which read: "The Cardplayers (Seven Deadly Sins). N.Y.C 2002, Sacha Newley".
But Lee still had no clue who that was, so he quickly googled the name.
That's when he discovered the painting's shocking past and decided to do the right thing and return the painting to the rightful owner.
The police came round to collect the painting, and at the same time collected DNA and fingerprint information from Lee – which they explained was just a formality.
The next day Lee heard back from the artist and the painting eventually got back to Massow.
The owner was so grateful to have his painting back that he wanted to personally thank Lee.
"He phoned me later and thanked me for finding it and for what I did."
Mr Massow has offered to pay £100 to a charity of Mr Broadway's choice as a thank you.
A spokesperson for Sussex Police said: "We were informed about a piece of artwork that was reportedly sold at a boot fair in Minster on the Isle of Sheppey on 26 August.
"Following enquiries, officers established the item had been stolen from a property in Sussex. It has since been returned to its owner.
"Any enquiries regarding the theft should be directed to Sussex Police."
https://www.thelondoneconomic.com/entertainment/francis-bacon-painting-sell-record-60-million/15/09/
https://www.thelondoneconomic.com/entertainment/oral-painting-incredible-works-paralysed-man-painted-using-just-mouth/26/07/