These breathtaking aerial pictures show the sun setting behind a lake reflecting a line of colourful rowing boats in the stillness of the water.
The tranquil moment was captured at the Cotswold Water Park – a collection of more than 150 lakes stretching over 40 square miles and straddling the countryside of Wiltshire, Gloucestershire and Oxfordshire.
In one photograph, the boats' brightly coloured hulls – painted red, yellow, orange and green – forms a chain across the glassy water with the dusky sky behind.
Another shot taken directly over the vessels makes them look like tiny toys floating on the surface.
Amateur photographer Russell Discombe was driving back from work one day when he saw the boats lined up on the lakes.
The 29-year-old said: "It caught my eye just driving back on the dual carriageway. I thought it would make a beautiful shot."
A few days later on April 14, he went back at around 8pm as there was a particularly beautiful sunset.
The performance psychologist, from Cirencester, Gloucs., said: "It was a gorgeous night. I got to the lake a bit before sunset but the light was not quite right so I waited.
"Once the drone was in the air it only took about 10 minutes or so. I took quite a few photos but these were my favourites.
"The light was going across the lake and it looked perfect with the sky in the background."
Russell captured the placid scene using a DJI Mavic Pro drone, taking five shots at different exposures and later blending them together to make one image.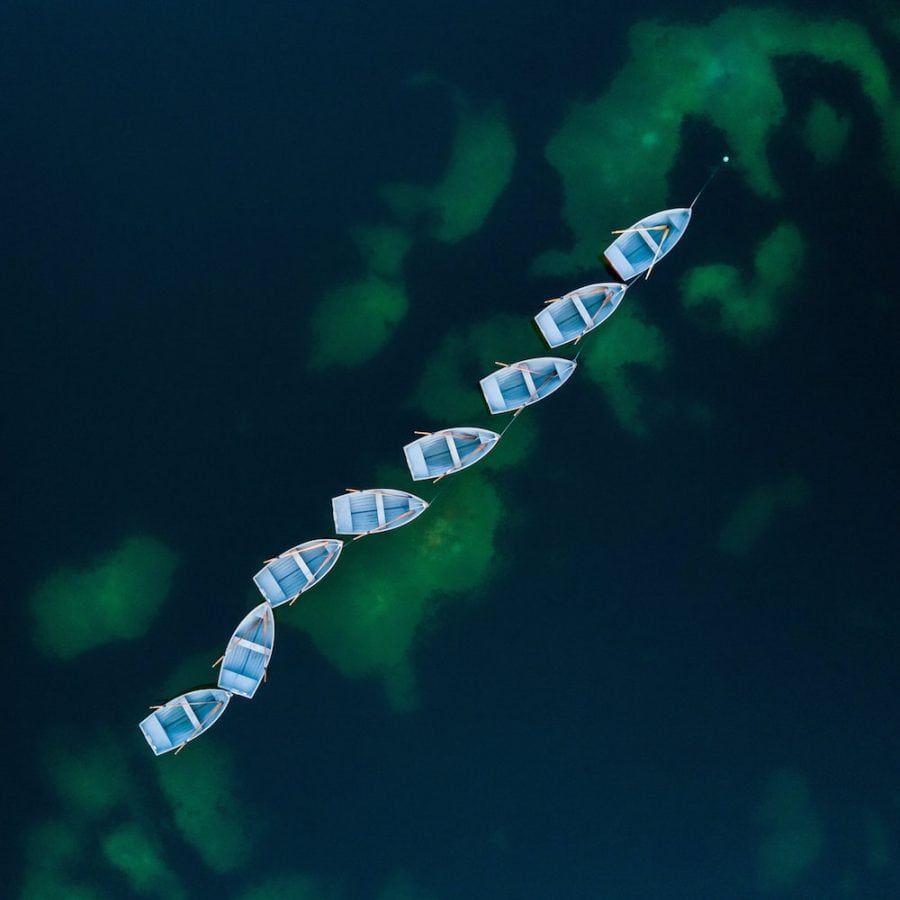 He added: "I love the composition of both the shots. I think the boats going diagonally across the frame works really well.
"The bird's-eye view shot is my favourite; it's almost abstract.
"The Cotswold Water Park in general is absolutely gorgeous. It's a great area to take photos."
https://www.thelondoneconomic.com/entertainment/mad-mods-and-a-camera-photographic-exhibition-sometimes-always-never-hits-the-road/20/04/
https://www.thelondoneconomic.com/news/environment/the-most-amazing-underwater-pictures-in-the-world-have-been-revealed-including-a-close-up-snap-of-an-angry-crocodile/03/04/