If you've ever wondered what it would be like to step into your favourite paintings,  Paris' new totally immersive art experience at Atelier des Lumières may be just the ticket. The City's first digital art centre has blown up monumental depictions of your favourite art works, digitally cast onto floors walls and ceilings.
Paris' new 'Studio of Lights' is set in a renovated 19th century foundry in the 11th arrondissement, with 26-foot-high walls and an immense 21,000 square feet of open floor space. Using state of the art projection systems and 140 laser video projectors, accompanied by a carefully curated classical music soundtrack, makes this a multi-sensorial experience.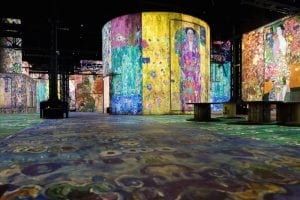 To mark the hundredth anniversary of the painter's death, the inaugural exhibition is devoted to Gustav Klimt, Egon Schiele, and the main figures of the Viennese art scene in the 19th century. Klimt led the Vienna Secession, a movement that sought to break away from academic art. Both famous and contested, he paved the way to modern painting. The gold and decorative motifs that characterise his works are a symbol of this artistic revolution. The immersive exhibition includes the works that typify Klimt's work and made him so famous—his 'golden period', portraits, and landscapes.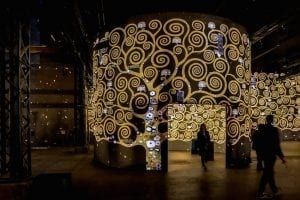 To mark the opening, Hotel du Petit Moulin, a favourite with the art crowd, is inviting guests to experience art brought to life, with a package including tickets to the new exhibition, just a short stroll away. Each of its 17 rooms are a Christian Lacroix designed unique experience. Atelier des Lumières stays with Hotel du Petit Moulin are from 244€ based on two people sharing an overnight stay on a B&B basis with tickets to the Gustav Klimt exhibition. Thursday – Saturday stays include two cocktails at the Vinyl Bar. 
Gustav Klimt" is on view until December 31. "Hundertwasser, in the Wake of the Vienna Secession" is on view until November 11 at Ateliers des Lumières, Paris