An incredible graffiti tribute to Stephen Hawking has been painted across a bridge in Cambridge.
Kyle Warwick, 25, of Cambridge, created the large memorial piece which has been adored by members of the public.
The artwork took him around five hours to complete and says he was also accompanied by graffiti artists Tim Shuker-Yates.
Tattoo artist, Kyle said: "I grew up in Cambridge, and he came into my school a few times as a kid.
"I was about ten years old when he would come into my assemblies and do a little talk.
I remember his visits always being a really big thing.
"I've also always been interested in physics and things like that – so I thought a graffiti portrait of Prof Hawking would be a really fitting tribute.
"But it was more for the fact that I am from Cambridge and I know how much he means to the town.
"I have had quite a big response. I got a lot of people walking past as stopping as I was doing it.
"We used spray cans and it is around nine foot high and twenty foot long, maybe.
"I try to do something like this whenever I can and wherever I can."
The graffiti work was done in the Mill Road area in Cambridge on Sunday 25th March.
Kyle complete the portrait of Stephen Hawking and Tim Shuker-Yates painted the memorising space background where Stephen Hawking's wheelchair can be seen.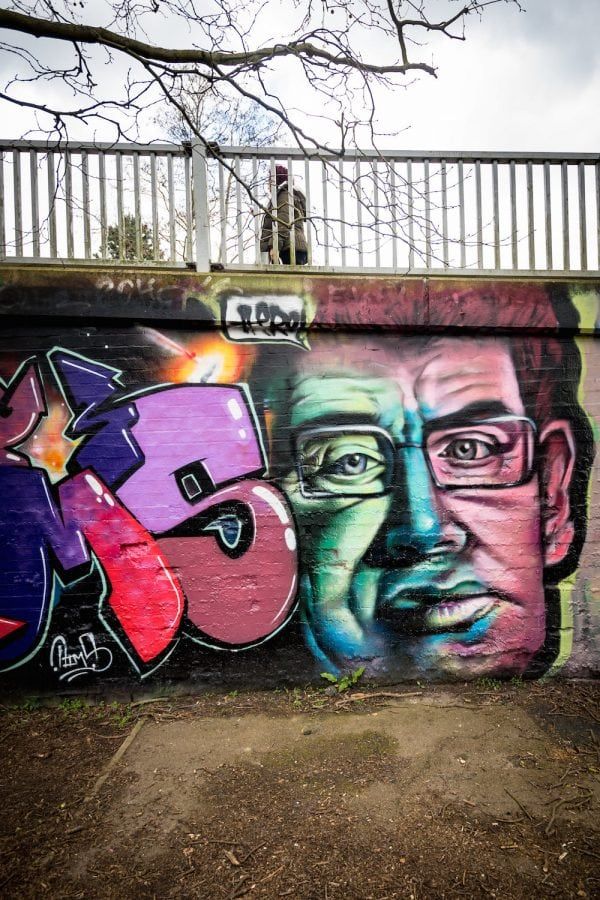 Kyle says he got a picture of Prof Hawking from Google, and began sketching it out before adding colours.
He said: "It didn't really take me that long, because the spray cans have pressure behind them so you can do it in that amount of time."
"I had been planning on doing it since I heard about his death, and we were just trying to find the right chance to do it.
Kyle has been drawing since he was a child and has been a graffiti artist for the past six years.
Kyle said: "Before I was a graffiti artist I would do random drawings all the time, even on the back of my school books.
Kyle works on commission for a number of jobs and is a Tattoo artist at the Tattoo Crazy UK
"We have done lots of previous work for schools and surgeries as well, but I suppose the Stephen Hawking one is the most iconic one we have done.
"I do commissions a lot for digital and graffiti."
This tribute was done a week before Stephen Hawking funeral which was last week 31st March.
Stephen Hawking and family pay for memorial Easter Lunch for 50 people
Thousands line streets of Cambridge for funeral of Stephen Hawking
Reactions and pictures: tributes to Professor Stephen Hawking, who has died aged 76