There's something special about seeing someone in cabin crew uniform. Like when you see a flight attendant striding through the airport and you stop and stare. But how have cabin crew uniforms changed over the years?
With London Fashion Week starting tomorrow, TLE decided to take a look at how style above the clouds has evolved since WW2. Take a look at these incredible pictures by Air New Zealand, which show cabin crew uniforms dating back to 1946.
Notice how the style and design of the uniforms were influenced by key events throughout time – going from military-inspired, post-war conservatism to the liberal, vibrant, patterned outfits of the 60s and 70s.
1946 – 1949
Air New Zealand's heritage goes back to April 1940 when its forerunner airline, Tasman Empire Airways Limited (TEAL), was incorporated.
Influenced by WWII, the first six female flight attendants wore long black double-breasted jackets, ties, knee-length skirts, and military-style hats. The look was formal, smart and conservative.
In 1947, the government established National Airways Corporation (NAC) to operate domestic air services to complement TEAL's international service. The two would later form the basis for today's Air New Zealand.
1949-1958
In 1951, TEAL started a flying boat service from Auckland to Tahiti (via Fiji and the Cook Islands) , which was known as the 'Coral Route'. Retaining the military look, a single-breasted jacket and optional tie was introduced to the second uniform.
1958-1961
The uniform of the late 1950s was also heavily influenced by the post-war era with female cabin crew wearing what resembled a 'nurses' outfit – clean, white and clinical. Outfits were, however, becoming slightly less conservative (shorter sleeves and skirts) and less aggressive-looking colours.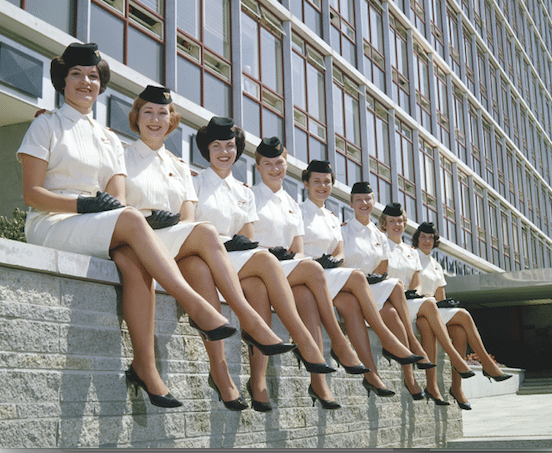 1961 – 1970
In April 1965, TEAL was renamed to Air New Zealand and continued operating solely international services. 1965 also heralded the beginning of the jet era for Air New Zealand, with the arrival of the first DC-8 jet aircraft.
To mark this growth, Air New Zealand introduced the first designer uniform, created by the international fashion house, Christian Dior.
Tailored, elegant and timeless, the teal-coloured suit was worn with a white blouse, leather gloves and a signature hat, and delivered a new level of sophistication.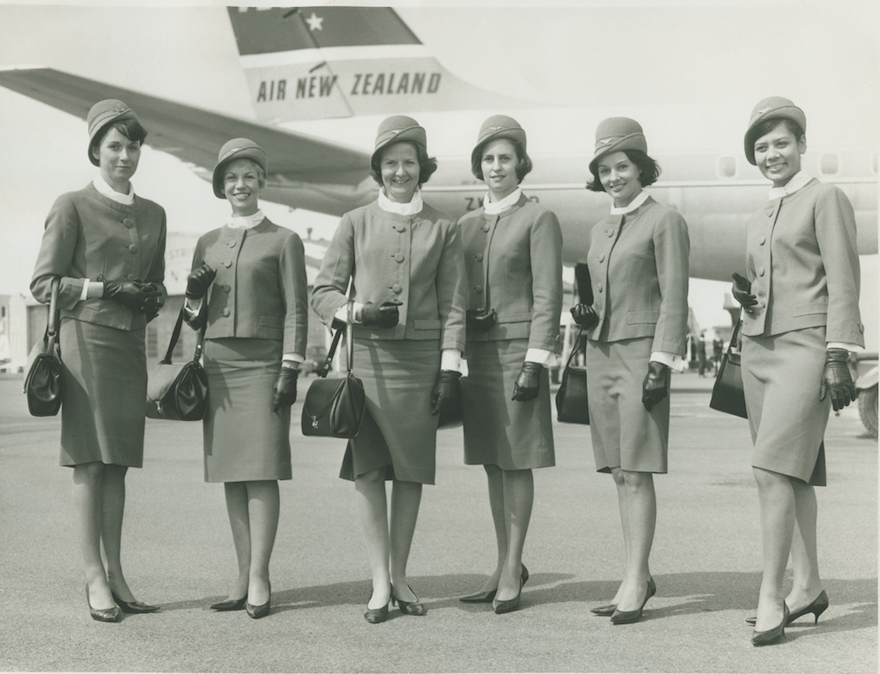 Early 1970s
Vibrant, fun, bold and colourful, the uniform of the 1970s reflected the age of liberalisation.
Air New Zealand staff wore short A-line dresses in a range of pastel colours including lilac, orange, pink and aqua. Each dress had a distinctive frangipani embroidered on the cuff.
Short A-line dresses were also favoured by NAC. These 'lollipop' or 'jellybean' uniforms as they were known were vibrant in bright lime green, pink and blue, and were worn with a distinctive helmet-shaped hat, knee-high white boots or black loafers.
1976 – 1985
Following the 1978 merger of Air New Zealand and NAC, a new, distinctly 'eighties' uniform was introduced. Bright, bold and loud, the uniform featured a distinctive wave print, reflective of the airline's South Pacific heritage.
Up until this era, the male uniform remained relatively unchanged, their uniforms resembling what pilots wore – black suits, white shirt and tie, and a peaked round 'captain's hat'. However, 1976 marked the introduction of a teal/green suit worn without the 'captain's hat'.
1985 – 1992
Created by New Zealand designer, Isabel Harris of Thornton Hall, the mid-1980s uniform featured Air New Zealand logo print blouses with classically tailored suiting – a look reminiscent of the 'power dressing' 80s era. Male staff wore a blue suit with a large white Koru adorned on the chest pocket.
1992 – now
The current uniform, created by New Zealand designer Barbara Lee, was first introduced in 1992 and refreshed in1996 with the introduction of Air New Zealand's Pacific Wave livery. The look delivered a new sophistication and contemporary image in the blue/green colours of New Zealand.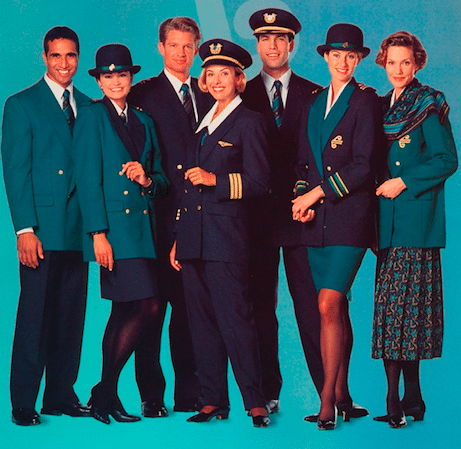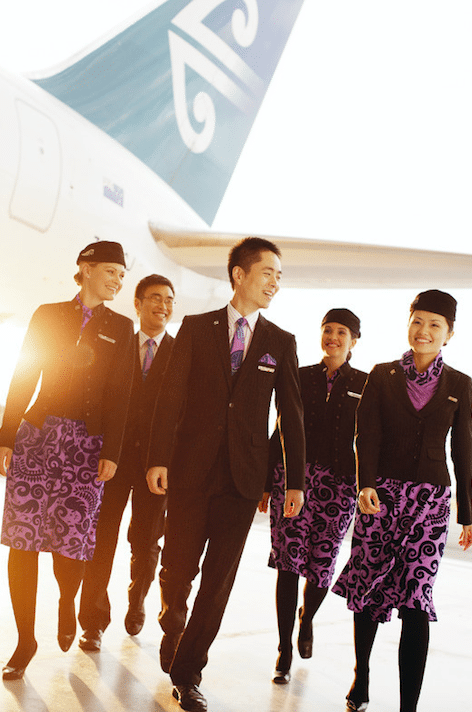 RELATED
https://www.thelondoneconomic.com/travel/take-long-haul-flight-checklist/11/02/