Every now and then something comes around that makes the world sit up and take notice. It might be a new bit of technology, like the first iPhone, a sporting superstar emerging into the spotlight to great acclaim or a new band that has perfectly captured the sound of its generation. The 21st century in automotive land has been dominated by the emergence of viable electric cars to power a less environmentally impactful future.
The car
The headlines of late, however, have not gone to the plethora of electric cars, but rather to the humble Toyota Yaris. This isn't the car that your Nan drives, however, having been given the full GR (Gazoo Racing) treatment. Conceived to enable Toyota to use it in the World Rally Championship (although that dream will never become reality thanks to Covid), Toyota had to make at least 25,000 to take to market for general sale. This, therefore, is a rally car for the road.
It's turbo-charged 1.6-litre three-cylinder engine is the lightest and most powerful 1.6-litre engine fitted to a production car. It produces a mighty 257bhp and propels the GR Yaris from 0-60mph in 5.5secs. This is no car-about-town for the masses, this is a serious bit of kit.
It's also fitted with all-wheel drive, with three settings: normal puts 60% of the power through the front wheels, sport puts 70% through the rear wheels and track provides a 50/50 split between front and rear.
There are further aesthetic enhancements, with only the front and rear tail lights, fin and wing mirrors carried over from the 'normal' Yaris. To ensure that you don't forget what you're driving, it's adorned inside and outside with GR badges, including a plaque beside the handbrake (it has a proper, old school handbrake!) which reads: "Developed for FIA World Rally Championship."
Routes taken
As you might expect of a short wheelbase rally car, the Toyota GR Yaris is in its element out on country roads. You can just attack them, especially in track mode with eh 50/50 power distribution. Enter a corner hard, plant the right foot and the amount of traction is mind boggling. And addictive.
The composure, too, is astonishing. Even over the most potholed and scarred road surfaces, nothing can deter the Toyota GR Yaris from its relentless pursuit of the horizon. You'd expect to be battling the steering wheel and losing your nerve, but it just stays straight and true.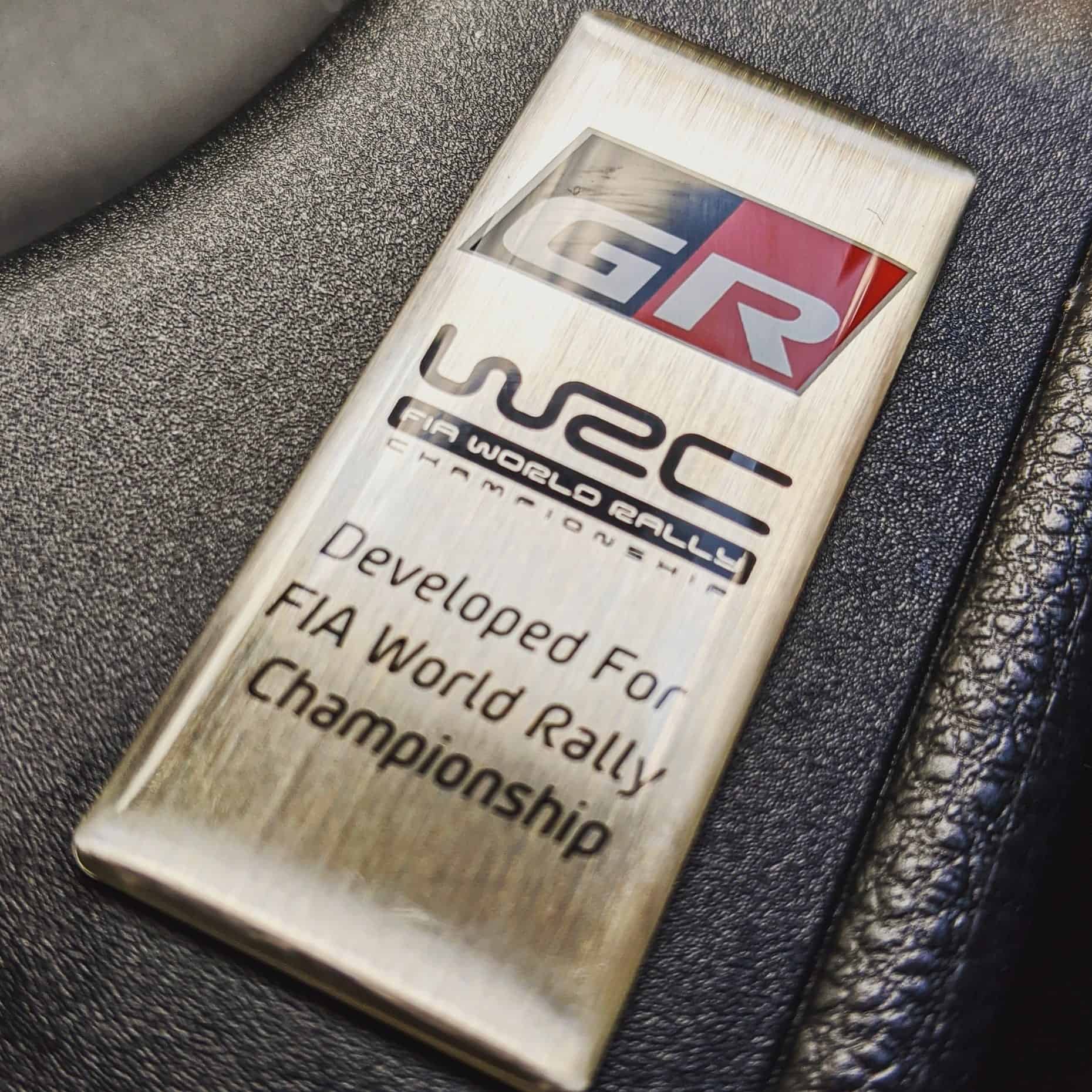 Whizzing through the B-roads near Chobham, Windlesham and Ascot, it was an absolute joy. Through the Surrey Hills, along narrower roads, it was more exhilarating still, the roads becoming a playground for the GR Yaris's capabilities.
It's even fitted with enough mod cons to make it a good motorway operator. There are lane keeping assist and adaptive cruise control available. Since weight saving was at the forefront of the design brief, however, there is the intrusion of wind and road noise into the cabin, but it's a compromise worth signing off on once you turn off those M-roads and back onto those B-roads.
The only negatives to the experience are the steering and gear changes. The steering lacks any real feedback and the gear changes can, when being more purposeful, be clumsy. The shift from second to third isn't as clean cut as you might like, with it being missed on several occasions. Driver error, quite possibly, but it's not something I've had before. It's also, in fairness, something that you would most likely get used to with ownership. There's also no feel of connection between gear stick and car; it would be nice to have a sense of the revs through your left hand as you go.
Another annoyance from a driving perspective is the gap between the rear-view mirror and the infotainment screen. It's miniscule and makes looking out the front left incredibly tricky at times. Such a bulbous rear-view mirror feels unnecessary since the back window is tiny and gets mucky quickly without a rear windscreen wiper to clean it.
The augmented engine sound pumped into the cabin also feels a little unnecessary and, at times, overbearing. There was no obvious solution to this, but if you can switch it off, you will. I think I'm also legally obliged to mention that the seating position is too high. A lowering of it would help visibility by bringing your eyeline lower to the rear-view mirror and also give it an even sportier feel. The upright position feels impossibly high when you get out and look at the GR Yaris, and it feels a little like driving a van when you first get in.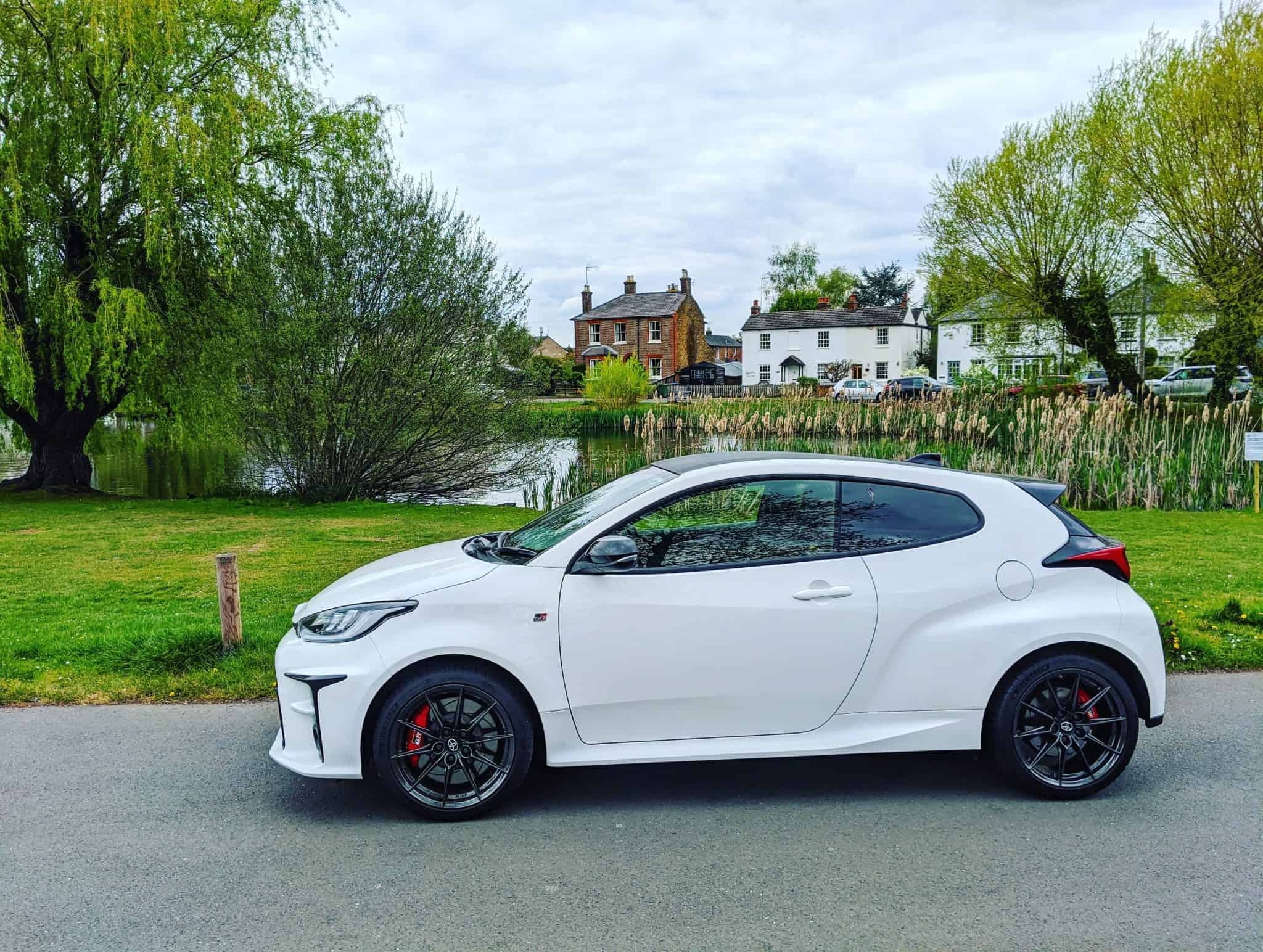 These points do nothing to detract from the fun you'll have when flying along a B-road, though. The steering is precise and when you get the gear changes right, there's always plenty of power on offer. The steering certainly makes the GR Yaris a very accessible car to all comers and a reminder, perhaps, that this is still a Yaris.
Practicality
Being a compact hatchback, the Toyota GR Yaris does stay true to the original Yaris concept. The rear doors have been done away with, however, to deliver aerodynamic benefits and the sloping carbon fibre roof pinches rear headroom. The four-wheel drive system also consumes some boot space, limiting capacity to 170-litres.
There are Isofix points in the rear and the front seats are actually very comfortable. You can ring the GR Yaris out for a couple of hours and return home simply feeling happy. Happy and devoid of backache. Which is nice.
The rest of the interior is intelligently enough laid out. The controls on the steering wheel are really easy to use, flicking between driving modes is simple and the infotainment system works well. Storage space is somewhat limited, but the driver-focussed elements are spot on. And that, really, is the whole point of the Toyota GR Yaris.
Conclusion
One final point to note is that the model tested came with the circuit pack fitted. This introduces front and rear Torsen limited slip differentials, 18-inch 10-spoke alloy wheels, red sport callipers and a GR circuit tuned suspension. The circuit pack is an option you'll want.
It's also a reminder of what the Toyota GR Yaris is all about. It's a rally car for the road and the GR DNA courses through its veins. The driving experience is true to the rally homologation philosophy, delivering poise, purpose and performance at every turn.
This is an outright driver's car. It looks fantastic. It drives even better. It's everything you'd want to experience in a hot hatch, being lairy, fast and hilariously good fun to drive. Yes, there are one or two rough edges, but this car stands out from the competition. It feels like a one off and could, quite possibly, be the last great rally homologation we ever see. The ban on the sale of petrol cars looming large in 2030. As a result, it just feels special. There are a couple of rough edges, sure, but they don't define the car. What you'll remember is the exhilaration of the drive; a car that can be enjoyed anywhere, at any time, by any driver. There's a reason bad reviews of the Toyota GR Yaris are as rare as hen's teeth.
Related: TLE drives: The Honda Civic Type R