As we grow older our tastes change. The bright, vivid colours that painted our youth secede to altogether more mundane backgrounds. Where once a late night revved the engine, we're now weary of the consequences our actions will have upon the following morning. Perhaps exacerbated by lockdown, there's a certain pleasure taken in waking up on a Sunday morning without a throbbing head.
The car
The Honda Civic Type R is a direct throwback to your youth. It's the wild Saturday night out, all curves and edges, pent up aggression and peacocking. It's out and about and it wants the whole world to know. This is predominantly because of the humungous rear wing with which it is adorned, but even from the front there's a snarl that immediately betrays this car's character.
The triple exhaust pipes let out the below emitted by the turbocharged 2.0-litre VTEC engine. It's a front wheel drive manual, so if you're a fan of on-paper performance, the Type R can appear somewhat underwhelming. 0-62 takes 5.8secs, which is positively pedestrian compared to some of the all-wheel drive equivalents. It redeems itself on the bragging rights front by holding the front wheel drive record round Spa, Nürburgring, Silverstone, Suzuka, Bathurst and several others.
Back to appearances. At this juncture, some of you will already be out of the running. A family SUV is the more practical option and the monthly payments are more manageable and you're boring yourself, aren't you? The Civic Type R is designed to fly in the face of all that. It's designed to appeal to 21-year-old you.
And once you get behind the wheel, you can't see the rear wing. The seats are snug and low lying, the titanium gear knob is the leaver to a magnificent gearbox and the set up just makes you a little bit excited to be sitting where you're sitting.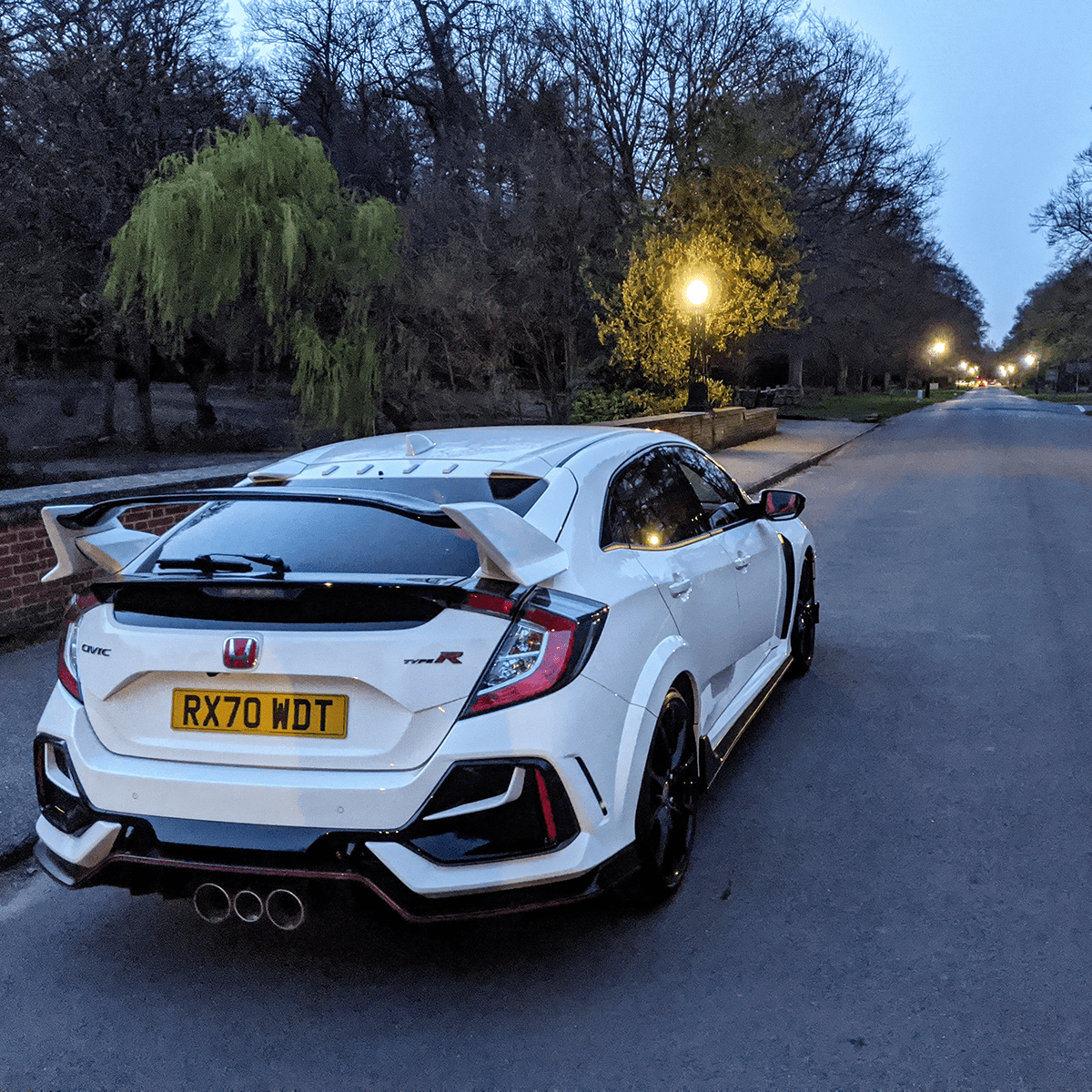 It starts up in sport mode, an immediate nod to its intentions, and it never really tones itself down from there. You can simply push and push and push, and the Type R keeps on delivering. It's a fantastic driving experience which places you front and centre of it all. Time your gear changes and it will reward you, mistime them and it will let you know.
The way it squirms and wriggles under torque steering at the top of the revs in gears one, two and three is similarly repeated under heavy braking, with the Type R at once entirely manageable yet also all consuming of your powers of concentration. It's elegant yet unruly; refined yet yobbish. There's a little here for everyone in every scenario. The adaptive cruise control and lane keeping assist keep the car chugging away mundanely when the setting so requires, then all the driver aids can be dispensed with and you can poke and prod it to make it scream. Comfort yields to sport yields to +R and this Civic can be anything you want it to be.
Routes taken
It was difficult not to stick exclusively to country roads, for this is where the Civic Type R comes into its own. I did give it a run on motorways and A roads, but like a moth drawn to a flame, I subconsciously found myself whizzing through the countryside off the A3.
On the motorway it's perfectly amenable. Stick it in comfort, use the adaptive cruise control and lane keeping assist and it's all very 2021 with the semi-autonomous driving experience. There's a bit of road and wind noise, but nothing you wouldn't expect.
Turn off those roads, however, stick it back in sport and the Type R will sing for you. It drives exactly how it looks. It's an aggressive, all-action drive that leaves you grinning from ear to ear.
You can fling it into corners with utmost confidence and it just sticks. The auto rev matching functionality makes the downshifts seamless and keep the revs running high through the gears and this is not a slow car. Once you're doing 30mph, it kicks along at a fair old rate. Not so good if you're in the confines of a city and restricted to the odd traffic light race, but perfect for a spot of B road bashing.
Practicality
It's worth noting that the Type R is only a four-seater – there's no middle seatbelt in the rear. There are Isofix points, however, and a 420-litre boot which makes this a practical family car if that's your need. It also has all the mod cons you'd expect, with smartphone integration, Bluetooth, sat nav etc. etc.
The infotainment is incredibly basic, but it's functional. Like the rest of the car, it works. And anyway, you're not really buying a Type R for the infotainment system, are you? Plug your phone into the HDMI port and you can run Google Maps via Android Auto or Apple Car Play. Simple.
The model tested was the Civic Type R GT. The GT spec adds a host of creature comforts; wireless phone charging, LED fog lights, parking sensors, cross traffic monitor, blind spot assist, auto dimming rear view mirror and dual zone climate control. The parking sensors make that task very straightforward, although it comes with a rear-view camera as standard.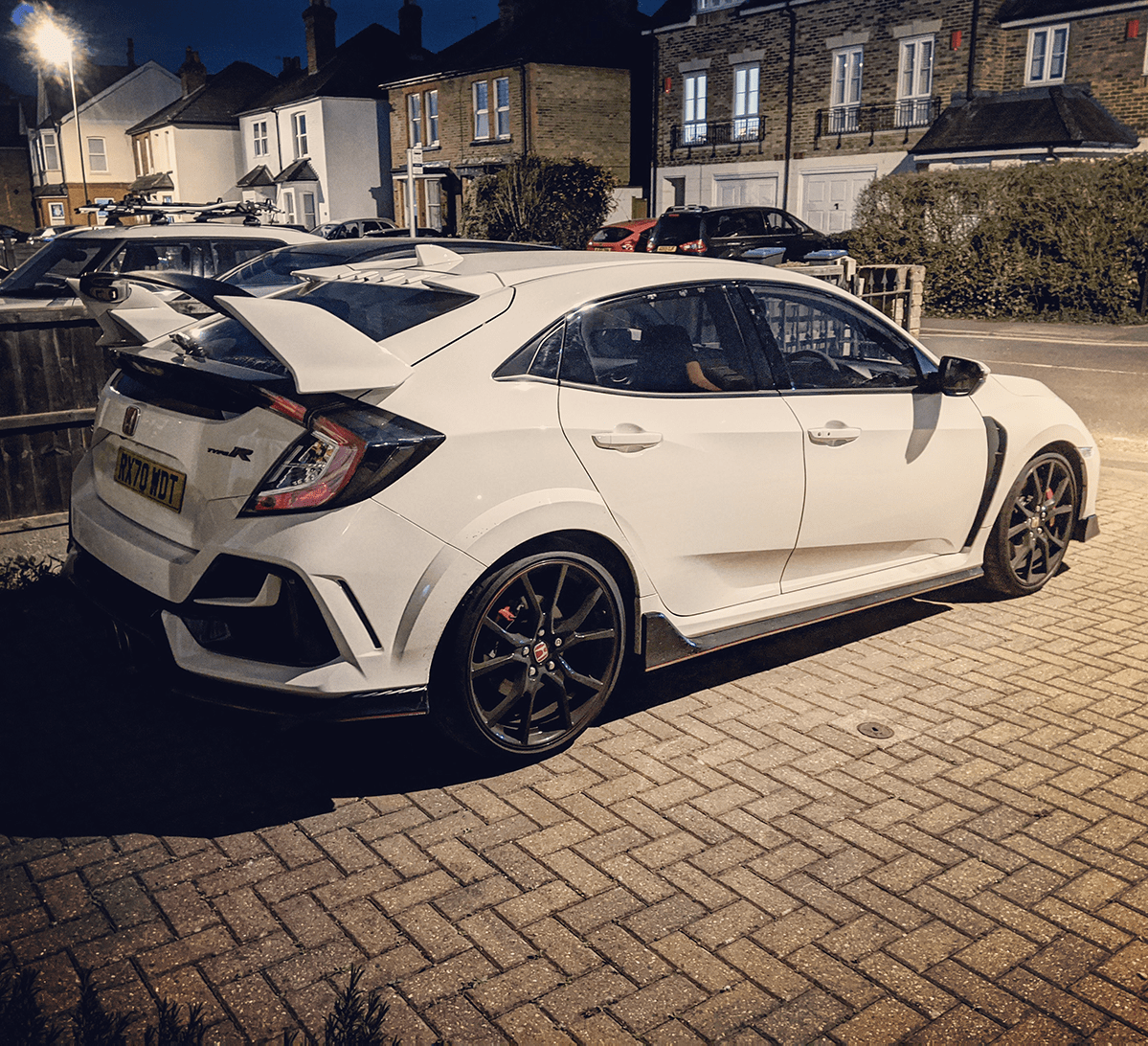 The turning circle, as with previous Civics, isn't the sharpest. A three-point turn can quickly become a five pointer. The auto full beam functionality isn't a strong point, either. More than once it flicked the full beams on to give oncoming traffic its intense glare and it doesn't pick up rear lights all that well, leaving the full beams on longer than you'd like. Of course, you can override this functionality.
Round town the ride is comfortable enough in comfort mode. On some B roads it would be nice to have an individual setting so you can enjoy the more supple suspension setting twinned to the sharper throttle response you get in sport. Changing between the modes is as easy as flicking a switch next to the gear leaver, though.
In truth, +R is too firm for everyday use, leaving you like a living bobble head, designed instead for those track days that you'll definitely want to take this car on. Sport turns everything up more than enough to be engaging and comfort really relaxes the ride, making it more comfortable over speed bumps and potholes. It is still a hot hatch riding on 20-inch wheels and rubber band tyres though, so don't expect comfort mode to suddenly transform it into a Bentley.
Conclusion
Whilst the looks will certainly divide opinion, always be wary of judging a book by its cover. Anyway, who wants a toned-down hot hatch? Hot hatches should be fast, nimble, lairy and have the ability to do everything from act as a practical family solution to being a competent track day runner.
On the hot hatch front, the Honda Civic Type R delivers in spades. It's a rather wonderful car to drive and has a knack of putting a smile on your face every single time you drive it. There's plenty of exploitable, raw performance that makes you feel like you're getting the most from the driving experience, and there's a big boot and Isofix points.
So, if you're looking for driver engagement and something that will put a smile on your face, and you don't mind the aesthetics, the Civic Type R is a near flawless hot hatch. It's a car that yearns to be driven as much as you'll yearn to drive it.
Related: TLE drives: The Audi RS Q8