You sometimes hear that someone has done something too well. You hear it in football when the ball sails agonisingly over the bar: "she's hit that too well!" The implication being that, had the player hit it less than perfectly, they stood a greater chance of scoring. In cricket, when the ball drops short of a fielder in the deep; "he's hit that badly enough that it hasn't carried." Again, doing something below perfection has carried a clear benefit. In the world of modern cars, some of them are so competent at being cars that they are, in fact, a bit boring. They ride well, perform well, are practical and frugal. Yawn. Sometimes it's more exciting to live a little closer to the edge, to have to work for every last drop of involvement and entertainment. Enter the Ford Mustang Mach 1.
I've always had a thing about Mustangs so I was really excited about reviewing the Ford Mustang Mach 1. Could it live up to my lofty expectations? Would I feel like Steve McQueen prowling the mean streets of, er, Surrey? Could I afford the fuel bill? Better to review it this year than last, on that front. How would the modern interpretation of one of motoring's classic names fit into the world in 2023?
Much excitement, much apprehension. Then I heard it arrive. There it was, a naturally aspirated 5.0ltr V8 growling with intent on my drive. The intense purple paintwork only added to the appeal. Does the seventh generation Mustang hit the mark? The first and second gens did, with timeless 60's appeal. The third, fourth and fifth rather lost their way as the 70's melted into the 80's, 90's and early 00's.
Living with the Ford Mustang Mach 1
The S550 Ford Mustang Mach 1 bristles with aggressive intent simply by existing. Turn it on and the V8 barks into life, a timeless engine note permeating your street. Ford has thought about this and there's a quiet start option available to avoid your neighbours waging war on you. It's a bit like asking Slipknot to play one of their quieter numbers.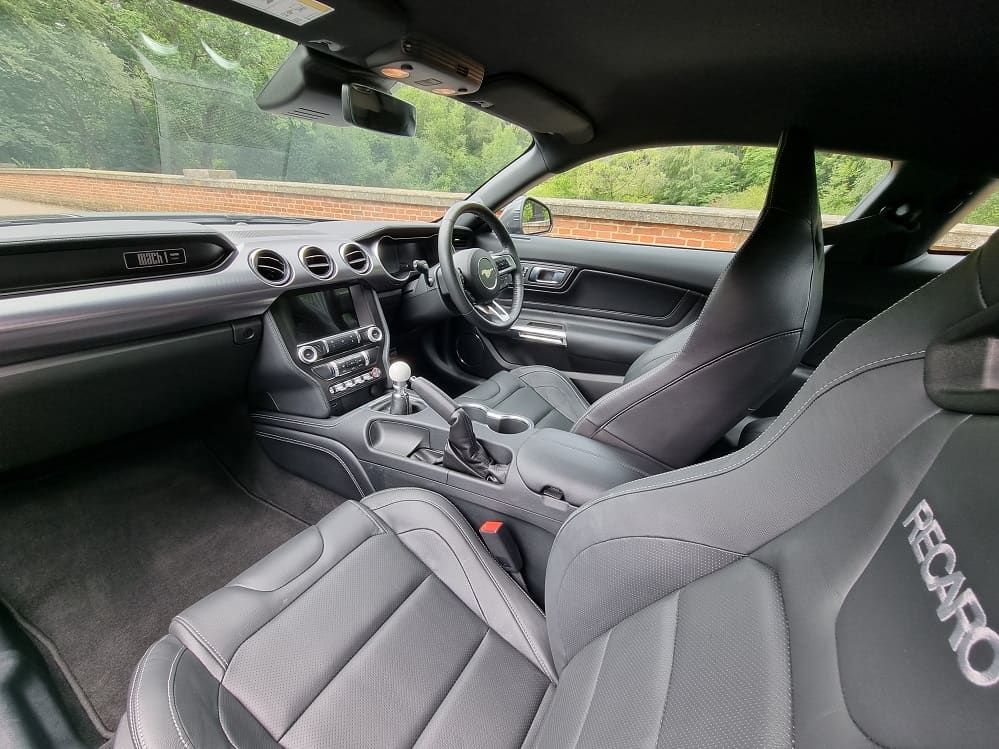 The intense purple paint was one option fitted to the model tested at £600, along with the Recaro seats at £2,000. They're really comfortable and felt like they're probably worth the outlay. Otherwise, at £60,315, everything is as standard on the Ford Mustang Mach 1. 19" wheels, Brembo brakes, B&O premium audio, multi-colour ambient lighting, rear view camera, heated steering wheel, lane keep assist and adaptive cruise control. The MagneRide adaptive suspension is worth its own mention.
It enables the Ford Mustang Mach 1 to glide along any road surface. There's a genuine GT quality to the ride; you could drive for hours and find little cause for complaint.
Or could you? You might well run out of fuel before you suffer any discomfort. The Ford Mustang Mach 1 is a thirsty beast, rolling along in the high teens on the consumption front. For local journeys during the first half of the review the reading stayed at 16.9mpg. Following a couple of longer journeys it settled at 19.0mpg over 180-miles of driving. The greatest threat to your fuel consumption is your ability to resist prodding that V8 into its awesome howl. Still, it's ULEZ compliant.
It has a 2+2 seating arrangement and I did manage to get two child seats in the back with the boot large enough to get everything in for a day trip, with room to spare. It's a practical, everyday family car at heart.
What's the Ford Mustang Mach 1 like to drive?
Every element of the Ford Mustang Mach 1 is aggressive. From start-up to the rev matching on downshifts, it's a car that demands attention. It's also that rarest of things in being a manual. You can opt for a 10-speed auto, but it'll cost you. Stick with the 6-speed manual, operated via a wonderful cue ball gear knob. Every downshift is an event, with the V8 blipped in anticipation of it. It never gets boring.
Nor does the general drive of the Ford Mustang Mach 1. It's hard work, but all the more rewarding for it. Caution must be exercised on roundabouts and in bends; get on the power too soon and the back end will swivel around you. It will catch you unawares if you're not careful. It demands respect.
Handle it properly, however, and the Ford Mustang Mach 1 flows along a decent B-road pleasingly. There's enough traction, although one complaint is the steering. It lacks any feedback and can be a bit vague at times. There is a sport setting, but it just makes it heavier. The same is true, sadly, of many modern cars.
It's all about the power. The Coyote V8 produces 460hp and 529Nm of torque in the Ford Mustang Mach 1. That's good for a 0-60mph time of 4.8secs, but it's not in the sprint that it impresses. Get it up and running and the Ford Mustang Mach 1 is a burly joy. It revs out to 8000rpm so you can enjoy the full aural sensation, although short shifting enables you to ride the impressive wave of torque.
It drives pretty much as the stereotypes might suggest. Not all that confidence inspiring on twisty stuff (but enjoyable for it) and it pulls relentlessly in a straight line, gathering speed at an alarming rate.
Conclusion
One thing that struck me about the Ford Mustang Mach 1 was the estimates people gave as to its cost. I heard everything from £50,000 to £120,000. It's such a unique proposition that no one really knows how to place it. What is the Ford Mustang Mach 1? What do you even compare it to? You could buy a 718 Porsche, an Alpine A110 or a German saloon. None sits comfortably alongside the Ford Mustang Mach 1, though.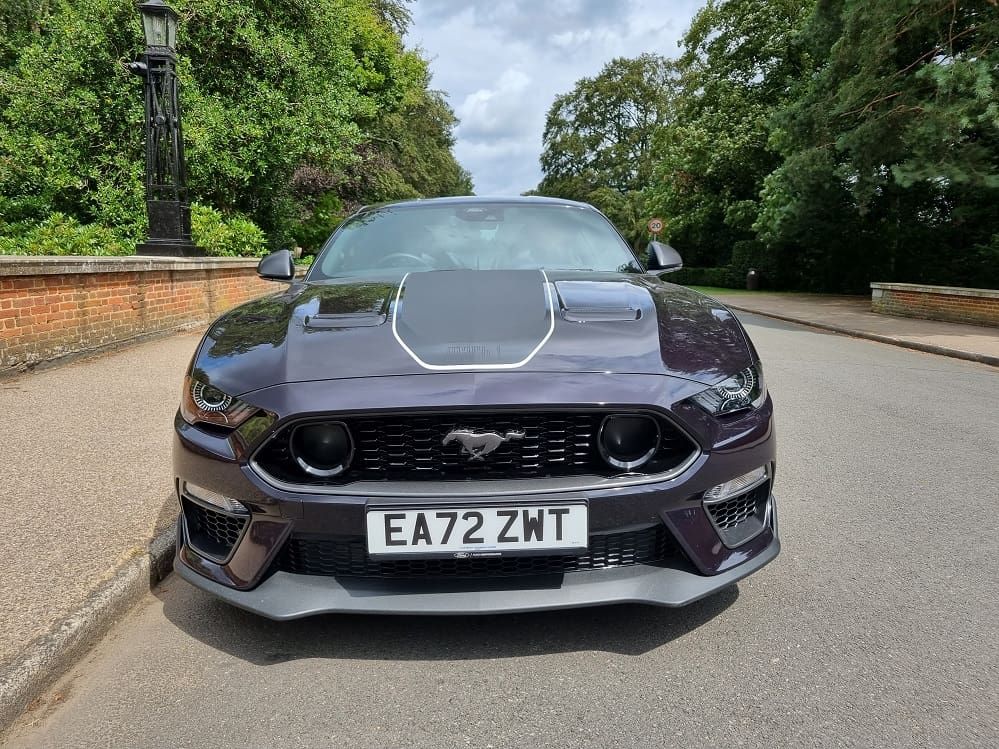 The sports cars are better to drive and the Germans are far better equipped. Even the on paper numbers for the Ford Mustang Mach 1 aren't all that; a well heeled hot hatch would have it licked to 60mph.
Some cars, however, just have a way of blowing your hair back. Some have the chops for it on paper but, in reality, lack pizzazz. The Ford Mustang Mach 1 more than makes up for a lack of on paper pub talk credibility to consistently impress when you're actually driving it. It's more emotional than practical, but 0-60 times and mpg figures fade into irrelevance when you're behind the wheel. It makes you feel good about yourself and that feels like the entire point. It's a Mustang!
It's also a Mustang in what feels like the truest sense of the badge, being more than an EV marketing ploy and feeling like a direct descendent of an illustrious bloodline. Other cars are more frugal, practical, comfortable, better equipped, faster, better handling… but you won't care. There's more to driving than numbers and data and the Ford Mustang Mach 1 is a refreshing reminder of that. It's perfectly imperfect.