Customers see your website as your brand, so if they have a poor browsing experience, it bodes ill for sales.
Can you improve your web presence without breaking the bank?
Problems you need to solve:
Web pages are slow to load
Your site falls down when you have a surge in visitors
Your web server is down too often
Too much biased 'advice' from people trying to earn a commission
Why Is Your Website Slow and Unreliable?
The hosting you have isn't up to the job you expect of it. It might have been when you first set up your website, but your business has grown. You take on extra employees and move to a larger building as you grow: You need to reassess your hosting requirements, too.
When you make soup, you chop up all the different vegetables and throw them into a pan. This is what happens on a shared hosting plan. Your site is chopped up into small parts and arranged randomly on a hard drive. Reassembling a carrot that you have chopped up would take a while. Reassembling your chopped up website pages also takes a while.
Business web hosting needs a virtual private server (VPS) plan rather than a shared hosting plan.
VPS vs. Shared Hosting Plans
VPS and shared server both have multiple websites loaded onto them. The difference is that a VPS server has your site loaded as one block, and the shared server chops up your website into tiny pieces that fit into the available spaces on the drive.
It is quicker for the server to find your whole website on a VPS server than a shared one. Compare it to throwing whole carrots, onions, and potatoes into a saucepan as compared to chopping them all up before adding them. It is quicker to pull out a carrot from the whole vegetable pan than the soup pan. It takes fewer 'dips' on a VPS to find your site than on a shared server.
VPS plans also have fewer sites loaded onto them, so they are less crowded, and you are allocated a certain guaranteed amount of CPU power.
Choosing a Business Hosting Plan
You may want to change hosts when you start making comparisons: This is perfectly feasible even if you are still under contract. If your host compares poorly to others for business hosting, might make more sense to ditch your current $60 a year contract, rather than take out a VPS contract and perpetuate your hosting misery.
Choose a hosting company that will transfer your site for free and the upgrade to a VPS will be painless.
As soon as you start searching for business hosting, you will be overloaded with ads from scores of hosting services. Resist and check out a comparison site instead.
Narrow down your filter on the comparison site to show only small business hosting: This will save you wading through hundreds of plans that will be a poor fit.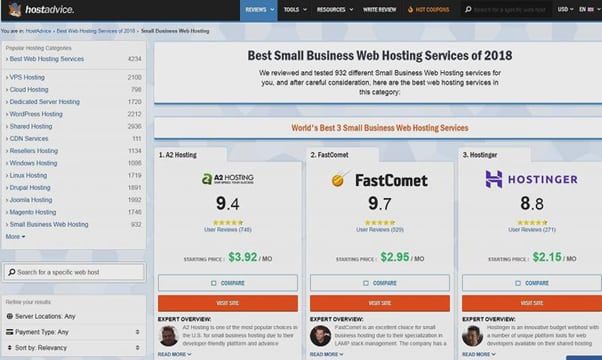 When you click on a 'Visit Site' link, you will be taken to the hosting company's home page. Follow the VPS link on that page to find plans suited to a small business website. Use the chat facility that most companies have to refine your choice.
Hosting comparison sites are free to use and are the only way to obtain independent advice based on hundreds of user reviews. They earn their money from affiliate links, just like every other website that makes hosting recommendations. However, comparison sites provide you with a valuable service, so they earn their commissions fairly.
Long Story Short
You need fast and reliable web hosting at a cost that gives you a decent return on your investment. Cheap shared hosting aimed at amateurs doesn't make the grade for a business website because it is too slow and unreliable, so you need to pay more. However, you can get the hosting you need from a reputable hosting company very reasonably, and you don't need to pay $100 a month or anything like it.
A hosting comparison site is the only way you can find independent assessments of the different web hosts, with customer reviews from genuine customers.