The practice of doping in horse racing has been around for centuries. Roman chariot racers used to dope their horses. Mega-buck trainers dope their horses now. The practice has evolved from honey and water to cocaine and Viagra. Horses are also commonly jacked up on anabolic steroids. This leaves a field of equine Lance Armstrongs with little people on their backs charging purposefully around green fields across the country. In a sport where millions can be settled by the length of a horse's nose, seeking any advantage is obviously the way many unscrupulous types will go. So, what's this got to do with the BMW M4 convertible, you may well reasonably be wondering.
When you first drive the BMW M4 convertible in normal, road mode, it feels spiky and ready to run. A firm prod of the throttle and it'll briskly canter away. There are, however, two doping buttons fixed to the steering wheel. M1 and M2; two red, thumb-grooved temptations that immediately pique your curiosity. They're quite an intense red and stand out prominently on the steering wheel, impossible to ignore.
You can tailor the dosage according to your preference. I set M1 to all out attack; white lines, blue pills, injections, the lot. The BMW M4 convertible then becomes immediately more fidgety. Its blinkers are on and its only goal is getting to the horizon as quickly as possible. M2 I reduced the input. Suspension in comfort, gear changes a little softer and the overall impact not being so severe. Then, once you've finished hell raising, back into normal mode.
I guess the somewhat laboured point here is that the BMW M4 convertible is a serious beast. On first glance, you could write it off as merely a poser's car. But this remains a serious M car.
Living with the BMW M4 convertible
During my week with the BMW M4 convertible we undertook a family vacation to Dymchurch, in Kent. Two adults, two children and all the associated gubbins. I'll admit to being somewhat apprehensive. My wife doesn't pack lightly and the BMW M4 convertible didn't appear to be the most practical option for such a journey.
I started loading her up on Friday lunchtime. You get more boot capacity with the roof up, so I pushed the load partition up to create more room. This gave me 380-litres to cram everything into. Buggy, beach chairs and beach toys all slotted in. Massive suitcase slipped in alongside. Smaller bags squeezed in on top. Food bag against the lip. Coats, because it's August in England. And, to my surprise, with only a bit of force applied to the boot lid, I got everything in! No clutter in the cabin, everything for a three-night family getaway fitted in the boot of a BMW M4 convertible.
I'd gone into it wishing I had the BMW X7 again. No drama moving house in that thing. Which asks a pertinent question: do you need a massive SUV? People buy them for the 'what if?' scenarios. But what if you get to Kent, find a decent driving road and don't have the doping buttons to call upon?
Anyway, 350 miles were ticked off easily and comfortably. The sport seats are supportive in all the right areas and the Harmon/Kardon sound system is loud enough to turn the BMW M4 convertible into a mobile nightclub. It handles the dire road surfaces we have in the UK impressively. You could just use it as a family saloon.
But what's the BMW M4 convertible like to drive?
That's one of the criticisms I've seen in a few reviews of the BMW M4 convertible. It performs so well at seven tenths, why wouldn't you save a chunk of change and get the M440i convertible instead? It's a valid question, but we're back at 'what ifs' again. You can turn the BMW M4 convertible into Frankel, leaving the M440i feeling more like a shire horse.
So, then, why wouldn't you just get the coupe? Another valid question. Convertibles aren't for everyone. You can see that by the complete lack of competition the BMW M4 convertible has. The model tested comes in at £92,000 with options and there's absolutely nothing comparable for the money. Mercedes and Audi don't do AMG and RS drop tops now. A Porsche 911 variant is a lot more money and something like a Lexus LC500 convertible costs more and isn't nearly as quick.
There's just something about getting the wind in your hair. I got lost in the south Kent countryside and it was a blast. Top down, darting from corner to corner, just enjoying the drive. It was a wonderful experience. Is it that much less of a driver's experience than the coupe?
The only way you'd notice the difference is if you drove them back to back. Only a few journalists and very wealthy M4 enthusiasts will do that. It's a niche crowd. In reality, you're unlikely to notice beyond the placebo effect of the canvass lid. The BMW M4 convertible is a bit heavier at 1996Kg before loading it. Cars aren't light these days anyway. You'd have as much fun in the drop top as the coupe, so it's down to personal preference. Both would make your palms sweat on a track day.
What's the BMW M4 convertible really like to drive?
Let's get into the serious business. Yes, the BMW M4 convertible appeals to posers and works well as a family run around, but it's a serious M car too. It's equipped with a 3.0ltr twin-turbo straight six that produces 510hp and 650Nm of torque. Mated to an eight-speed auto 'box, it'll tick off 0-62mph in just 3.7secs. That's 1.2secs faster than the M440i.
Fitted with Michelin Pilot Sport 4S tyres, the BMW M4 convertible also has a frightening amount of traction. You would have to be driving like you're in the middle of a night out with Hunter S. Thompson to get it to lose its composure.
Having those M1 and M2 buttons on the steering wheel is incredibly useful, too. Spot an overtake, tap to apply the right amount of lunacy and away you go. The straight six fires into life with a pleasing roar, too. It's not a sound that keeps you constantly coming back for more, but it has genuine presence. In full attack with all the valves open it's quite raucous.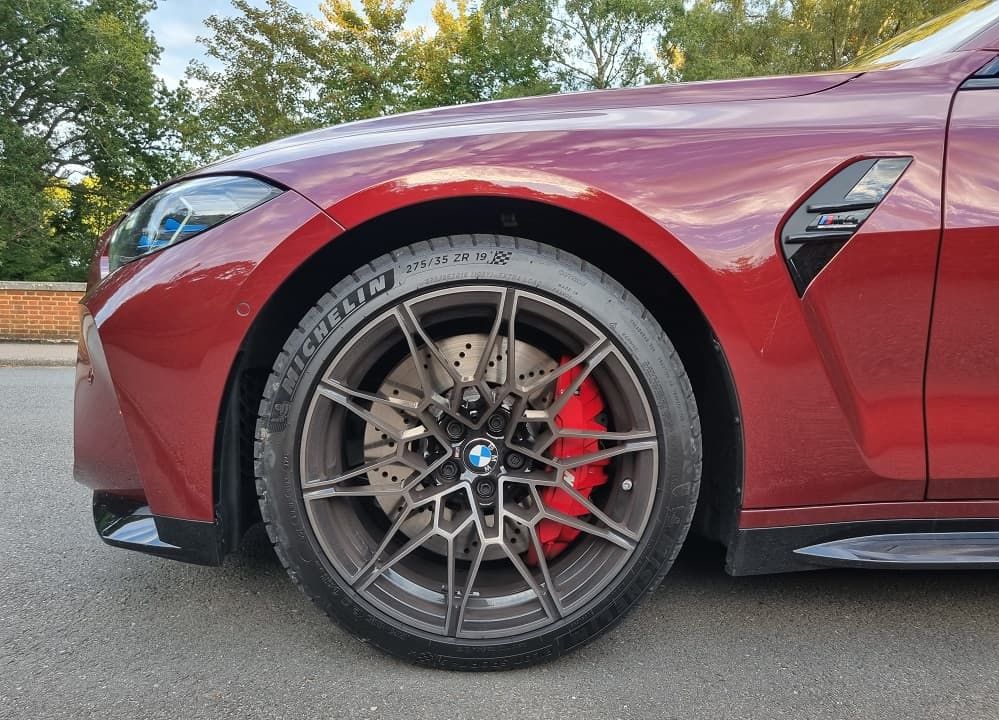 The brakes, too, do a tremendous job, as well they need to. The red callipers sit poised behind the wheels. The 826 M double-spoke bicolour black alloys – for they deserve their full name – look spectacular, too. Are these the best-looking wheels going right now? They could well be. 19" at the front, 20" at the rear, they sit well against the striking Aventurine Red III metallic paintwork.
Back to the driving. There's always so much power to call upon, from any speed, yet the BMW M4 convertible is supremely composed through the twisty stuff. You can dial it down and enjoy a cruise, or juice it and seek out your favourite B-road.
Conclusion
The BMW M4 convertible covers every scenario. It works for posing, sunset cruises, all out attack B-road dashes, motorway long hauls, track days and family holidays. In one drive it can be both quiet and amenable, then raucous and rowdy. You can have the roof up to kick things off, then 18 seconds later have the wind in your hair.
Yet the lack of competition in the segment betrays where the market is going. For a car such as the BMW M4, with its focus on driver engagement, thrills and spills, is it more likely to appeal to the purist? The purist is more likely to be worried about two-tenths here and torsional rigidity there. The purist will opt for the coupe.
Which leaves us with the poser. The poser will require a convertible, a bit of poke and a general 'look at me' demeanour. The poser will also require a bit more padding in their wallet to pay for the expensive drinks in the fancy bar they've just parked outside of. This means that they will opt for the M440i convertible instead.
This is a great shame, because the BMW M4 convertible does a damn good job of marrying both worlds. It can be the poser's dream, as well as like a horse on speed. It provides genuine all-round usefulness, catering for everyday use, vacations and the odd moment of lunacy. Every job is taken very seriously indeed by the BMW M4 convertible.
Are you a purist or a poser? If the answer is both, then the BMW M4 convertible is the car for you.