This is the moment a battery-powered boat set a world speed record on a British lake.
The unique Jaguar Vector V20E is now the world's fastest electric speedboat after it hit 88mph on Coniston Water in the Lake District.
Full details on the drivetrain used to propel the electric boat to the world record speed have not been revealed.
But it was designed and built by Jaguar Vector in partnership motorsport firm Williams Advanced Engineering and uses similar technology to an electric F1 car.
Peter Dredge, Jaguar Vector co-founder and technical director, averaged 88.61mph as he piloted the V20E over two legs.
He smashed the previous record for an electric boat of 76.8mph, set in 2008.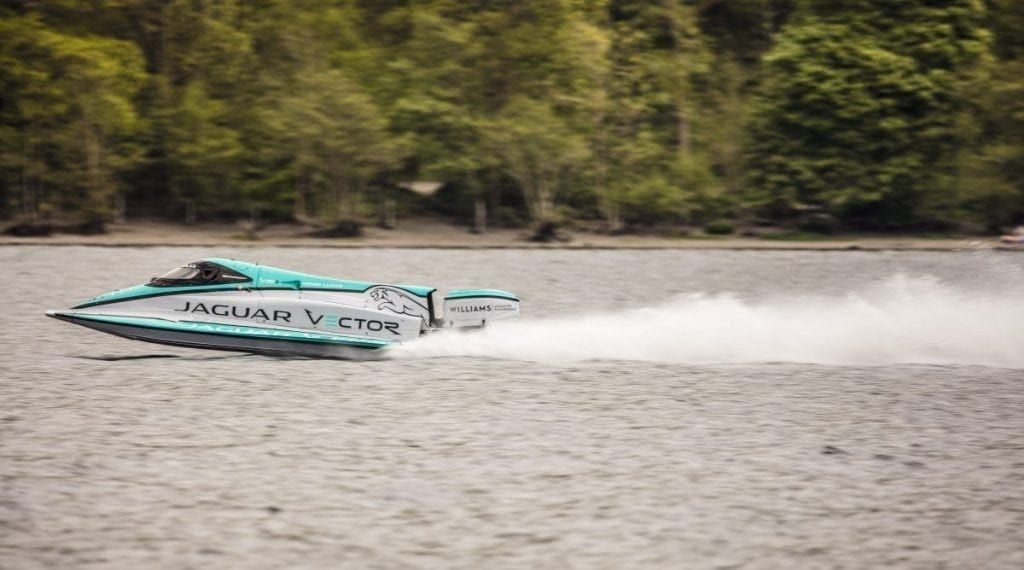 Coniston Water, which is the Lake District's third largest lake, is world famous for its speed trials.
It is where the great Donald Campbell set numerous records but also the location for his tragic death, when he lost control of Bluebird after hitting more than 300mph in 1967.
Malcolm Crease, CEO, Jaguar Vector Racing, said: "After 12 months of hard work, this is a fantastic result for the team and our partners and a great first step in bringing the power and versatility of electrification to the marine industry.
"It is a great honour for the Vector team to follow in the footsteps of Donald Campbell CBE and to set a world record on the historic Coniston Water."
The Jaguar Vector team said it will attempt further world and national records over the next 18 months as part of a major initiative to push the boundaries of performance and to showcase British engineering.
Mark Cameron, from JLR, said: "Jaguar is at the forefront of electrification technology and our mission is to 'Race To Innovate' on track and on the water."
Craig Wilson, managing director, Williams Advanced Engineering, added: "Williams Advanced Engineering is proud to have supported this new world record by Jaguar Vector Racing by using our award-winning knowledge of electrification to provide the boat's electric power, motor and control systems.
"Our experience from powering the entire Formula E grid for the past four seasons of racing and our ongoing partnership with Jaguar in the ABB FIA Formula E championship provided the technical and operational platform required to achieve this fantastic result.
"Congratulations to all involved in this wonderful achievement."
Pope John Paul II's humble Ford Escort is set to sell for a fortune