Times are changing and changing fast in the automotive world. A ban on the sale of new petrol and diesel cars in the UK is set to arrive in 2030 and a ban on the sale of new hybrid cars will follow shortly after in 2035. It will be electric-only from then on as regards new car sales, so manufacturers are scrambling to prepare themselves for the change in power delivery.
The car
It is tempting to conclude, therefore, that this is a wistful look back at what we once had, nine years before it's even gone. McLaren's 620R is the Woking-based manufacturer's final sports series car. As we bid farewell to that series, however, we were also treated to a glimpse of the future in the form of the McLaren Artura, an outright plugin hybrid that points to the future of supercar manufacturing.
In typically McLaren fashion, the Artura uses its battery power to enhance its petrol delivery, meaning that there's no loss of performance or theatre. You could also run it to the office and back on purely electrical power, should you so wish. Visually, it continues the steady evolution of the marque's design architecture.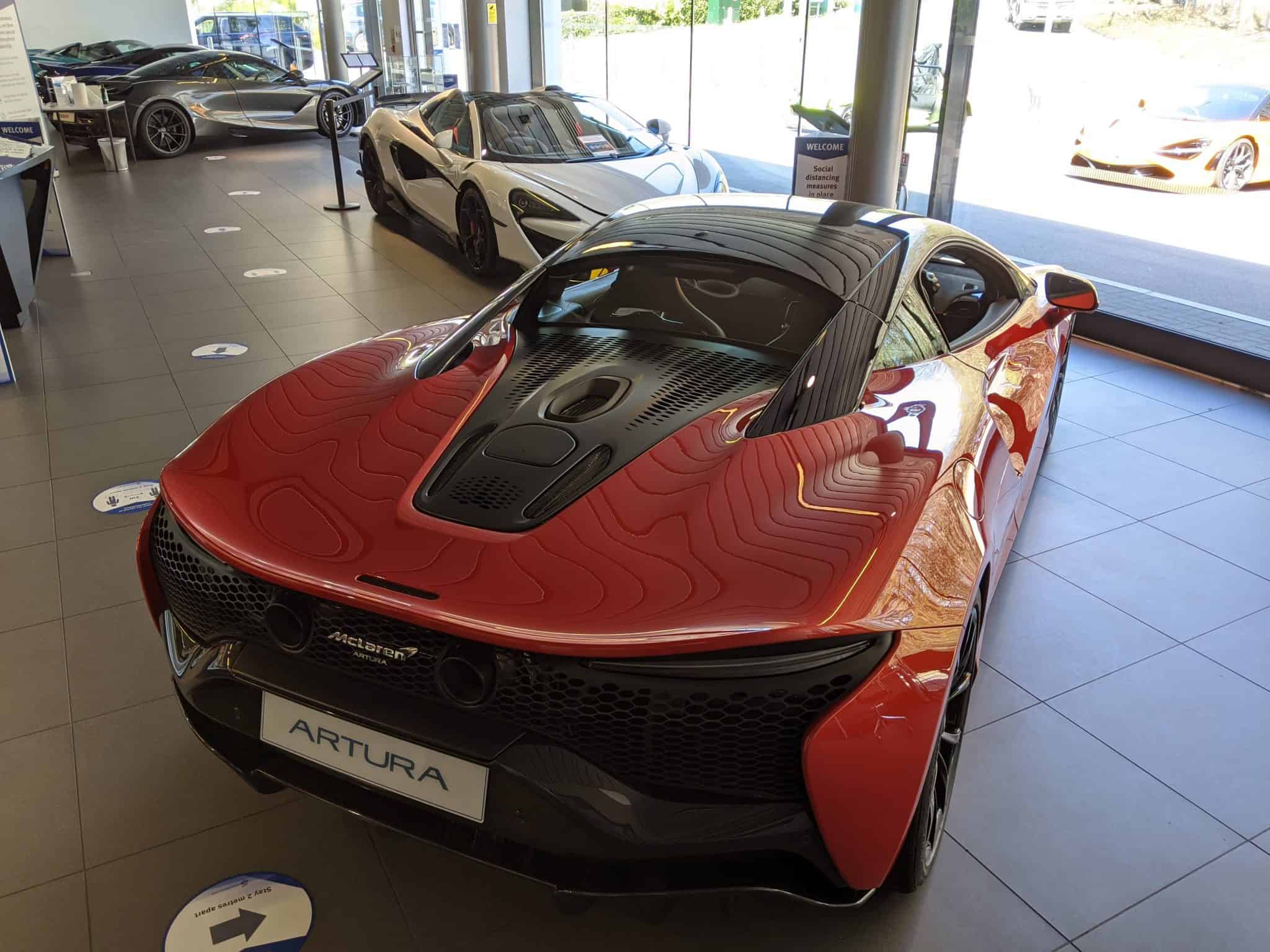 Anyway, back to the 620R, because it's a hell of a way to bid farewell to the sports series. In short, it's a road legal GT4 racer with brake lights and number plates. Designed to be a track day runner – it comes with a set of slick tyres to stick on so you can make the most of that environment – can it really work in the real world?
The numbers and configuration are outright intimidating. At first glance it looks like a racing car. On second glance it has carbon bucket seats and a spartan interior and looks like a racing car. On third glance you can peer into the engine at the rear and yes, it still looks like a racing car. This isn't your everyday school run vehicle.
Then you lower yourself into the cabin and hit the starter button. The 3.8-lite twin-turbo V8 clears its throat and makes a fair old din at idle, an immediate hint to what's ahead. And yet, pull away and it's remarkably more refined than you're expecting. In normal mode the 620R is actually quite accessible. It's not a behemoth of a car either, so you don't constantly feel like you're about to collide with parked cars and oncoming traffic.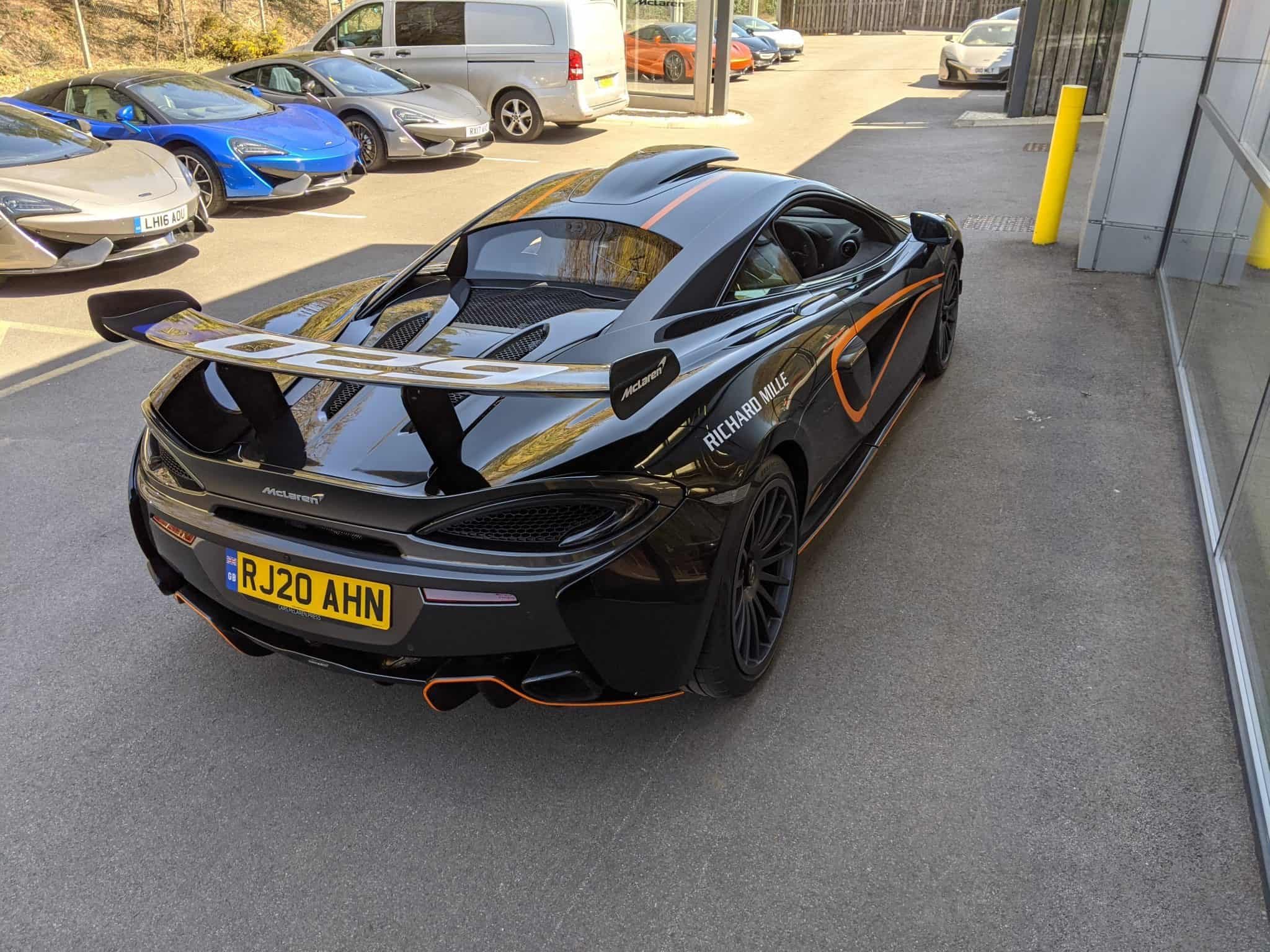 Routes taken
I had an hour with the 620R and McLaren had kindly suggested a route from their Ascot dealership to take. Trundling through the high street was a gentle introduction, giving an opportunity to work out what the functions do. There's not much to work out because this car is incredibly scaled back – it only weighs 1386kgs.
Once out on the B-roads round Windsor Great Park a level of familiarity arrived and with it, a bit of confidence. Time to try out sport mode and the manual transmission.
The gear changes are a joy. Flick the paddle and the change is instant. On aggressive upshifts the engine momentarily cuts out to deliver an extra shove when the gear is engaged to propel you towards the horizon with a touch more haste. On aggressive downshifts, the bang emitted from the exhaust is exhilarating.
Then you get to another built up area, put it back in normal and it relaxes again. You're continuously aware of the capabilities, however, because it's never quiet. The optional audio system is always fighting a losing battle against that V8. Having it in normal mode is like walking past a sleeping tiger; you know that it could wake up at any moment and pounce.
When you do stir it from a slumber, all hell breaks loose. 0-60 is ticked off in 2.8secs. 0-124 takes just 8.1secs (although I didn't try that, honestly!). The acceleration off the line is stunning and it just keeps on pulling. It's safe to say that you'll never get near this car's limit on the road. You'll need to take it on track.
Concluding the journey through Egham, Virginia Water and Sunningdale, I was surprised as how well it handled the poor road surfaces it encountered. I was expecting to get buffeted about by an overly stiff road racer, but it's more forgiving than you initially expect.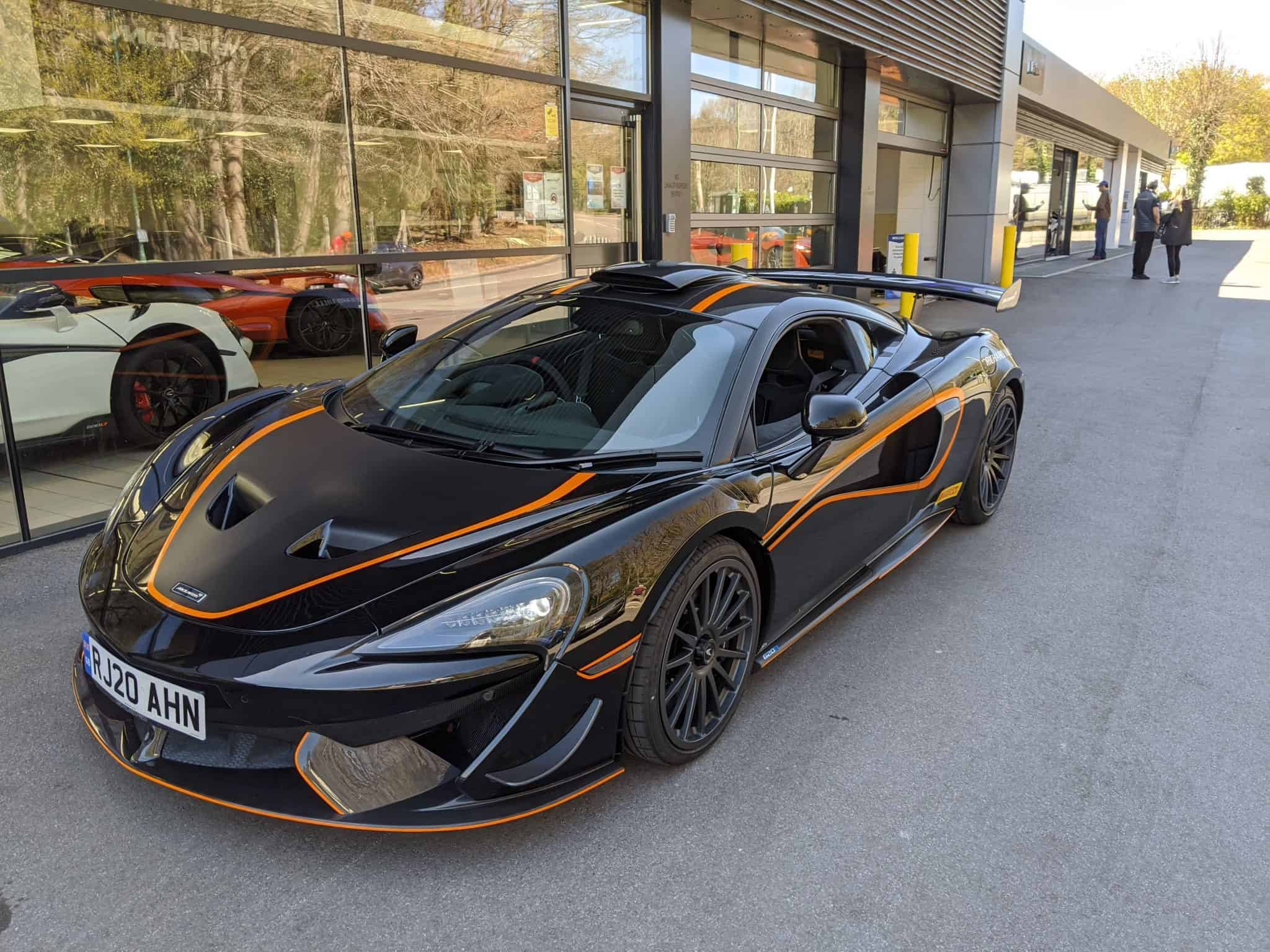 Practicality
It does have a trunk in the front with 120-litres of storage space. So, you can fit a couple of racing helmets in it for your track days, or a weekend bag. Outside of that, the 620R wasn't designed for grand touring.
Fuel consumption was around 20mpg, which isn't too bad for a car of these pretences. It'll meander through traffic amenably, then stun you with a quick squeeze of the right foot. You're not buying this sort of car to worry about fuel consumption though.
It's got sat nav and tyre pressure indicators to let you know once everything is warmed up – from a track day perspective the practicality is spot on. From an everyday use perspective, if you're travelling solo, you could always put stuff on the passenger seat.
Conclusion
The 620R is a stunning experience car. The on-paper numbers are backed up in the real world in a package that offers surprising accessibility and usability. I only had an hour, but very quickly felt at home in it.
It handles supremely and a final nod must go to the steering. The electro-hydraulic system McLaren uses is brilliant. You get the right amount of feedback to feel connected to the road, without it being too heavy when you don't want it to be. You can plot your course through corners telepathically and the nose just darts exactly where you want it to. It's stunningly good, perhaps even perfect. It's certainly hard to envisage anything better.
In terms of the overall driving experience, which is the sole focus of the 620R, McLaren is bidding its sports series farewell appropriately. In the shape of the Artura, the future doesn't look to shabby, either.
Related: TLE Drives: The McLaren GT