Christine, B.A Baracus's MC Vandura, DeLorean… Do you recognise them all? In honour of Steve Spielberg's return to Sci-Fi, Fulton Leasing summaries the most iconic movie cars of all time as seen in Ready Player One's homage.
B. A. Baracus's MC Vandura – 
Type of Vehicle: GMC G-Series
Special Features: Capable of numerous accidents, the gun storage cased containing Ruger AC556 automatic rifle with folding stock and flash hider firing 5.56x45mm NATO rounds
Owned by master mechanic Sergeant Bosco B.A (Bad Attitude) Baracus, this GMC Vendura cargo van was indestructible as the vehicle went through withstanding numerous accidents, gun battles and insane jumps, and still survived! Well, either Bosco truly was a master mechanic, or maybe they just got a really good deal on car insurance.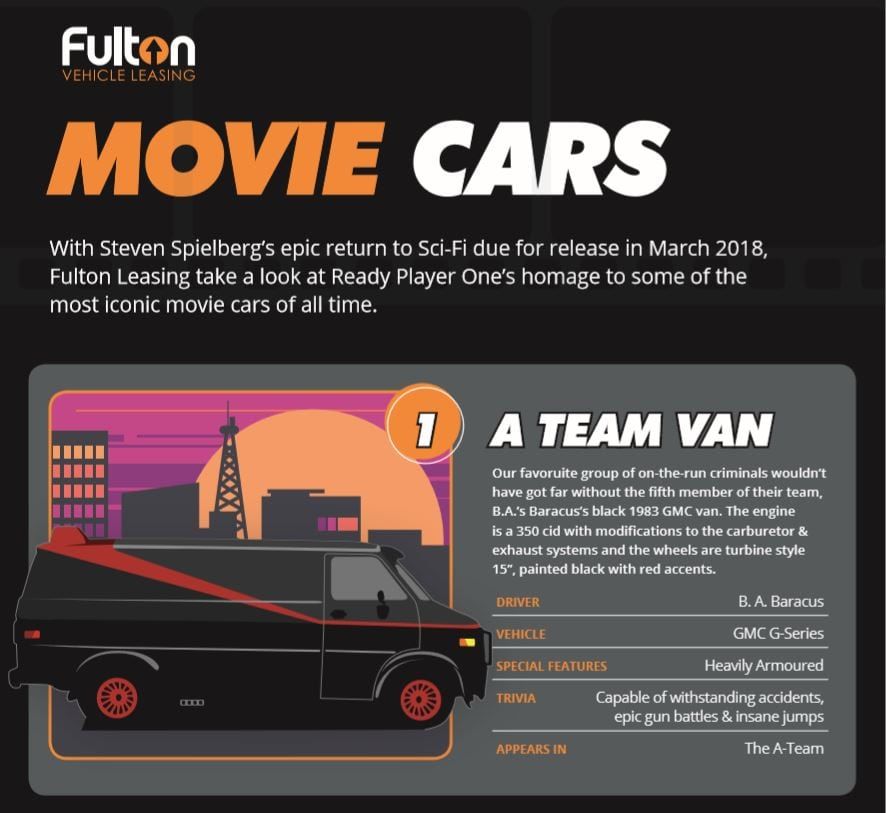 Christine – 
Type of Vehicle: 1958 Plymouth Fury
Special Features: Self-repairing, generally evil
Appears in: Christine 1983 (Novel), Christine 1983 (Film), Ready Player One 2018 (Film), various other Stephen King novels
Restored by Arnie Cunningham, the red 1958 Plymouth Fury car had an evil spirit and was used as a tool to kill in Christine, a 1983 American psychological thriller directed by John Carpenter.
Stephen King fans take note. Christine, or a 1958 Plymouth Fury, also makes an appearance in a range of other king novels such as 'It' and 'The Stand'.
Max Rockatansky's V8 Interceptor/Pursuit Special –

Type of Vehicle: 1973 Ford Falcon XB GT coupe
Special Features: Weiand 6-71 supercharger, siren, supersized gas tank
Appears in: Mad Max, Mad Max 2: The Fury Road Warrior, Mad Max: Fury Road, Ready Player One 2018 (Film)
Mad Max's muscle car ticks all of the boxes. It's noisy, it's fast, it's evil looking and it's a cop car, so can lawfully run people over.
The V8 Interceptor is a primary vehicle driven by Mel Gibson's character Max Rockatansky at the end of Mad Max, for the first half of Mad Max 2: The Road Warrior, and can be now seen in Ready Player One.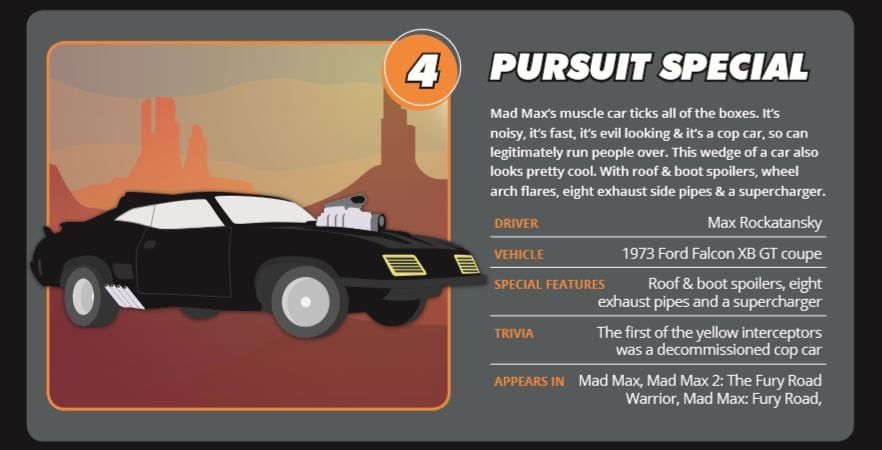 Mach 5 – 
Type of Vehicle: Racer Motors Mach 5
Special Features: Auto-jacks, belt-tires, bullet-proof canopy, cutter blades, frogger mode, illuminating eye, homing robot, homing device
Appears in: Speed Racer (Anime) 1967-68, Speed Racer (Film), Ready Player One 2018 (Film)
Historically known for the Japanese animated TV series but immortalised by the 2008 film, Mach 5 is a show-off of a car that won races and captured imaginations. The steering wheel featured seven function buttons, each of which activated a customised and usually ridiculous but cool accessory designed by Pops Racer.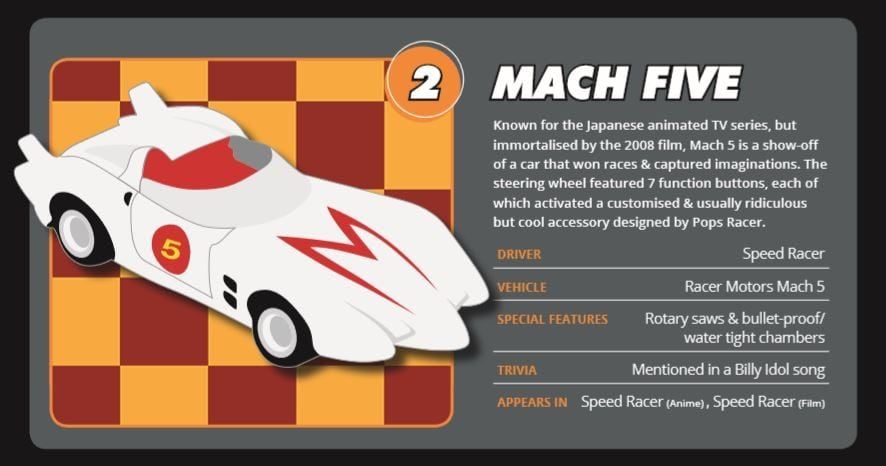 Doc Brown's DeLorean –

Type of Vehicle: 1981 De Lorean DMC-12
Special Features: Flux Capacitor
Appears in: Back to the Future (1985), Back to the Future Part II (1989), Back to the Future Part III (1990), A Million Ways to Die in the West (2014), Ready Player One 2018 (Film)
One of the most iconic movie cars of all time, the DeLorean was an automobile-based device featured in the Back to the Future known for a lot of things – especially its ability to time travel. This plutonium-powered time machine comprised of a DeLorean DMC-12 sports car, which has been modified with flux capacitor, mr. Fusion Home Energy Reactor, TFC Drive Circuits Switch and many more temporal displacements to meet its purpose.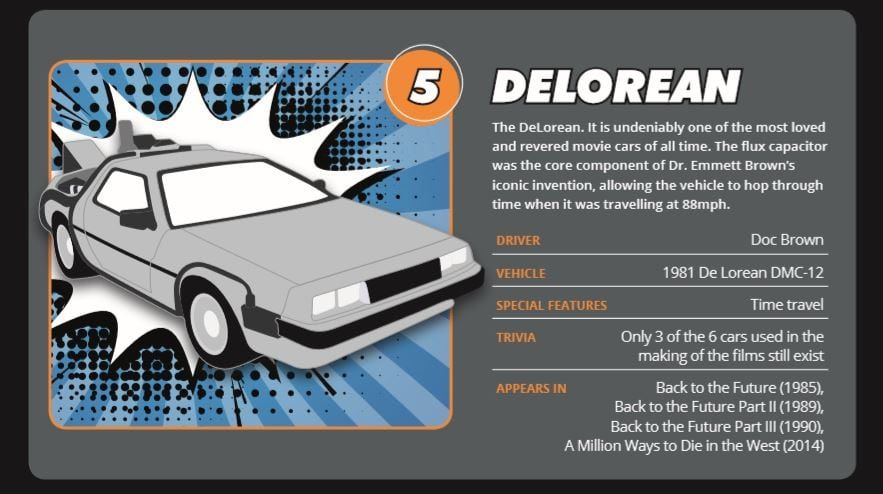 ---
Feature Image: CC BY-SA 3.0, https://commons.wikimedia.org/w/index.php?curid=205882