This is the £100,000 watch stolen at gunpoint from the former owner of Crystal Palace in a daylight robbery.
Simon Jordan, 50, was robbed at gunpoint for his rare watch white gold, blue-faced Franck Muller while out driving with his 80-year-old father.
A motorbiker dressed all in black pulled up alongside Mr Jordan's car before pulling out a gun and demanding he hand over the timepiece or be shot.
The motorbiker than sped off before armed police arrived at the scene in Croydon at 1 pm on Wednesday.
DS Tim Walter from Croydon CID said: "This was a terrifying ordeal and robbery of a man sat in his car waiting at a traffic light.
"The single suspect has pulled up alongside him and pointed a suspected handgun at him before making threatening demands for his watch.
"No other items were taken. Although shaken the victim did not require hospital treatment.
"My team are doing everything they can to identify the culprit and bring him to justice.
"This involves the recovery of local CCTV footage and ongoing forensic work.
"The item stolen is a rare white gold, blue faced Franck Muller watch.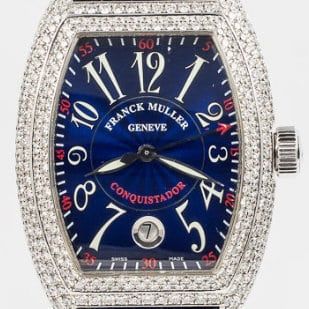 "If you are offered this item for sale or have on information on its whereabouts I would urge you to get in touch."
Scotland Yard added: "Detectives appealing for information after a man was robbed at gun point have released an image of the watch that was stolen.
"Police were called at approximately 1pm on Wednesday, 21 March to reports of a man robbed at gun point on London Road junction with Sumner Road, Croydon.
"Armed police attended and spoke to the victim – a man aged in his fifties – who explained how he was sat in his car when he was suddenly approached by a single male suspect on a motorcycle who pointed a gun at him and demanded his watch.
"The victim complied and the suspect who was wearing black clothing with a black a grey motorcycle helmet took the victim's watch and made off from the scene.
"He fled down London Road towards west Croydon.
"No arrests have been made. Enquiries continue."