Players happy to drink with the fans, a former England international as manager, the smallest stand in world football, and their own dancehall track. Introducing Peckham Town, your new favourite football club.
It's another football tournament summer, albeit one where the probability of football coming home depends as much on its vaccination history as the quality of England's penalty-taking. But being a fan of football doesn't need to end with the first Adele soundtracked footage of an anguished Gareth Southgate. There's so much more to the game than Box Park beer showers.
With a year of lockdowns at an end, now's the time to get off the sofa, and get out and be a proper supporter. But don't go to the top; Super League would've-beens Arsenal, Chelsea and Tottenham don't even care for the 'legacy' fans they already have, let alone you. No, keep it small-scale, keep it local, keep it low-investment, high-reward, keep it tea-bar rather than tunnel club. Keep it Peckham Town.
Who are Peckham Town? Well we're glad you asked. Here's the lowdown on South London's least menacing Menace.
When were Peckham Town formed?
So, you want to start your own football club, you need players; what's your first step? Set up a twitter account? A Facebook group? Post on Reddit? Well, in 1982, 13-year-old Bryan Hall didn't have those options. But he did have a marker pen, and a piece of paper. So he opted for the most social of media available at the time and stuck a poster on a tree in Peckham Rye Park advertising for players.
Four people showed up for the first session. A few more for the next, then eventually they had enough for a team. Next challenge? Getting into a league. Not easily done when you're a 13-year-old, but after some persistent phone calls, young Bryan wore the Football Association down, and they allowed his team into the Mercury Under 14s League.
Now he just needed a kit. Step forward Hall's Auntie, who dragged him to Walthamstow Market to pick out the material, and then enlisted the residents of the old people's home she worked at to help stitch it together. Hall's football club was ready to play… unfortunately their opponents were a little more ready… Hall and his mates were beaten 18-0.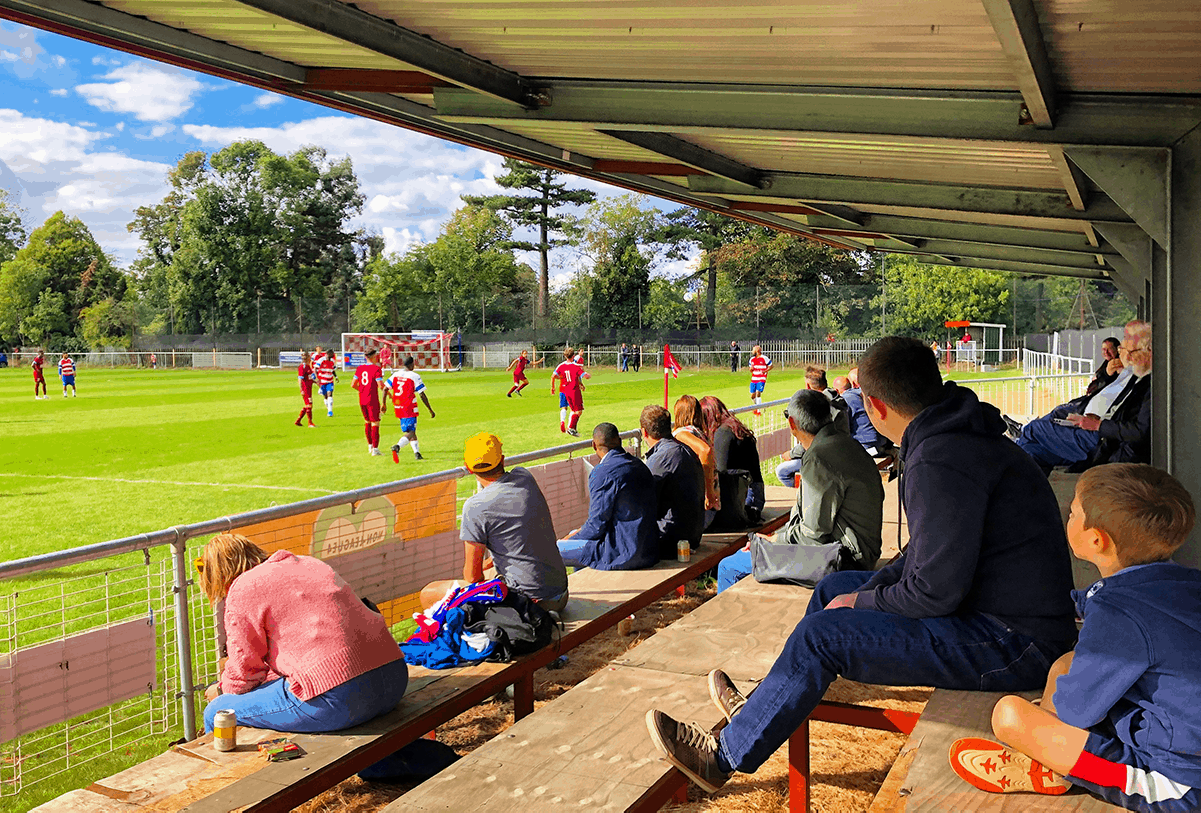 Wait, so is Peckham Town a kids team?
No, no. Undeterred by that opening homemade kit hiding, they not only carried on, but grew. They adopted the name Peckham Town to represent the wider community, they found sponsors, and by the end of the decade they had youth teams at every age group. By the mid-1990s they also had a successful men's adult side, which continues as the club's first team today, flanked by reserve and 'A' teams, plus a women's side.
What division do Peckham Town play in?
Having risen through local Sunday League football in the 1990s, and then through local Saturday League football in the 2000s, Peckham Town joined the Kent County League in 2012, and soon rose through that too. Since 2016 they've been in the KCL Premier Division, the 11th tier of football in England.
What's this about Peckham Town having an England international as manager?
Yep, there are only three footballers to have earned more than 65 England caps currently managing in men's football. Wayne Rooney is one; Steven Gerrard another, and then there's Peckham Town's Mary Phillip. Not merely the holder of 65 caps, Phillip was the first Black woman to captain England, and represented her country at two World Cups. Add in a European Cup win, five league titles, and the mere seven FA Cups she won, and there can be few managers in British football more decorated than her.
Peckham born and bred, Phillip had been helping out as a coach at Town for some years before being asked to become 1st team manager. "Among Peckham players my gender has never been an issue but opposition teams often mistake me for the physio or a player's girlfriend," Phillip told the BBC last year. "Women can do the job, given the opportunity. Just because I'm female, it doesn't mean to say I can't do the job that I've been asked to do. Male or female, it shouldn't make a difference." Here, here.
So, have Peckham Town ever won any trophies?
Just a few. Peckham's march up the divisions saw them pick up more silverware than Pep Guardiola's cleaner; eight league titles, 14 cup wins, three league and cup doubles, and last August, their biggest honour to date. In a pulsating, Covid-delayed final, The Menace defeated AFC Cubo on penalties to lift the London Senior Trophy; a win which also made Phillip the first female manager to win a senior men's competition.
Why do Peckham Town call themselves The Menace?
Like the club, the nickname started with the juniors. When one of Peckham Town's youth teams were unfairly labelled a 'menace' by their opponents, simply for having the temerity to be a team of inner-city kids playing football in Kent suburbia, the club decided the best way to refute the label, and to stop the kids being called it from feeling shamed, was to own it. 'If they're going to label you a menace, then the menace is what we'll be'. The nickname has stuck ever since.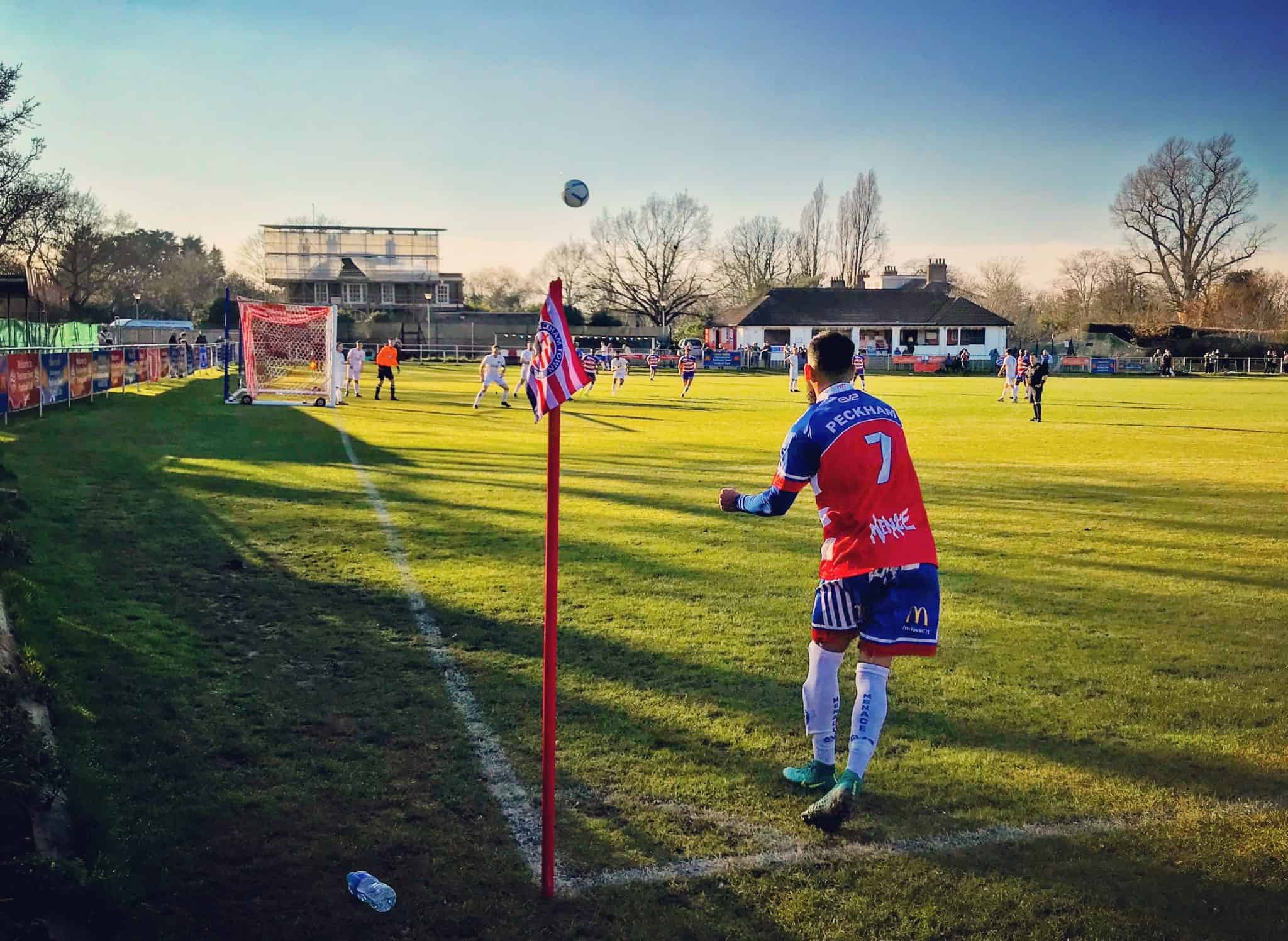 Where do Peckham Town play their home games?
After making do with temporary homes – pitching up on South London fields from Mitcham to Mottingham, including a spell in the middle of Herne Hill Velodrome – Peckham finally secured a home of their own at Southwark Sports Ground on Dulwich Common.
The Menace Arena (as it inevitably became known) has been made increasingly fan friendly over the years; there's a tea-bar that does a fine, and all too tempting, line in beers from Peckham's Brick Brewery. And there are four covered stands from which to watch the match, including what Town believe to be the smallest stand in football. Situated in the corner of the ground, 'Jackie's TV Tower' was a squeeze at the best of times, but the implementation of social-distancing saw its capacity reduced to 1 last season
So, do Peckham Town have fans?
Not only do they have fans, they have their own set of Ultras. Noisy, scarf and sticker wielding Peckham fanatics, who've all found exactly what they're looking for from football, in their support of Town.
"I first went in 2014 and I loved it, I loved the atmosphere; there was a great buzz, a great bunch of people. It was just good fun. I loved the fact there were only 20 people there. Although I'm kind of slowly ruining that part," says Duncan Hart, fan turned Club Development Manager whose job it is now to get more people in through the gate.
So, are fans at the 11th level of English football the same as those at the very top? "Yes, although there is a line. You can support Peckham, but you can't shout abuse at the opposition at this level, firstly because these players aren't getting paid, so they don't deserve it, but also because they're big lads, big burly builders from Kent, and they're only three metres away."
A fan of Dulwich Hamlet as well as Peckham Town, what's kept Hart coming back to The Menace Arena? "I think there's such a community feel about this level, the players are basically your mates. During our London Senior Trophy game the other week our centre-back came past and asked if I was coming to the pub afterwards. I love that. I mean of course I was."
Anything else that marks Peckham Town out as unique?
Well, they're probably the only 11th tier football club in the country to have their own dancehall track. Ras I-Maric's 'Peckham Town' ("Peckham Town, we aint no push around; Peckham Town, keep the football on the ground") was written on the steps to the club's changing rooms, and is one of two tracks that accompanies the players onto the field. The other? The theme to 'Only Fools And Horses', naturally.
What's next for Peckham Town?
"We want to get into the Southern Counties East League," explains Hart, "this current team would easily perform at that level." Whilst results in the London Senior Trophy over the last two seasons certainly back that up, at this level of football promotion often comes down to matters off the pitch rather than on it.
To move upwards to the SCEFL (football's 9th and 10th tiers) The Menace need to erect floodlights, make changing room adjustments and add solid walkways around the pitch. Some of these changes are hindered by cost, others by the slow permissions process they must follow to satisfy the ground's freeholders Dulwich Estate, and leaseholders Southwark Council.
"We were denied promotion because of our ground, then we've had two seasons curtailed by Covid, so we just feel like we're stagnating a bit, even though we've got a team that's good enough." Hart's and the club's frustrations certainly haven't been helped by having to watch teams from lower in the table be granted promotion ahead of them .
Undeterred the club continues to plan for the future. But then when you've overcome an 18-0 first game defeat to build one of the most impressive community clubs in the country, you're hardly going to let a bit of red tape stop you.
So, what happened to the kid who founded the club?
The 13-year-old Bryan Hall who pinned that note to a tree, is now 52-year-old Bryan Hall, Peckham Town chairman, coach, groundsman, and general matchday dogsbody.
At the heart of the club he founded – as well as football throughout the local community – for almost four decades, Hall's name is regularly sung in tribute by the Menace Ultras on matchdays. Altogether now…
"Woah Bryan Hall, he comes from Peckham, he's fairly tall…
They said his days were numbered and he was heading for a fall…
But then he founded Peckham, and now he fetches the stray balls…"
Peckham Town return to action in July with a string of Saturday afternoon pre-season friendlies at The Menace Arena, starting with Fisher on 10 July. Their new Kent County League Premier Division season gets underway on 14 August.