A determined couple have been hailed Britain's most hardcore football fans after refusing to miss a single game since 1999 – clocking up 1,000 CONSECUTIVE matches.
Scunthorpe United fans Richard and Tracey Bailey have watched every game since witnessing The Iron see out a goalless draw to Cambridge almost 20 years ago.
Tracey, 46, said the devoted couple have spent about £60,000 on games in their 18-year continuous quest.
They have only come close to missing one fixture after an accident on the M40 closed the road and almost stopped them seeing an away game in Bournemouth.
To make the feat even more special the couple live in Derby – 80 miles away from Scunthorpe – and have clocked up 65,736 miles just travelling to home fixtures.
Tracey said: "The reason why we've been able to do this is because we have good, flexible jobs, we can afford it, we haven't been ill – and mainly we don't have kids.
"We also haven't broken down which would determine if we made it to the match or not – so touch wood that doesn't happen.
"I know other fans from other clubs may have done something similar, but doing it as a couple I think has got to be a first.
"People say we're bonkers and now people come up to us and say 'oh it's you two is it – who have been to every game'.
"But we've stuck with the team for all these years – and we'll continue to do so while we still can."
Tracey says the couple's love affair with Scunthorpe United after the team were promoted in the 98/99 season at Wembley from Division 3 to Division 2.
The couple bought a home and away season ticket the following year and have continued to renew their tickets every season.
Although the couple were part of a record attendance at Glanford Park – 9,077 v Manchester United in the League Cup on September 22, 2010 – they have also witnessed four relegations, including a season where they won just ten games.
The fanatical pair have also seen eleven managers come and go during their time watching the team.
Unfortunately, they have never seen Scunthorpe United go further than the fourth round in any cup competition during the spell – resulting in no silverware to celebrate.
The couple, who say both have 'flexible jobs' and take annual leave to attend mid-week away games, have been close to losing their record.
Tracey revealed every time the couple come within four miles of a ground, they say: 'well at least we can walk it from here'.
She added: "Even if we broke down, I think we'd just dump the car and get a taxi."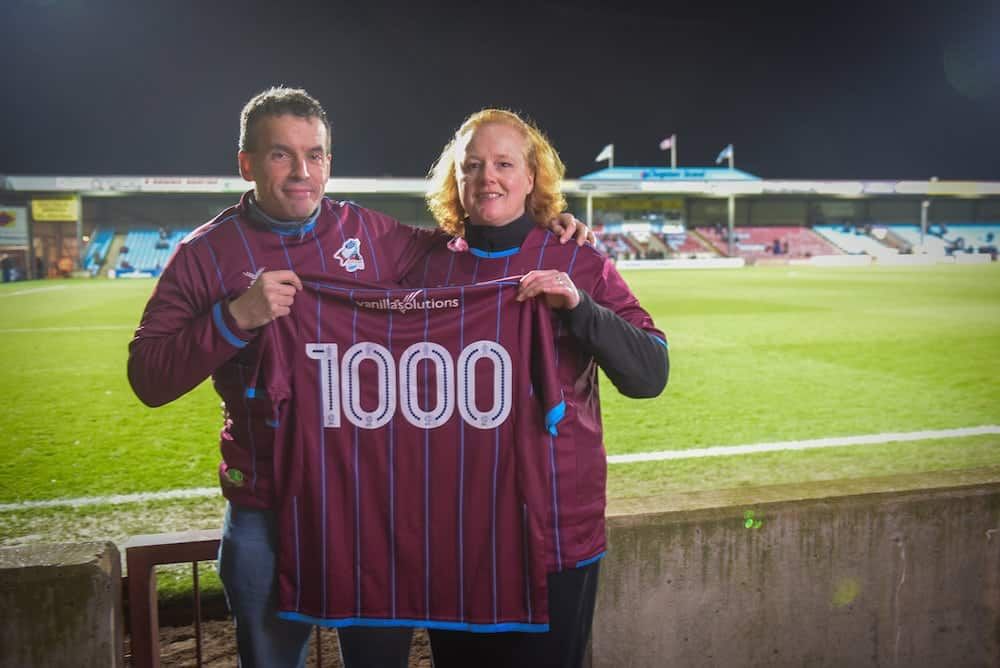 But the couple almost missed an away game down at Bournemouth when an accident almost scuppered their record.
Tracey added: "After we managed to get back on route we drove 90 miles in 90 minutes and got into the stadium just as the game was kicking off."
Tracey moved from Scunthorpe to Derby for work over 20 years ago before meeting and marrying Richard.
Former Hereford Town supporter Richard then switched allegiances to support Tracey's team due to fixture clashes.
Aerospace analyst Richard, 56, said: "We just fell in love with the atmosphere, the fans, the buzz of the build-up to the game – and the social aspect of making friends.
"It just turned into our thing to do, like any other hobby.
"A meal for two and a bottle of wine is usually around £50, and going out for a night out on the weekend is more than that – so we just spend that on the football.
"The build up to the big milestone really put the pressure on for us to go to every game – so we definitely couldn't miss one."
The couple have almost watched their team at every away ground in the football league and premier league – with some still outstanding.
Tracey, a health and safety consultant, added: "We would also like tick off all the 92 grounds in the Premier League and Football League – and become part of the 92 club."
The couple celebrated their 1,000th consecutive match watching the Iron beat Northampton 3-0 at Sixfields on Saturday Nov 18.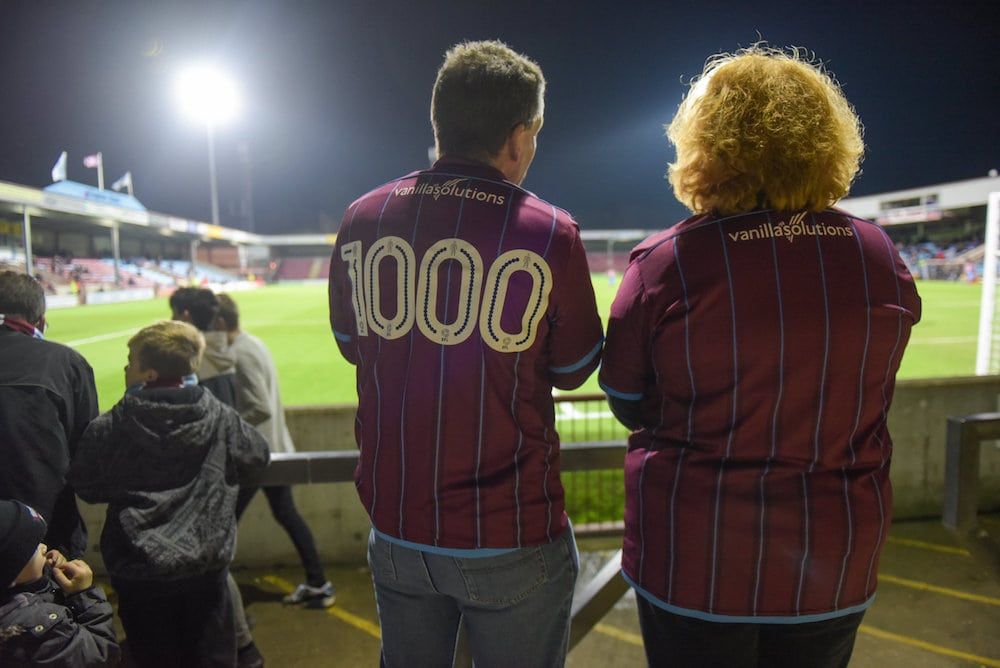 They were presented with a limited edition shirt by the club to recognise their outstanding efforts.
The married pair have experienced the highs and lows of lower league football and continued their 18 year record with Tuesday's cup defeat against Leicester U21s (Dec 5).
That game was the couple's 1,004th outing.
They celebrated a milestone a couple of seasons ago when they notched up their 800th consecutive league game as Scunthorpe beat Sheffield United 2-0 but adding in all the cup games, they have now reached the magical 1,000 mark.
Derby County, Leeds United & Nottingham Forest legend is flogging championship medals to pay for Xmas shopping