Meet England's oldest living international footballer – who scored two goals in a World Cup over 60 years ago.
Striker Ivor Broadis, 95, is no stranger to playing on football's biggest stage after starring at the 1954 finals in Switzerland.
He bagged a pair to become the first England player ever to score two goals in a World Cup.
Ivor has today backed England after their loss to Belgium last night – believing Gareth Southgate's men are 'giving as much as they can'.
Ivor, of Carlisle, believes fans must keep faith in the squad.
He said: ""People are hyper critical. Players nowadays don't get a fair crack of the whip because people think they don't try hard enough.
""I think Gareth's got the players giving as much as they can possibly give."
Grainy black and white photos show Broadis in his heyday dribbling a heavy brown leather ball.
Only three other names from the 22-man 1954 squad are still alive alongside Broadis; goalkeeper Ted Burgin, inside forward Albert Quixall and outside forward Harry Hooper.
The enthralling game resulted in a 4-4 draw, with Broadis and fellow teammate Nat Lofthouse each notching braces.
"The first game in 1954 was against Belgium, where I scored twice. I can't remember the second goal but I can remember the first," Ivor said.
The second and final group game was an encounter with the hosts, ending 2-0 to England and seeing them top the group ahead of second placed Switzerland.
Six days later, England faced Uruguay in a quarter-final game that Ivor resents in more way than one.
"Uruguay in the quarterfinals were hard because if they didn't win the ball they took the man. I don't think they've changed in anyway," he said
After a gruelling encounter, England lost out 4-2 to the 1950 world champions.
Recalling the build up to the 1954 World Cup and his Sunderland days, Ivor said: "I was at Sunderland and with the World Cup in those days club directors weren't interested in winning it.
"They were only interested in boosting the transfer price of their players."
However, Ivor's World Cup debut very nearly never happened.
His daughter Gillian was born on May 8 after his wife was induced so he could go to the World Cup. Ivor and his late wife also had a son called Michael.
"It was dodgy when I went to the World Cup because my wife was pregnant but I was determined fully.
"When you're a footballer, playing for your country is the top and playing at a World Cup adds a bit of spice."
Born Ivan Arthur Broadis on December 18, 1922 on the Isle of Dogs, London, Ivor has led an incredibly rich and varied life, both on and off the field.
He became known as 'Ivor' after an administrative error while playing as an amateur for Tottenham Hotspur during the war and later he could have signed for them professionally.
However, it was to be for northern outfit Carlisle United that Ivor kicked off his senior career, before spells with Sunderland, Manchester City and Newcastle United.
During the war Ivor became Flight Lieutenant Broadis after joining the RAF as a navigator and completing his training in upstate New York, where he lived with family.
He completed 500 flying hours on Lancasters and Wellingtons and he was in Italy when news broke that the war was over.
He returned British troops to these shores and remembers the emotion of flying back over the white cliffs of Dover.
He was posted to Crosby-on-Eden, near Carlisle, where he met his future wife, Joan.
Ivor was asked by the Carlisle chairman if he wanted to manage the team at only 23, to which he agreed and is still the youngest player-manager in Football League history.
However, the stint didn't last long and in 1949 Broadis became the only manager in Football League history to sell himself, joining Sunderland for £18,000.
Ivor was succeeded at Carlisle by the legendary Bill Shankly, an individual he became close friends with and highly admired, alongside another well-known Scottish name.
He eventually returned to play for the Cumbrians for four seasons and finished his career off in 1960 after a season with Scottish side Queen of the South, whom he is also the oldest surviving player.
After his playing days, Ivor continued his love affair with football, moving into journalism and working as a reporter for 45 years.
When he was at Manchester City he started off his written work by contributing articles for the Manchester Evening News.
Commenting on whether it was a difficult transition swapping the ball for the ballpoint, he said: "I didn't find it a problem at all. I think it's essential to write exactly what you think."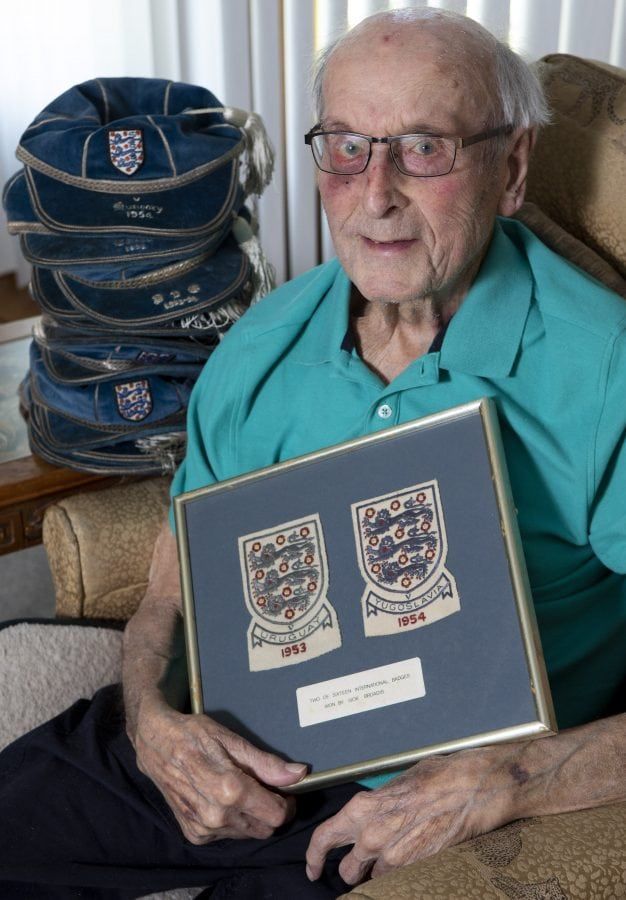 Having played alongside and against some of the greatest names in the game, including Sir Stanley Matthews, Ferenc Puskás, and a young Sir Alex Ferguson, Ivor's favourite was another Hungarian great.
"Ferenc Puskás stole all the highlights but I thought the Sándor Kocsis was the best – he was some striker," he said.
"I spoke to him after the game where we lost 7-1 and Kocsis said he'd seen his wife only twice in two years.
"I have so many great memories and wouldn't change them for the world."