Arsene Wenger pulled it off!
In what is perhaps the tensest transfer merry go round story of the January transfer window, Olivier Giroud's agent has arrived in London, as Borussia Dortmund confirmed the sale of Pierre-Emerick Aubameyang to Arsenal with a club record fee of 63.75 million euros (£56.13 million).
Dortmund sporting director Michael Zorc says in a statement: "Apart from the unpleasant events of recent weeks, we remember the story of Pierre-Emerick Aubameyang as a success story.
"He has done great things for Borussia Dortmund, scored many important goals and was part of the team that brought the DFB Cup to Dortmund in 2017. We wish Pierre-Emerick all the best for his future at Arsenal."
Arsenal fans are relishing the world's fastest forward bolstering the Gunners whose top four dreams look more bereft than ever after losing 3 -1 to Swansea last night.
But fans are also up in arms about Arsene Wenger being forced to sell well-loved late goal scorer Olivier Giroud to Premiership rivals Chelsea which now looks likely as Dortmund had insisted that the deal is only on if they can replace Aubameyang.
The German club want to loan Michy Batshuayi, the Belgian striker who is desperate for more action to make Belgium's World Cup squad.
Batshuayi has not fared that well at Stamford Bridge and Antonio Conte is happy to replace him with Arsenal's Olivier Giroud.
Giroud is also determined to have more first team action to ensure being picked for France's World Cup team, and that looks less likely at Arsenal with the arrival of Aubameyang.
Conte last night said that he was unsure of Batshuayi's future at Chelsea ahead of tonight's Bournemouth game.
The Gunners had valued Giroud at £35 million, but reports suggest that a £18 million fee has been agreed with their London rivals, as it was the likliest option to guarantee securing Pierre-Emerick Aubameyang.
Last night Arsenal legend Ian Wright likened losing Giroud for Aubameyang to losing a tenner and getting a fiver in return.
But with Aubameyang, Arsenal are getting a former African Player of the Year in 2015 and an athlete renowned for his speed having clocked 30 metres in 3.7 seconds. This stat is particularly impressive when considered that it is faster than Usain Bolt at the same distance.
If still not convinced by his credentials, Aubameyang was voted as the 8th best player in the world by the Guardian in December 2016.
The striker is in-form having scored 21 goals in 24 games for Dortmund in all competitions this season and has a phenomenal record with 98 goals in 144 games for the Bundesliga club.
The player who was subject to banners of 'No player is bigger than our club' during last Saturday's draw with Freiburg is expected to earn £180,000 a week at the Emirates making him Arsenal's highest-paid player.
Arsenal fans as expected are excited at a mouth-watering forward line that is set to reunite Aubameyang with former Dortmund player Henrikh Mkhitaryan, whilst accompanied by Mesut Ozil and Alexandre Lacazette.
Ozil is reported to be happier to sign a new contract with the Gunners with the new signing showing their serious intent.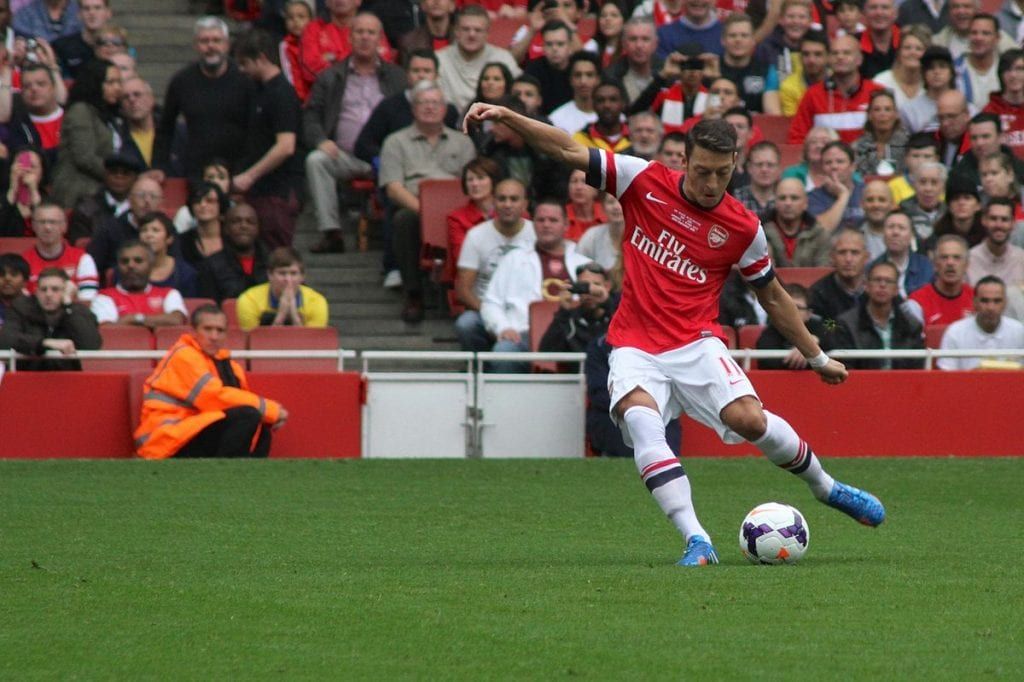 Although, it is unknown as to whether Lacazette or Aubameyang will be repositioned to their previous roles on the wing or vie to lead the line as the sole striker. If it is the latter, it will be a bitter disappointment to Lacazette who only joined in the summer for a then record £52.7 million and who has since only scored one goal since December 3 last year.
https://www.youtube.com/watch?v=HeOoMa1JMFs
MORE:
"A dream come true" – David Beckham tells Miami, becoming first MSL player to own a club