A football club's minutes book dating back to 1888 has been discovered providing a rare and fascinating insight into the lifestyle of Britain's first ever professional players.
The historical record was penned at the formation of England's Football League – over a century before it became the Premier League as we know it today.
The official Derby County FC document reveals a seismic shift in the way clubs, players and fans of the 'Beautiful Game' have changed over the last 130 years.
It shows how club finances and wages were low with a bank balance of £127 compared to the modern day mega-rich foreign owners and multi-millionaire players.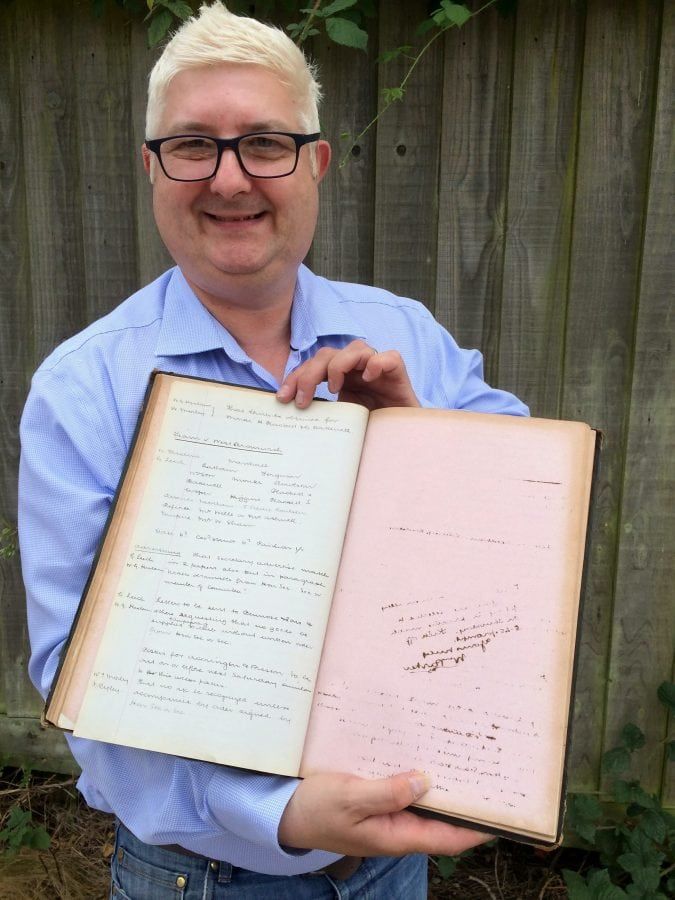 Ladies were even banned from some parts of the stadium and only one woman per committee member was allowed in to watch a game.
And far from bad mouthing referees, one player even took the time to write a humble and politely-worded letter of apology for not being available for a game one week.
The contents of the letter appear among copious notes, meticulously written in ink in a Derby County FC directors' minutes book dated February 6, 1888 to June 3, 1889.
The Football League, the oldest league in the world, was formed in April, 1888 and Derby – known as the Rams – was one of its 12 inaugural members.
It stood alongside Accrington, Aston Villa, Blackburn Rovers, Bolton Wanderers, Burnley, Everton, Notts County, Preston North End, Stoke, West Bromwich Albion and Wolverhampton Wanderers.
The book has been discovered amid a vast collection of 25 boxes of football memorabilia gathered by the late Gerald Mortimer, a respected sports journalist.
He was Derby County correspondent for the Derby Telegraph from 1970 to 2002.
Hundreds of items gathered by Mr Mortimer will be sold at Hansons Auctioneers Sporting Memorabilia Auction in Etwall, Derbys., on August 31.
They include rare programmes, match day tickets, personal letters from famous managers, including Peter Tayler, and the minutes book, which has an estimate of £500 to £800.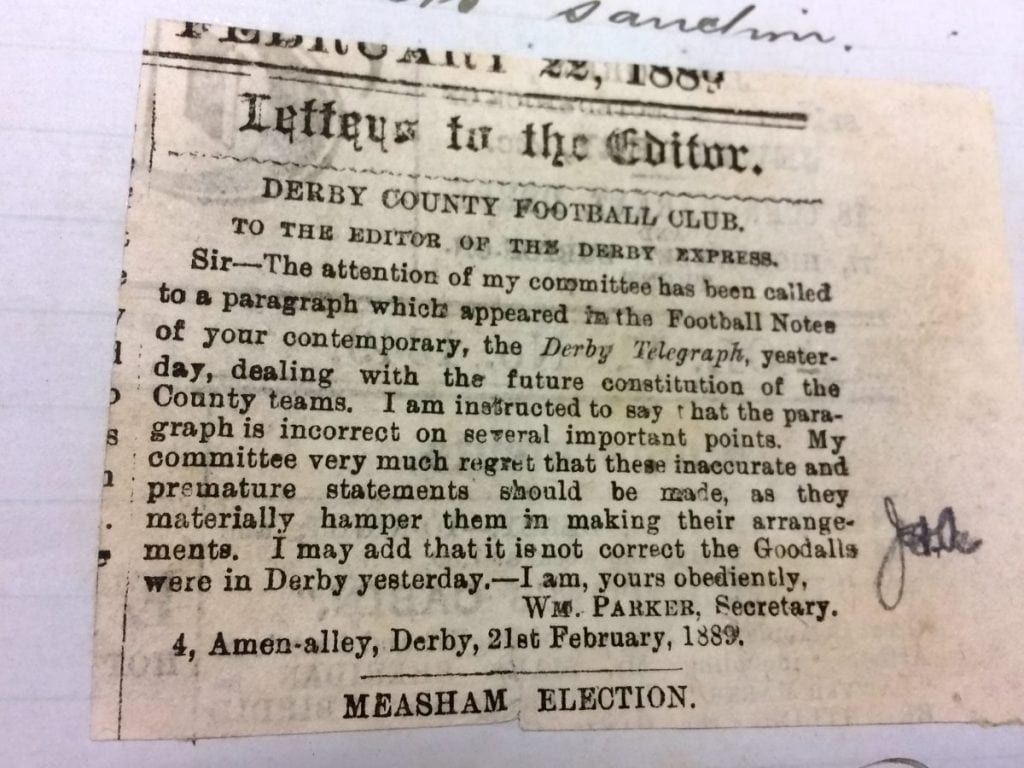 One note in the book, showing how times have changed, reads: "That each member of the committee has a ticket to admit one lady to ground and pavilion. Balcony – no ladies to be admitted."
A note about a player called Smith states: "This player to be engaged for next season as a professional on the best possible terms. To have seven/six (32-and-a-half pence) and a pair of boots. Also, to be engaged at five shillings (25p) reserve and ten shillings (50p) for first team for next season."
Another note reports on a player, H A Morley, who failed to turn up for a game. He requested that his letter of apology be placed on the minutes.
It says: "Dear Sir, I feel that some little explanation is needed from me to your committee as to my refusal to go to Bolton on Saturday last. My attention was drawn about a fortnight ago to a paragraph in the Athletic News to the effect that, in spite of having an invitation to play for the team, I was to be reserve for Ferguson; this coming after my exclusion as a member of the team in the Derby papers gave me grounds for believing that I had been shelved; apologising for my neglect in not writing sooner."
Hansons' football valuer and Derby City FC fan Alastair Lofley said: "This rich historical object provides an insight into what life was life at the birth of the Football League.
"It deserves to be in a football museum. England has a fantastic football heritage and we really should honour it.
"This is how it all began – the football structure at the heart of a game loved across the world today.
"Before the Football League was formed, chaos reigned with teams trying to organise their own fixtures haphazardly.
"The Football League was launched to bring order to the chaos – and it did.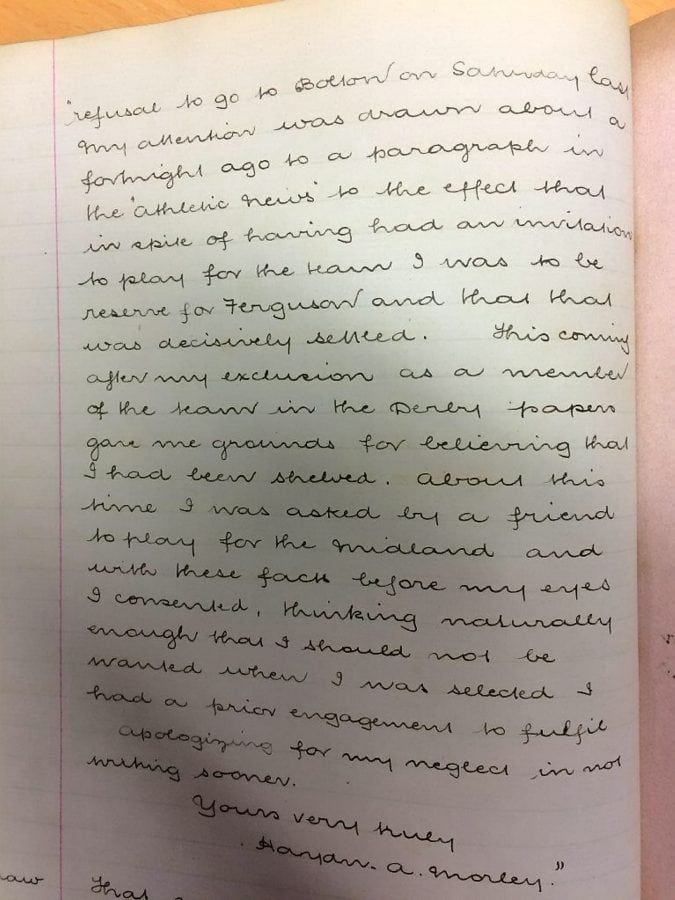 "Players were allowed to have professional status in 1885 and that was closely followed by the launch of the Football League.
"Today, all football fans look forward to the release of the fixture list and it all started in 1888 with those 12 teams.
"It's fascinating to browse the DCFC minutes book. It names the teams for various games, lists the players, typical wages, and, of course, the all-important results, painstakingly recorded by hand at the back of the book – goals for and against.
"Considering the vast number of female football fans – and players – today, the note about no ladies allowed on the balcony may rankle, but this was decades before women over 30 won the right to vote in 1918.
"Details of club finances made me smile. It refers to a float of £15 which, in 1888, was equivalent to £1,850.
"On October 22, 1888, there was a balance of £127.19.5 (£15,687 today) being in the club bank account.
"With the bad language and behaviour we witness on the pitch today, such politeness evident in the letter from the player who had missed a match is refreshing.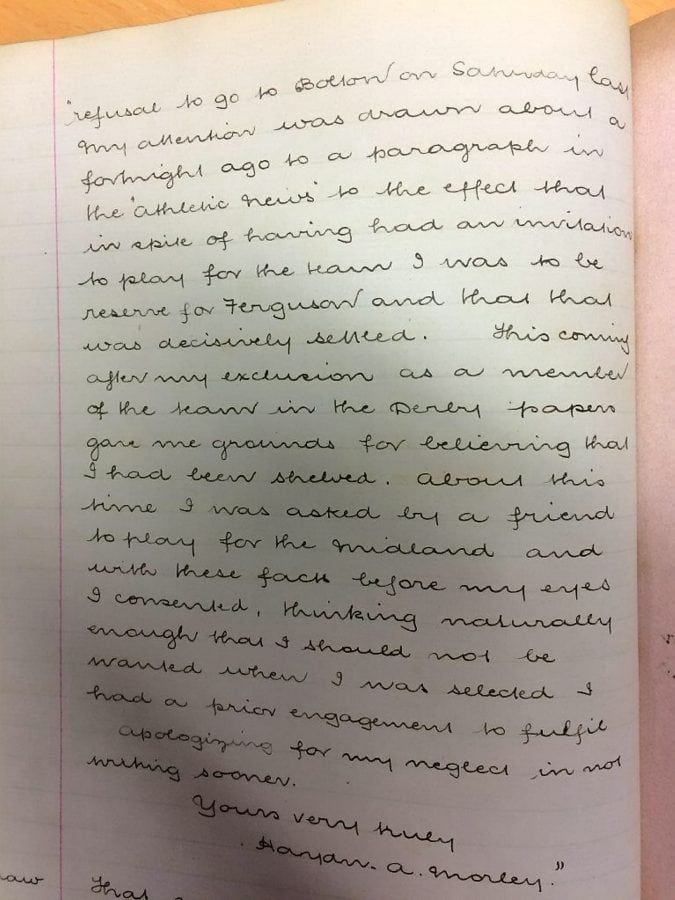 "It's amazing to think you could ask to join the team in 1888, no scouts or trials to bypass.
"Being invited to become part of the inaugural Football League was a great honour for Derby County and I'm pleased to say that on the first match of the season – September 8, 1888 – Derby came from 3–0 down away to Bolton Wanderers to win 6–3.
"We also beat our big local rivals Notts Forest 3-0 that season, though ultimately Derby finished 10th out of 12 teams.
"Derby play their first match of the 2018-19 season on Friday, August 3 – more than one month earlier than their predecessors in 1888.
"But we'll still be playing Bolton Wanderers this year. Some things never change."