It was one of the transfer sagas that defined this summer. Barcelona, having been browbeaten by Qatari petrodollars into selling Neymar, pursued Liverpool's Phillipe Coutinho with offers that reportedly went over £120 million. Despite the usual smorgasbord of press stories, causal Catalan tapping-up and a transfer request from the player, Liverpool's obstinacy won the day. Was this the right decision by Liverpool? I think so; these are three reasons why:
The Player
Eyebrows were arched in the manner of the late great Roger Moore as transfer offers for Coutinho rolled in and the question was posed- he's good; but surely not THAT good? In a transfer market that unburdened itself of any logic or reason in recent months, who knows what Coutinho is really worth? What is less opaque is that under Jurgen Klopp, he has now become a player worthy of gracing the grandest stages of football.
Coutinho has demonstrated his ability to conjure moments of genius since landing on Merseyside but was labelled with the charge of inconsistency, with a tendency to drift in and out of games too frequently. Last season he contributed 13 goals and 7 assists in his most consistent outing yet despite two months out with injury. At just 25 years old and this being the season immediately prior to the 2018 World Cup in Russia, Liverpool stands to gain from retaining a player at the cusp of reaching the standard of footballer described by that well-worn phrase; "world-class".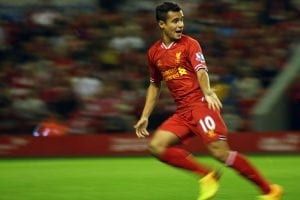 The Squad
Ask a typical Liverpool fan what the objectives for the season are and as a bare minimum will probably be the following; consolidation in the Premier League top four, the first knockout stage of the Champions League and ideally an FA Cup/EFL Cup to end a trophy drought dating back to February 2012. Achieving these objectives inevitably involve at least 50 games being played and as with any squad competing on all fronts, injuries are bound to blight the squad at inopportune times and players will lose and regain form. It follows that effective squad rotation will be paramount to success.
Much has been made of the impact made by Mohammed Salah and Sadio Mane at the start of this season and whether in light of their form, there was any need to keep Coutinho. Following Mane's sending off and upcoming 3 match league ban in the meek 5-0 surrender to Man City at the Etihad last weekend, this assertion can be put to pasture, as Coutinho is already now required to ward off the threat of Liverpool's otherwise bright early start turning into a harmful malaise. Furthermore, Liverpool's well-documented woes against mid-table sides parking the bus at Anfield last season could rear its head once more should teams adjust to starve Salah and Mane of the space to tear defences apart with speed. In these circumstances, a player like Coutinho that can subtly pick a lock or smash said lock to pieces with a match-winning 25 yard free kick or screamer could be the difference.
The History
2002. 2009. 2014. Each time Liverpool has been within striking distance of winning that elusive league title, it has taken several steps back. In 2002, Nicholas Anelka was let go after a sterling loan spell and El Hadji-Diouf, Salif Diao and Bruno Cheyrou signed instead. Liverpool went from 2nd to 5th the next season. In 2009, Rafa Benitez started the club's decline during this decade and lost his job by selling footballing great Xabi Alonso and replacing him with Alberto Aquilani; Liverpool went from 2nd to 7th. In 2014, Liverpool did business with Barcelona in selling them Luis Suarez only to replace him with Mario Balotelli and Ricky Lambert; this would be mirthful even for Liverpool fans were it not so utterly depressing. Needless to say, Liverpool went from 2nd to 6th.
There is a theme at play; Liverpool has often been 2-3 quality signings short of winning a league title only to sell key players and subsequently sign duds in their place. History cannot be repeated and this is why Liverpool was right to keep Coutinho. If the club has serious ambitions about attracting the best players and hauling Liverpool back into the elite, the odd decent season is not enough; title challenges and trophies are the only accepted currency.
A sure sign of strength is a team's bench. Last season Chelsea brought on Cesc Fabregas, Eden Hazard and Diego Costa to turn a pulsating FA Cup tie against Spurs in its favour, whilst Liverpool's bench typically could only offer the youngsters Ben Woodburn, Kevin Stewart and Marko Grujić. Guess which club won the title? That Liverpool can lose Lallana to injury pre-season and now Mane to suspension but bring Coutinho into the mix is a good sign- a sign of a club gradually building a squad with the calibre and depth necessary to not repeat past mistakes and press on for the major honours it wants to win.