By Anna Power
Like a lot of women I'm not very kind to my hair. I wash it most days and blow dry it with a heated dryer and I also colour my hair and have done so for years. To top it off, I have naturally fine hair – so I'm basically a hairdresser's nightmare. With this in mind I head to Carol Joy London for their Intensive Steam Treatment and Signature Blow Dry in the hope of rescue.
There's no doubt that in the perfectly situated Dorchester Salon the Carol Joy experience begins at the door. Welcomed by reception staff and passing an opulent gold-gilded reception hall, you are shown to the lift and down to the basement tunnel spa, the corridor heavily scented with fresh floral bouquets. The hair salon is all white minimalist and very surprising laid-back in atmosphere.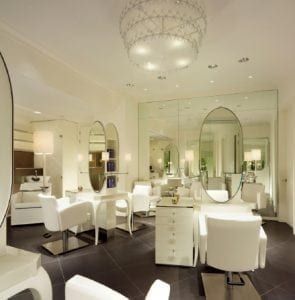 My hairdresser Simona, began by washing my hair with Carol Joy shampoo and then applying the Carol Joy Collagen Hair Mask explaining that it is deeply hydrating and works to rejuvenate the hair. With Millet Seed Oil and Collagen as its two key ingredients she then went on to seal in the mask by working it into the hair with an incredibly skillful Shiatsu acupressure head massage which is so deeply relaxing you really don't want it to end.
Once the mask has been massaged in it's time for the steam, hooking you up to something that looks a bit like a silk cocoon strapped to your head as it gently massages you further with lovely warm steam. At the same time my Carol Joy Collagen Eye Mask was applied like two cool collagen soaked eye pads covering the delicate under eye and curving round to capture the laughter lines around the eye. I happily sat there still semi-euphoric from my head massage and drank tea and read magazines feeling the gentle warmth of the steam.
After the steam machine was removed the collagen eye pads came off leaving my eyes looking refreshed, and renewed, the skin around the eyes plumper and tighter and a very pleasing result. Then the Carol Joy Collagen Spray was applied to my face, neck and hands which gave me a lovely youthful glow to my skin and I was ready for a pump of rejuvenating Golden Millet Hair Oil and their Signature Blow Dry. The thing with fine hair is, you can look great after a blow dry but give it an hour and the volume created will collapse and you're back where you started. Not so with Carol Joy's Signature Blow Dry my hair had volume that lasted the entire day! The Collagen Hair Mask and Steam Treatment has had a lasting affect on my hair too, It seems thicker, healthier and stronger and that's weeks later! I really couldn't be more impressed by Carol Joy London.
http://www.caroljoylondon.com/golden-millet-hair-oil
http://www.caroljoylondon.com/collagen-hair-mask
http://www.caroljoylondon.com/pure-collagen-eye-mask 
For information on Carol Joy Hair at the Dorchester: http://www.caroljoylondon.com/salon
Also see our Carol Joy Collagen Spray review:
https://www.thelondoneconomic.com/lifestyle/carol-joy-pure-collagen-spray-review/01/07/