A football fan has Harry Maguire tattooed on his chest – after betting he wouldn't score against Sweden.
Sheffield United fan Matt Benton tweeted that if centre-back Maguire netted on Saturday he would get his face permanently inked onto his body.
True to his word, the 26-year-old spent around three hours and £150 on the tattoo of Maquire's face at Til Death Tattoos in Swinton, South Yorks., on Monday.
Matt says his girlfriend Shanon, 24, said she likes his tattoo but has "been amazed" by the reaction on social media.
Speaking from his work today (Tues) Matt said: "I'm a big Sheffield United fan and I've seen him [Harry] come through the ranks.
"I've obviously seen him grow as a player and saw how good he's been doing and we're so close and then I thought – I'll get it.
"I put it on twitter – and then twitter exploded.
"When Harry retweeted me I was shocked because all his family had seen it and I'd tweeted his brothers, and I was like, well I've gotta get it done now."
The football fanatic had posted the statement on Twitter on July 5 – two days before England's 2-0 win over Sweden in the World Cup quarterfinals.
It read: 'If @HarryMaguire93 scores against Sweden, he's face is getting tattooed on my chest!! #itscominghome #twitterblades #sufc'
Matt says he spent Saturday [July 7] getting drunk after watching the Sweden game in his brother-in-law's garden.
He then spent Sunday ringing around various local tattoo artists to see who would do the design for a reasonable rate.
Matt was allowed by his bosses at Pennine Stone to leave early on Monday where he is employed as a project coordinator at a stone factory.
Describing the moment he watched the goal go in, Matt said: "I was celebrating the goal, but then my head was in my hands a couple of seconds later when I realised who had bagged it."
Matt has been trolled for his tattoo online, with pictures of Matt tattoo on Bobby Moore's face in the iconic 1966 world cup winning side.
Other trolling included, pictures of the tattoo singing 'it's coming home' from the three lions track.
He said: "The reaction has been brilliant, Boohoo man are offering me free clothes for life if I get 5,000 retweets on their tweet.
"It really has been mental. I've taken a hammering on twitter – but haters are going to hate – it's just quite surprising the amount of attention I've had."
Matt, of Conisbrough, South Yorks., is now readying himself for another two-hour session to fully complete the Maguire artwork which will include more shading and detail to Harry's face.
However, he has stated he won't be donning anymore footballers' faces to his 15 piece-strong collection of tattoos, which also includes a Sheffield United emblem.
Asked if he thought if England could win the World Cup, Matt replied: "I can't see why not, I've said before if we get third place that would be fantastic.
"However, I'd be gutted though if we were runners up."
Matt is now urging Maguire to sign his signature on his chest beneath the tattoo.
He says it would be the only way the tattoo could be more brilliant.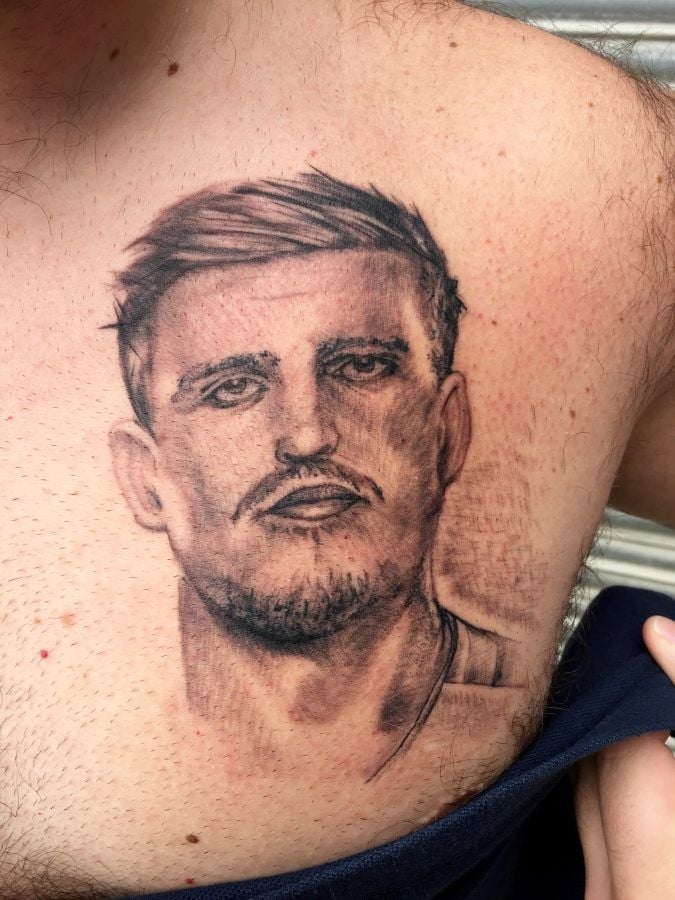 Matt said: "I won't be getting anymore tattoos of footballers – even if someone like Vardy scored the winning goal.
"But I do hope that Harry Maguire will come and put his signature on it and I'll get that tattooed on."
Matt says he is looking forward to getting his signed England shirt from Maguire and Gareth Southgate's men.