"There is only one thing in the world worse than being talked about, and that is not being talked about." Or so wrote Oscar Wilde. And so have found Leeds United on their crazy 2018/19 which disintegrated at Elland Road on a night of self-induced trauma. A club which had become accustomed to death by a thousand cuts during painful seasons of anonymity decided to commit hari-kari this season to a cacophony of laughter from around the country.
It hurts, having everyone laughing at you. It hurts, too, everyone revelling in your most heightened moment of discomfort. But that should not detract from a transformative season at Leeds United. It hurts more when no one notices. Marcelo Bielsa, the much-vaunted Argentinean manager, has made Leeds a headline act once more. He took a soft, listless, mid-table squad and made them contenders. His total commitment to his philosophy and decency made him talked about. It made Leeds talked about. It made for a season to remember.
Against a footballing backdrop that celebrates the lamentable, Bielsa stood out. There were no public displays of frustration. He didn't round on his players when the going got tough. He didn't round on referees when decisions went against him. He remained focussed on his philosophy and his footballing vision. He even paid the club's fines when the moralising English footballing fraternity rounded on this most outside of outsiders.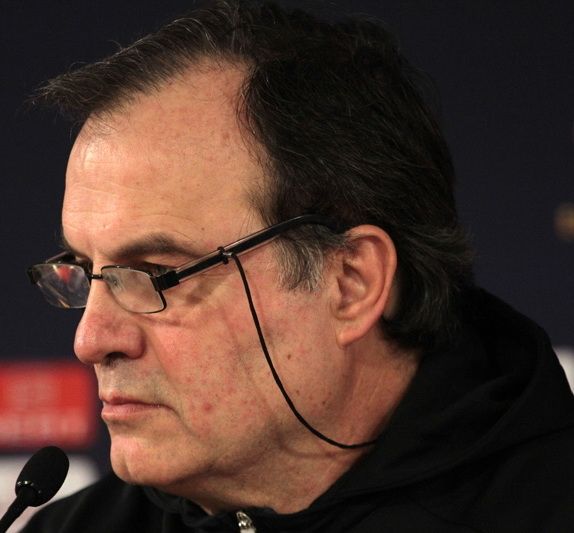 Bielsa stands in stark contrast to the wheeler-dealer, four-four-fucking-two, cash-in-a-brown-paper-envelope, we-was-robbed-by-the-ref British brigade. Instead of attempting to learn from him, the usual predictable nonsense was thrown at him. He doesn't understand the way things work here, that's not how we do things here, what does he know about the Championship?
He could have moaned about the referees. He could have moaned about the extensive injury list Leeds suffered. He could have pushed his players under the bus. Instead, showing a humility that is totally alien to football in England, he took responsibility for his actions and his mistakes.
Can you imagine Neil Warnock taking responsibility for Cardiff's relegation?! Much easier to blame a tragedy for that, isn't it Colin? Can you imagine Mark Hughes doing a post-match interview after a defeat and not blaming the referee for it? Can you imagine Sam Allardyce graciously accepting that player conduct falls under his remit and paying the fines when the FA deems it hasn't been of an acceptable standard? Can you imagine Harry Redknapp eschewing the transfer market in search of solutions and turning to his U23s and U18s? Can you imagine any other manager insisting his team immediately concede a goal after scoring a morally dubious one themselves?
For all the positivity that Bielsa has introduced, English football has been determined to keep him at arm's length, as a weird imposter. Its loss has been Leeds's gain. No other manager has been talked about on US chat shows, made global news and brought such attention to his club and his game. During the week of the Champions League semi-final first legs, Leeds United were the biggest story in football, from South American chat shows discussing his decision to allow Aston Villa an uncontested equaliser to Katherine Ryan singing "Pontus Jansson's Magic" on Have I Got News For You. 12 months ago, Leeds were about to depart for a post-season tour of Myanmar with Paul Heckingbottom as manager. It's been a funny old year.
Bielsa has made Leeds fall in love with football again. There is a team to be proud of, built around a core identity and relying on youngsters to step up and fill in when the first team has been light. The passion is back at Elland Road.
It was, ultimately, a step too far for a squad that languished in 13th at the conclusion of last season to get promoted to the Premier League this. Key moments went against them, from refereeing decisions, to injuries to on-field incompetence at inopportune moments. But the team, the squad and the club all rose and collapsed as one.
This is the beginning of something, at least that's how it feels. Leeds United are relevant again. This season may have ended in dramatic disaster against a backdrop of howling derision from all and sundry, but previous seasons have usually petered out, unnoticed and unloved.This may hurt, but having people taking an interest in it is certainly better than the mid-table anonymity that has marked out previous seasons. Oscar Wilde was right.