Hundreds of England fans defied the ban of welcoming home Southgate's heroic squad as they touched down in the UK since finishing fourth in the World Cup.
The disgruntled followers of the Three Lions they turned out to cheer and applaud the team despite warnings from Birmingham Airport authorities to stay away.
About 300 braved the blazing temperatures and strained to see the team from the airport perimeters fences, and the top of a nearby multi-story car park, to see the team step-off the plane.
In keeping with the low-key homecoming they arrived at the cargo terminal.
Raheem Sterling could be seen doing keepy-uppies, and Southgate was hugging members of the team and staff as they milled about on the tarmac.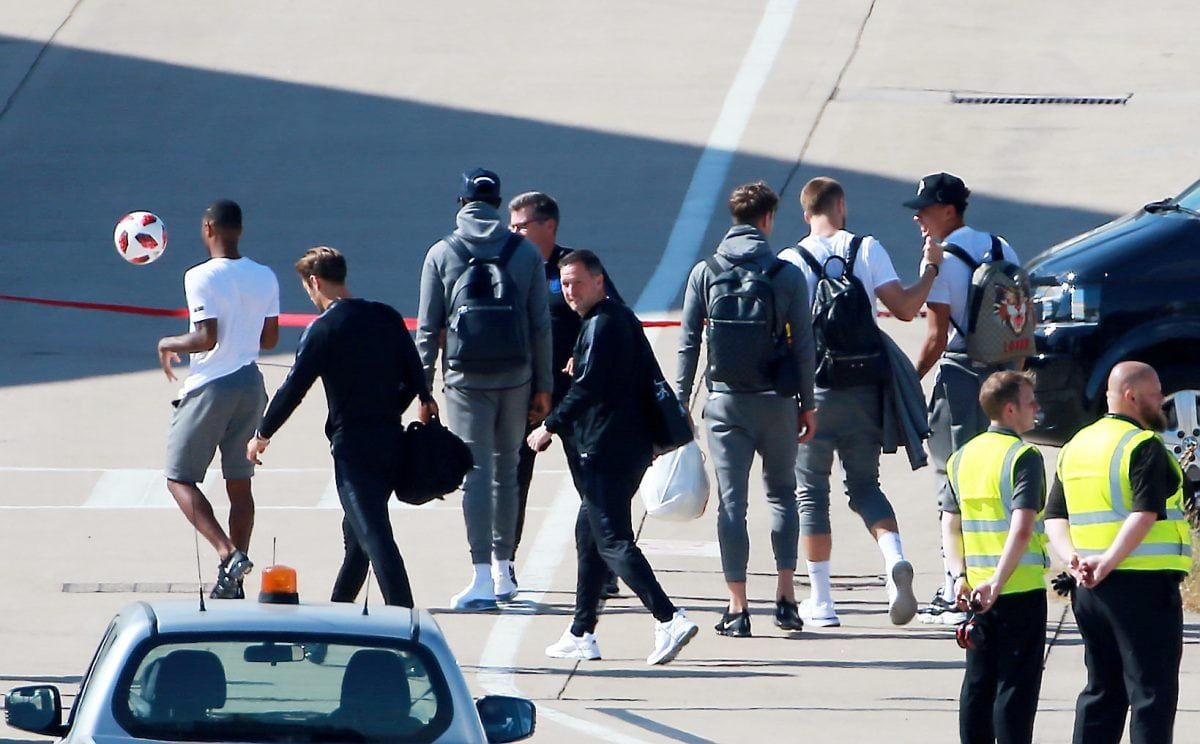 Fans also lined the street to cheer the players who left separately in a chauffeur-driven convoy of about 30 black Audi's, Range Rovers and BMWs, Ashley Young waved to fans as he passed.
On Saturday airport managers announced on Facebook: "Please be aware that there will be no public viewing area to see the England Football Team arrive home so we strongly advise the public not to come to Birmingham Airport as you will not see the team.
"Thank you for your cooperation."
The Three Lions team captured the public imagination and were a whisker away from the World Cup Final, losing out narrowly to Croatia in Wednesday's semi-final.
Nearly 27 million people watched the game on TV.
When England reached the semi finals in 1990 the team had an open top bus parade and thousands lined the route from Luton Airport to show their appreciation and cheer on the squad.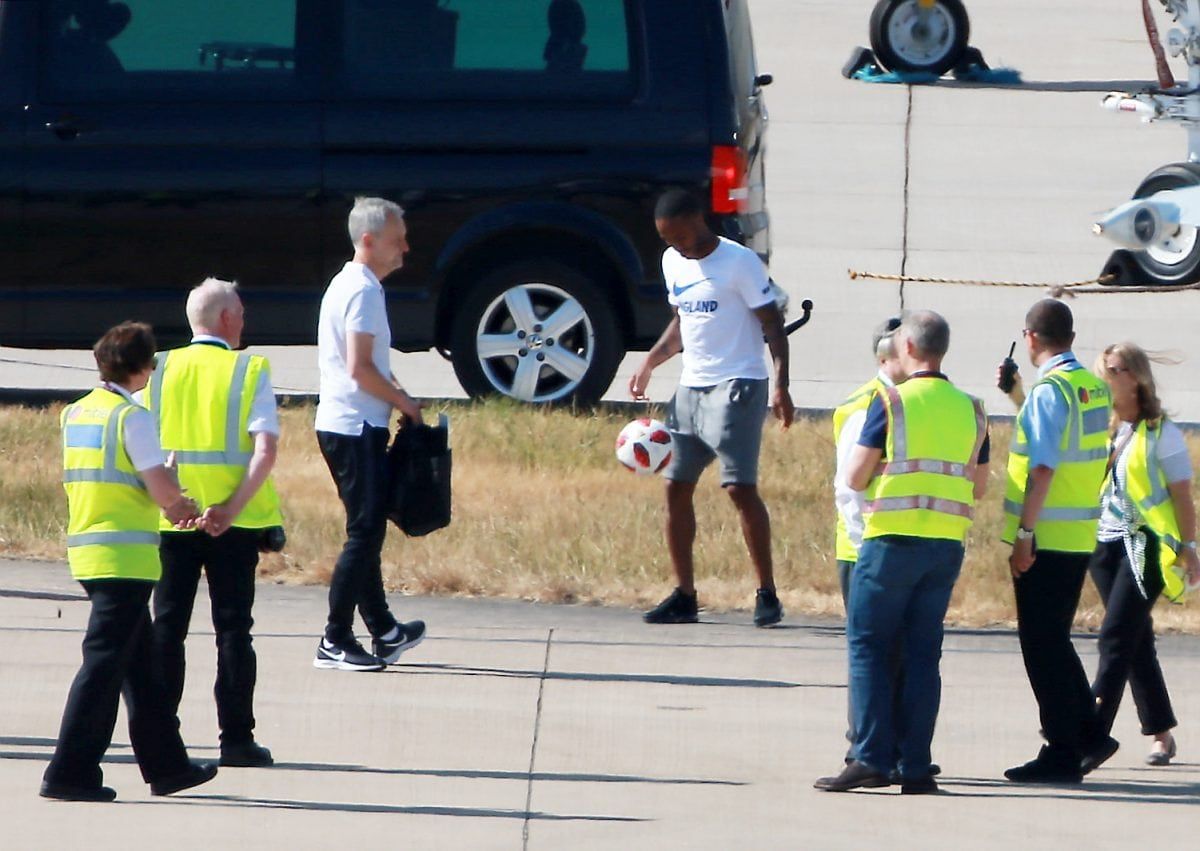 It is understood however that Southgate didn't want the players getting ahead of themselves and indulging in a parade as he believes the work has only just begun.
Dad of three John Mcdevitt, 48, from Coventry, came waving England flags, along with daughter Ellena, 15, and son John junior, 21.
John Senior said: "They've given a great performance and they were such a strong squad, we've got every reason to celebrate reaching the World Cup semi finals.
"We've been tracking the plane on an app all the way from Russia.
"They've done better than we could have ever hoped, this time we had a great chance of getting to the final and I don't know when we'll get another chance like that again."
Ellena said: "I thought they were brilliant and it's really sad that we don get to celebrate, the team has impressed everyone so much it's such a sad way to welcome them home."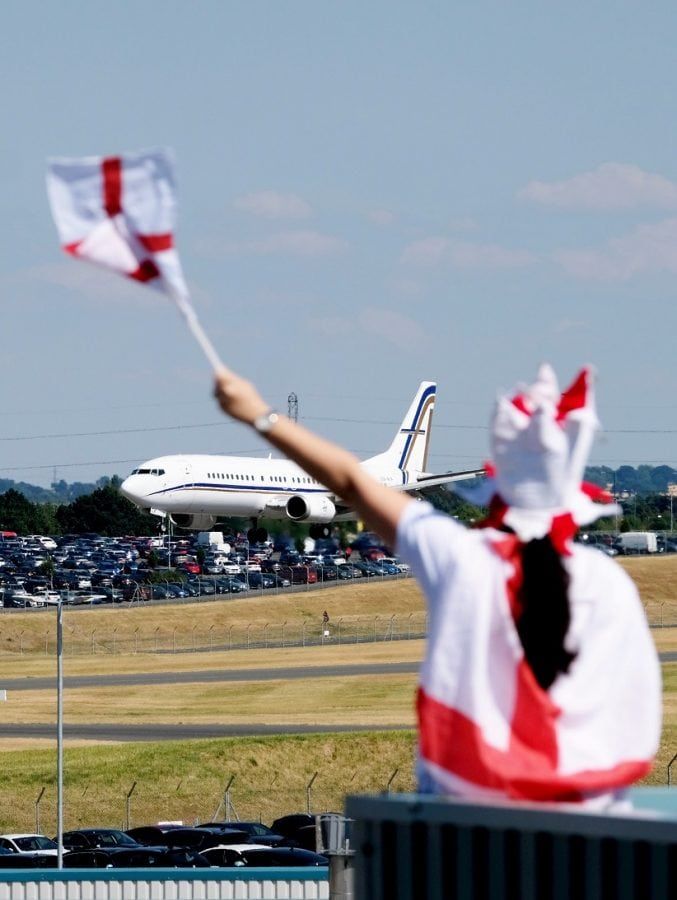 John junior, who is due to start an apprenticeship with electrical company Bosch, said: "They are a really strong squad and I'm excited by the Euros in two years time.
"I think it's time to celebrate the team, they've done so well but I'm hoping we'll get the opportunity in the near future."
Karen Dench, 28, who works at the airport and lives just across the road, said: "I think it is disgraceful, they should have had a better celebration it is the best performance we've had in 28 years.
"I think we should have had a parade to let fans come and show their support"
Hayley Clark, 32, from Coventry, who came with husband Steve, 29, and their nine-month old son Dexter, said: "We needed somewhere to welcome the team home, so the fans could show their appreciation."
Daran Philipson, 45, from Solihull, who works in logistics, said: "I was reading on social media that the airport were telling people to stay away.
I know Southgate doesn't want a fuss but I think there should have been some sort of reception, they have got to the semi finals and I would have thought they would have a better welcome than this."
Lester Poole, 29, an airport worker, who live a stones throw from the airport, said: "I think it is quite disappointing their are not more people to support the national team.
"It's underwhelming really they've done so well yet they've come back to this, they helped the whole nation pull together."
Danielle Winters, 25, a Duty Superviser at the airport, who lives just across from the airport, said: "I think people respect what Southgate said that the boys 'are a bit gutted' but I'm shattered there is not more people."
Sophie Stevens, 25, a passenger service agent, who also lives across the road from the airport, said: "I feel so gutted for them, this is the best they have played for decades, they should be coming home with their heads held high they have done amazingly well.
"Everyone felt together and people were happy to be around each other."
Charlotte Anderson, 32, who works at the nearby Holiday Inn came wearing an England Shirt, she said: " They did so well regardless of the score against Croatia.
"They had the youngest team in the cup.
"It was fantastic and everyone felt together I know the airport didn't want people to come but people do need to be able to show their appreciation."