His reputation and career may have suffered, but England cricketer Ben Stokes was cleared of criminal charges after a violent incident left two men unconscious in Clifton, Bristol last September.
He still faces a probe by the disciplinary commission of the England and Wales cricket board and a possible lengthy ban.
But the board announced today that Stokes will be added to England's squad for the third Test against India after being found not guilty of affray.
England lead India 2-0 in the five test series, with the next match at Trent Bridge on Saturday.
The Durham cricketer has missed seven of England's past 11 Tests.
Stokes claimed the brawl was sparked by "nasty homophobic language" by the two men he knocked out, when he was interviewed by police.
He gave 'no comment' responses but told officers in a written statement that he stepped in to defend 'my gay friends' from Ali and Hale.
It said he "decided to intervene, and said 'leave it out, you shouldn't be taking the piss because they're gay'."
The statement continued: "One of the males advanced and replied 'Shut the f*ck up or I'll bottle you'.
"Thinking he was about to be attacked, he took hold of him and a scuffle commenced.
"He maintained at all times he acted in defence of himself or others.
"He said he believed that the force he used was 'reasonable and entirely justified when the circumstances are viewed objectively.'"
The jury were encouraged to consider whether any homophobic abuse was used.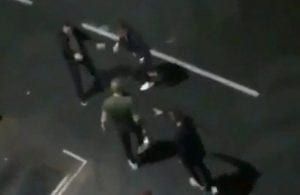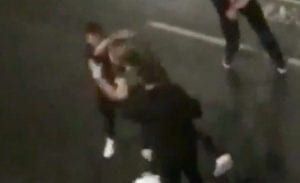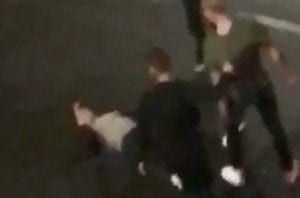 The prosecutor said: "Whatever was said, was this the green light Mr Stokes wanted to start a fight?"
He told the court that Stokes "sought out" confrontation, and "charged" across the road to where the group of four men were walking.
The initial moments of the fight were not caught on camera, but the court heard Ali had a bottle and "was using it towards others".
Film student Max Wilson recorded the brawl on his mobile phone, after hearing shouts of 'lads, lads' from his digs on Queens Road.
He said he did not believe the initial shove came from Stokes or Mr Hales, but described the group as 'acting like football hooligans' and believed it was 'building up to a fight'.
The prosecutor said: "He did not believe that the initial shove came from either Mr Stokes or Mr Hales, but later in the incident he described how Mr Stokes continued to behave in an aggressive manner, ignoring Mr Hales' attempts to calm him down."
The jury was shown footage of the brawl, filmed by Mr Wilson, where a man's voice could be heard shouting 'enough, enough'.
Ali could be seen holding a bottle in his hand, raising it and motioning as if to hit Alex Hales, but then striking out at Mr Barry before the struggle broke out.
Hale and Ali tried to retreat but Stokes began throwing punches while Alex Hales told him 'that's enough'.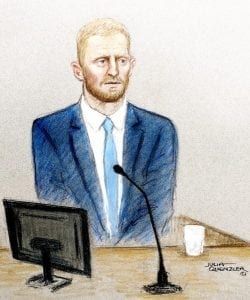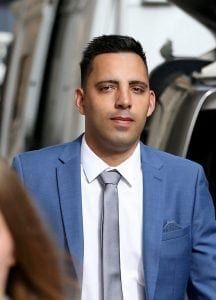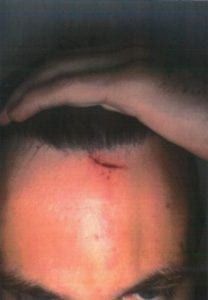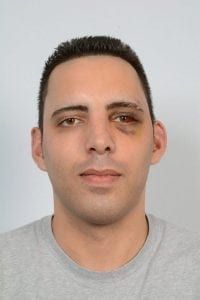 Mr Corsellis added: "There's a big difference between using violence to defend someone and using violence to retaliate or to punish the person who has had the temerity to attack you.
"This is what you see from Mr Stokes, because everyone except him wanted to stop.
"Mr Ali moved away, Mr Hales was saying 'Stokes, Stokes, that's enough', and tried to get hold of him on two occasions to stop the violence.
"This is retaliation, retribution, not self defence."
Stokes could be seen punching Hale, as he and Ali retreated but were pursued by the sportsman.
Alex Hales grabbed for his teammate but was shaken off, while Stokes went after his co-defendants.
Hale could be heard telling Stokes 'f*ck you, f*ck you."
Stokes then knocked him out and CCTV showed Hale sprawled on his back on the ground.
Mr Corsellis said: "He then turned to Mr Ali who had no weapon on him, onto the second assault on the second man."
Hale staggered to his feet and was caught on CCTV in a nearby Paperchase shop.
He then ran around the corner and used his foot to lever a metal bar from a road sign, before racing back to the brawl.
The prosecutor said: "You can see the metal implement in Mr Hale's hand as he heads back.
"He does not, from this angle, seem to drop it.
"This takes us to Mr Ali's assault, which was witnessed by an off-duty police officer.
"Coincidentally he had also been in Mbargo that night.
"He came across what he saw as three to four people fighting. He decided to intervene in order to try to curtail what was happening.
"While he was trying to stop the fighting one man with ginger hair struck another, Mr Ali, knocking him to the floor."
CCTV showed Ali lying motionless on the ground with traffic swerving to avoid him, and the court heard that blood was pouring from his face as his left eye swelled up.
A police car chanced across the scene and Stokes was cuffed, but body worn camera showed him mouthing words to Alex Hales from inside the police car.
Mr Corsellis said: "What level of violence was used by Mr Stokes? Why was it necessary to punch someone this hard?
"Was it out of defence for another? Or was it retribution."
Ali gave a voluntary interview to police and recalled the two gay men he and Hale met in Mbargo, saying the couple were touching their bottoms but they 'took it as a bit of a joke.'
He said he thought he had calmed Stokes down but then saw Hale lying on his back, unconscious.
Watching footage filmed by Mr Wilson, he said he could himself saying 'move away, move away,' while Hale was saying 'enough'.
He denied making any homophobic comments.
Hale told police in a voluntary interview, "I was in the Army and I know what self defence is, you know, and you can use reasonable force.
"Now if somebody's with a bottle and you want to, you know, stop it, then once you've disarmed them, that's it, you know?"