Nicola Sturgeon has been credited for facing down "far right thugs" in Glasgow after she was confronted by the former deputy leader of Britain First.
The SNP leader was out campaigning in her Glasgow Southside constituency ahead of crucial Scottish parliament elections when Jayda Fransen, who is standing as an independent, approached her in the streets.
The exchange on Lorne Street was captured by an observer who posted on Twitter.
In 2018 Fransen was convicted of anti-Muslim hate crimes while deputy leader of Britain First. She will face Roza Salih, the SNP candidate, who will become the first former refugee to be elected to Holyrood if she wins a seat.
"You're a fascist and a racist." ???

Massive kudos to @NicolaSturgeon for facing down these far right thugs.pic.twitter.com/Pk6rtgaJbk

— Owen Jones ? (@OwenJones84) May 6, 2021
This year's poll is the first in which people with refugee status are entitled to vote.
At the polling station, Ms Sturgeon and Ms Salih met three Syrian Scots who have lived in Scotland for eight years – 63-year-old Adnan Abdulbaki, and Iqbal Abdulbaki and Abdulruhman Abdulbaki, both 20 – as they prepared to cast their vote.
Ms Sturgeon said it is "great we've got everybody who lives here able to vote", saying it is an "exciting" and "special thing to do", to which they agreed.
She expressed hope that Ms Salih will be an SNP MSP once the votes are counted this weekend.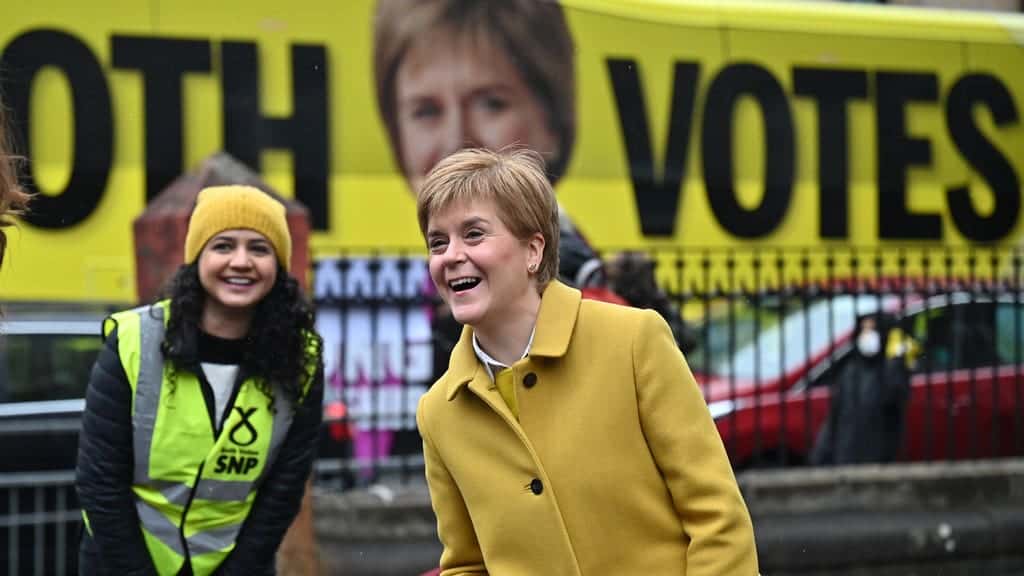 Related: 'A truly historic result': Conservatives win Hartlepool by a landslide