Under-fire Tory MP Tobias Ellwood has again urged the Government to rethink its strategy on Afghanistan, two years on from the fall of Kabul to the Taliban.
The senior Conservative said the UK should not abandon the people of Afghanistan, as he reiterated his call for ministers to reconsider engagement with the fundamentalist regime.
The chairman of the Commons Defence Select Committee was the keynote speaker at an event in Feltham in west London organised by the Afghanistan and Central Asian Association.
His appearance at the event, two years on from the Taliban's return to power in the summer of 2021, comes after his recent comments on the country sparked controversy and criticism from his fellow MPs.
Mr Ellwood alluded to the row during his speech, stressing that he was speaking in a purely personal capacity, while also claiming that many do not want to "confront the toughest of questions" on Afghanistan.
The evacuation and plight of the country, he said, has been "conveniently forgotten" amid the war in Ukraine and growing tensions with China.
"We don't want to be reminded of our failures, nor the fact that we handed the nation to the very insurgents that we went in to defeat.
"And as I found out after my own visit, no-one it seems right now is ready to confront the toughest of questions of whether our current strategy of shouting from afar… is actually working. Or do we dare to consider leveraging greater influence through engagement."
The former defence minister is facing a no-confidence motion as committee chairman after publishing a video claiming that Afghanistan has improved since the Taliban regained power.
Last month, he apologised in the face of a backlash from members of his own committee after claiming that security in Afghanistan has "vastly improved" and "corruption is down" since the fundamentalists returned in 2021.
Mr Ellwood, following a visit to the nation, called for Britain to reopen its embassy in Kabul, following on from the European Union re-establishing a physical presence in the territory last year.
He later deleted his video report from Helmand province, which was praised as "positive" by the Taliban, from social media and expressed regret over its recording.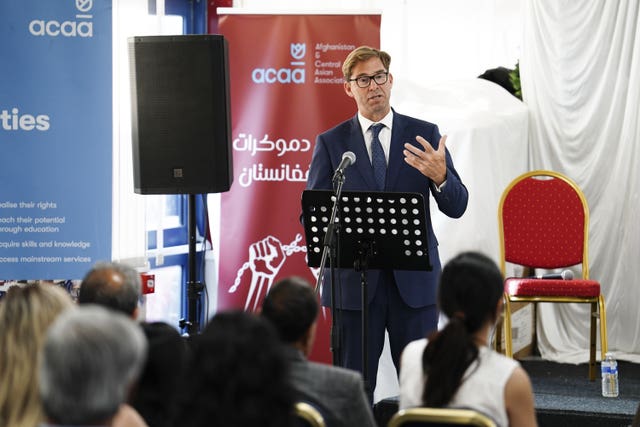 The Conservative MP referred repeatedly to his recent visit, as well as previous trips, to Afghanistan during his address.
"This remains, let's be really clear about this, an ultra-conservative movement with the most ruthless interpretation of Sharia law in the world.
"But what I learned there are differences of views between (Afghan city) Kandahar… and Kabul, where the practical realities of holding the country together are grappled with."
Mr Ellwood is pushing for the UK to reopen its embassy in Kabul.
He told the event: "After abandoning the country as we did, we now have the duty to develop a strategy of engagement that moves on our current position of punishing the Afghanistan population for the Taliban's takeover.
"An economic, humanitarian or terrorism crisis is looming. Let's make sure Afghanistan and its people are not forgotten. It's time for a new strategy."
You may also like: Six former Met Police officers charged with sending racist messages