BREAKING:
With the never-ending impossible Brexit saga, the Conservative Party have not taken the prospect of who will be representing Britain in the European Parliament after the European elections very seriously.
But on the eve of another election the party is set to feel the withering will of the people in just weeks after a disastrous council elections rout, there seems nothing that will stop Theresa May's colleagues from sharpening their knives and pointing her towards the plank.
With a new YouGov poll putting the Conservatives in fifth place for the upcoming European elections, at just 7 per cent while the Brexit Party lead on 37 per cent, May's cabinet colleagues with ambitions to replace her have requested urgent meetings at Number 10.
May insisted she should give a date for her departure after another vote on a Brexit deal in parliament, but with the maths just getting worse for her, her Tory colleagues seem unable to wait that long.
Reports are emerging that Home Secretary Sajid Javid, Foreign Secretary Jeremy Hunt and Scottish Secretary David Mundell have all been in to see her.
Senior Conservatives are briefing that "it is time to go" for the Prime Minister.
According to Jon Craig, Chief Political Correspondent, Sky News, a plot is unfolding to unseat the PM on the eve of the election, with alliances being made to stop Boris Johnson – Tory Party members' favourite becoming the next PM.
He tweeted: "Very senior MP tells me the word from the Cabinet corridor in the HoC is that the PM will resign tonight, Andrea Leadsom is poised to resign to launch a leadership bid, others may also resign & David Lidington will take over as acting PM. Unconfirmed!
"Same very senior MP tells me Cabinet plotters are determined to keep Boris Johnson off the ballot paper of two candidates offered to the Tory membership. Talk of offering the members one man & one woman candidate.
"Tom Tugendhat tells me in Sky News interview he won't stand for Tory leadership but will support Michael Gove. Significant endorsement for Gove."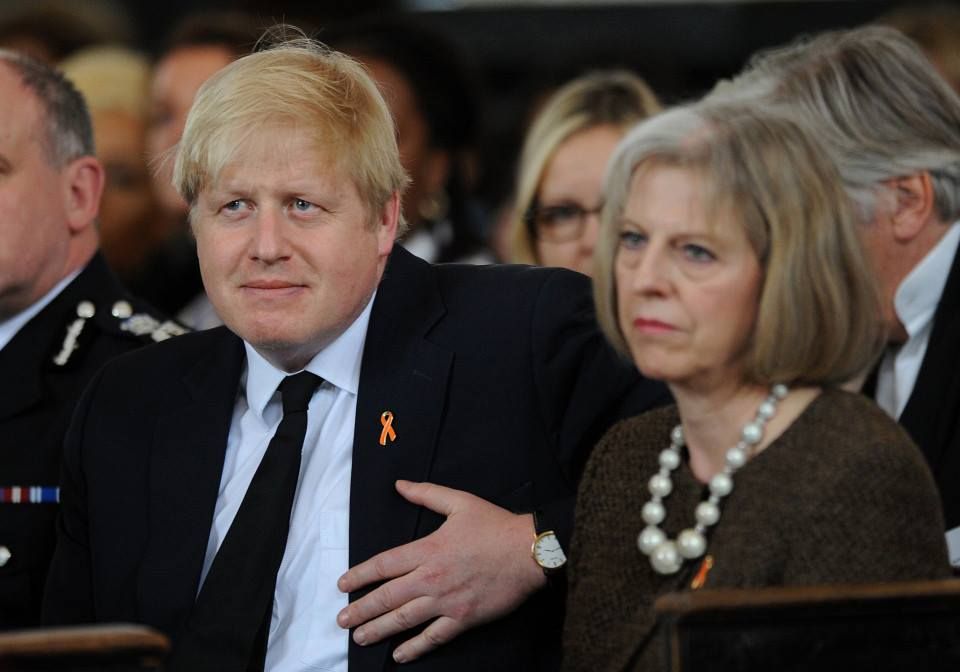 – Though the prospect might appal most of the nation / the planet, Johnson is way ahead of other Tories vying for the top spot among Conservative Party members.
But unlike in Labour Party leadership elections, they only get to vote for the last two candidates standing after a series of votes by Tory MPs whittle down the least popular candidates.
Tory MPs and the Tory press reacted with fury to the PM's plan to pass her Brexit deal yesterday and today, making her position even more untenable than it was before.
And even her political allies are deserting her to make alliances as contenders ambitious to be the next PM emerge before tomorrow's election is even fought.
Michael Gove turned on fellow Brexiteer Boris Johnson in the last leadership contest in one of the most infamous moments of political back-stabbing after David Cameron resigned.
But with May clearly on her way out, the Environment Secretary has suddenly hailed Johnson as a "Conservative of flair, elan, distinction and intellect."
Whether Gove is tickling the balls of the Conservative colleague who he stuck a knife into at the last leadership election to try and win his support for his own ambitions or because Johnson is favourite among the rank and file remains to be seen.
Scots Tories leader Ruth Davidson has also thrown her hat in with the favourite, declaring that she could work with Johnson in No 10, despite her previous opposition to his Hard Brexit politics.
Another leadership contender Dominic Raab – who helped negotiate the Brexit deal, resigned in protest against his own deal, voted against it as it was a disaster, voted for it, voted against it again – came out immediately against the PM's new proposal to get her Brexit deal through parliament.
Cabinet colleagues and ministers asking for a meeting with PM this afternoon/evening have been curtly informed "the prime minister is working hard campaigning for the local elections."
BBC political correspondent Iain Watson has just reported that the PM is due to meet Sir Graham Brady who head the 1922 Committee she recently had a tearful showdown with, again on Friday.
The PM appears likely to tough it out and cling on until Friday at the very least, but what her position will be like after the election results come in remains to be seen…