The Secretary of State for Exiting the European Union (DExEU) has exited the cabinet with all attempts to appear united over Brexit in disarray.
As reports emerge of Tory plots to oust Theresa May gathering pace, an opinion poll this weekend revealed that the majority of the British public would want a general election if the Conservatives dump their leader for a rival. So with confidence in the Tory leadership dissolving there are calls for a general election barely a year after Theresa May dissolved a clear Tory majority in a snap election to give her a clear mandate for Brexit.
David Davis' resignation has been followed by other DExEU colleagues in a massive blow to Theresa May's ability to form a majority in parliament for her compromised version of Brexit weeks away from a crucial deadline to agree divorce terms with the EU as well as how customs with Europe would work.
Labour and 100 major companies this weekend attacked May's plans as unworkable while Tory colleagues favouring a harder Brexit such as Boris Johnson called it "polishing a turd."
The Foreign Secretary's allies this weekend were briefing that (again) he would not resign over cabinet responsibility as he wanted to stay within the government to influence policy.
However David Davis, another senior Tory with leadership ambitions had no such qualms.
The Brexit Secretary's deputy, Steve Baker, and another DExEU minister Suella Braverman also both resigned.
Theresa May now faces a leadership crisis after Davis' resignation letter savaged her Government's Brexit negotiation position just weeks ahead of a crucial deadline to agree terms with the EU.
There are reports that letters calling for a Tory leadership contest have been handed to the party's backbench 1922 Committee by Conservative MPs over the weekend in reaction to the Brexit plan she had unveiled at a crunch meeting to achieve party unity on Brexit.
Theresa May's plan has been attacked from all sides – as unworkable and damaging for jobs by business figures – and as tying Britain to EU market rules without any say over them by hard brexiteers.
Another senior Tory with leadership ambitions Michael Gove – who Downing Street insiders described as "instrumental" in persuading Brexit backing Conservative colleagues to accept Theresa May's compromise – was trying his best this weekend to defend her plans.
But any semblance of unity fell apart as late last night Davis resigned as his Government's plans are making it look "less and less likely" that Brexit would be able to deliver on the referendum result and Conservative vows to leave the EU customs union and single market.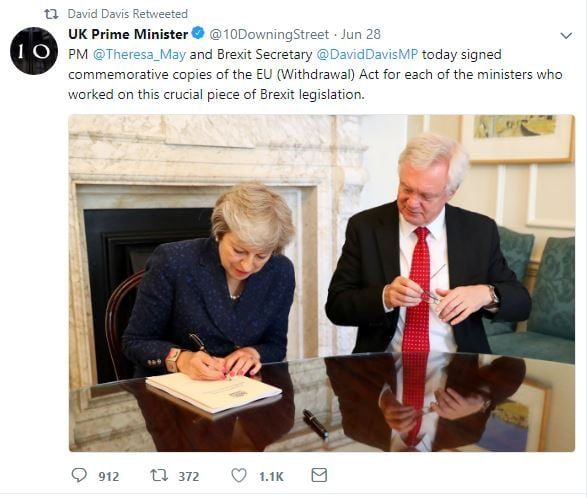 "The general direction of policy will leave us in at best a weak negotiating position, and possibly an inescapable one," he wrote.
"The general direction of policy will leave us in at best a weak negotiating position, and possibly an inescapable one".
Theresa May's "common rulebook" plan, Davis wrote "hands control of large swathes of our economy to the EU and is certainly not returning control of our laws in any real sense."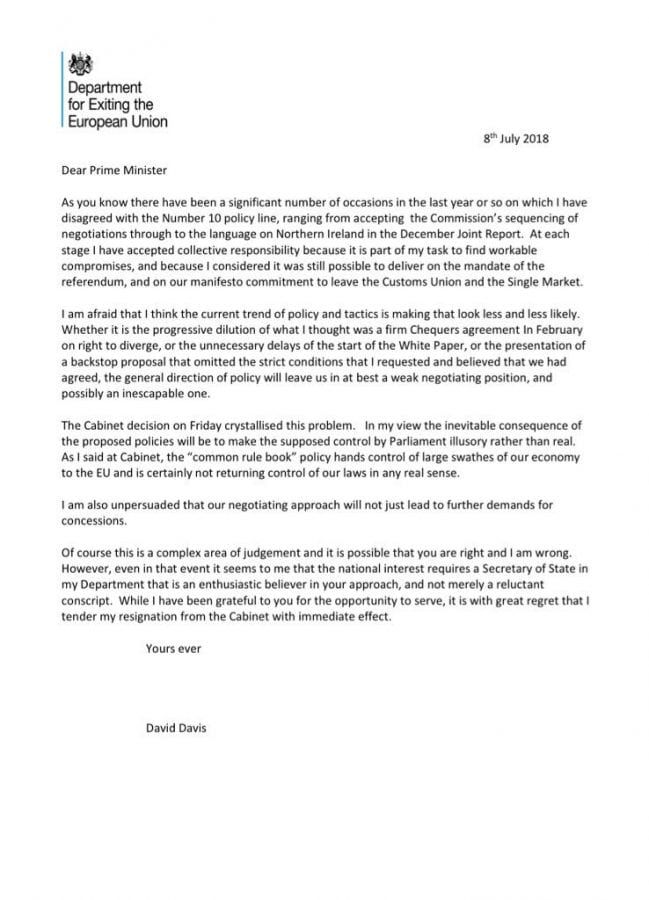 Opposition leader Jeremy Corbyn tweeted: "David Davis resigning at such a crucial time shows @Theresa_May has no authority left and is incapable of delivering Brexit.
With her Government in chaos, if she clings on, it's clear she's more interested in hanging on for her own sake than serving the people of our country."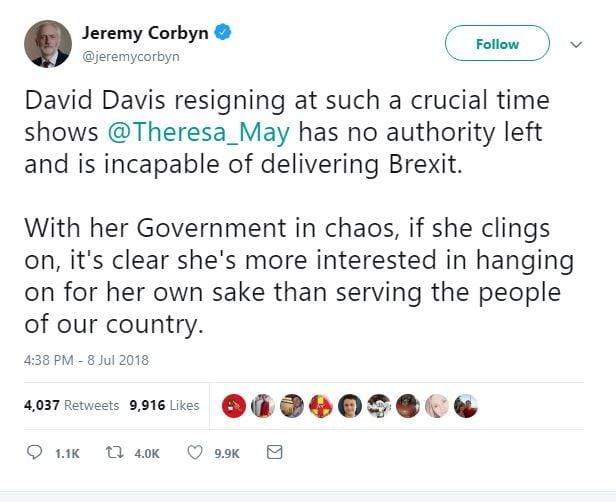 Scotland's first minister, Nicola Sturgeon tweeted: "The chequers unity didn't last long. This UK government is in utter chaos and ebbing authority by the day.
What a shambles."
Nigel Farage called the Prime Minister "duplicitous." The former Ukip leader tweeted: "Well done @DavidDavisMP. May's response shows that she is controlled by the civil service. For Brexit to succeed we must get rid of this awful, duplicitous PM."
Carolyn Fairbairn, the director general of the CBI warned BBC Radio 4's Today programme that uncertainty would now continue to be very costly for the UK economy. She said: "That inability to take decisions over several months had become a huge challenge in terms of uncertainty."
The pound which had rallied after news of Theresa May's cabinet compromise on Brexit fell back to $1.330.
The Times said that for Theresa May this is the "worst crisis since she lost her government majority".
There were calls by hardline Tory brexiteers for Boris Johnson to stand on his principles and resign too.
Shadow Foreign Secretary Emily Thornberry tweeted:
Government resignations since autumn:
1 November 2017 – Fallon
8 November 2017 – Patel
20 December 2017 – Green
29 April 2018 – Rudd
8 January 2018 – Greening
8 July 2018 – Davis
There have been six resignations in 249 days. That's one every six weeks
Sky's political editor Faisal Islam reports that Theresa May "faces an acute and immediate crisis" as Tory sources brief him that a leadership challenge is on the cards, as early as this week.
– And this is the week that the Prime Minister has to persuade her sceptical MPs today to maintain her fragile majority over her Brexit plans today, followed by crucial meetings with US President Donald Trump and top EU leaders, including German Chancellor Angela Merkel.
'Choosing not to sign up to certain rules would lead to consequences for market access, security co-operation and the frictionless border,' explained Theresa May in her reply to David Davis detailing how the Government's approach to balancing conflicting realities had not deviated from its election promises: