A tanning salon has sparked outrage after it installed anti-homeless SPRINKLERS to stop rough sleeping outside its shop.
The automatic system comes on in the evening and drips water from the roof making the area unusable for rough sleepers until it shuts off in the morning.
Any homeless person who decided to sleep outside the Consul tanning salon on the Horsefair in Bristol would wake up to find themselves soaking wet.
Owners say the sprinklers were the least aggressive way to deter homeless people.
But as temperatures plummet, the move has sparked anger from rough sleepers and people working with them in the city centre.
One man, Dexter, has been sleeping rough on and off for four years, said he knew of the sprinklers.
He said: "It's a bit out of order to do that. What purpose does it serve? Most people aren't nasty people – they don't deserve to be punished for being homeless.
"What we need is safe places to sleep. I slept here on the pavement last night, that wasn't safe.
"Fair play if some people are making a mess, – but that's what it feels like: its punishing people for being homeless."
Salon bosses said the sprinklers were installed at the store in response to growing numbers of homeless people using the area overnight.
Jesper Primdhal, the salon's director said: "Obviously homelessness is on the rise in the city centre.
"Eighteen months ago we had just one or two people sleeping there – we had an understanding with them that when we turned up for work at 7am they would move on – it worked fine they packed up with no problem.
"That went on for a year but six months ago we started getting a group of five, six, seven people sleeping there."
Water drips out of the nozzles in the ceiling all night, making it unusable for rough sleepers.
Jesper said the group left vomit outside the shop as well as needles and bottles. He said some of the group were abusive to his staff, who are mostly young women.
"We called the police four or five times," he said. "'It was too much. In the end we thought what is the least aggressive deterrent?
"The simplest solution was to make it rain in that area, just enough to stop people sleeping there.
"In the end we are responsible for our staff, some of whom are leaving work at 10.30pm, so we talked to everyone and the decision was made."
The sprinklers are doing a good job of stopping homeless people from sleeping near the salon, but Jesper admitted it was just part of a much wider problem in Bristol.
He said: "We can see it in the streets – it's a serious problem but it's really the council's job to find a permanent solution, this isn't a solution.
"Moving them around isn't a solution."
While Jesper says he was acting in the best interests of his staff, the sprinklers have caused anger among those working to make life more bearable for homeless people.
A lady called Julie and her group of volunteers hand out coffee, shower gel, socks and other essentials to rough sleepers there.
She said: "I'm appalled at the way certain business owners are treating the homeless.
"We need to be looking after the rough sleepers in the town. I keep hearing stories from the rough sleepers about how they're being treated and how they're being pushed out of the city.
"Really all we're doing is pushing them out, making them someone else's problem.
"Let's look after them, do something to help – not put sprinklers on them, not take away their cardboard remove their belongings."
David Withers said he saw the sprinkler system on his way to work – he said such deterrents "weaponised public spaces" against those at the bottom of society.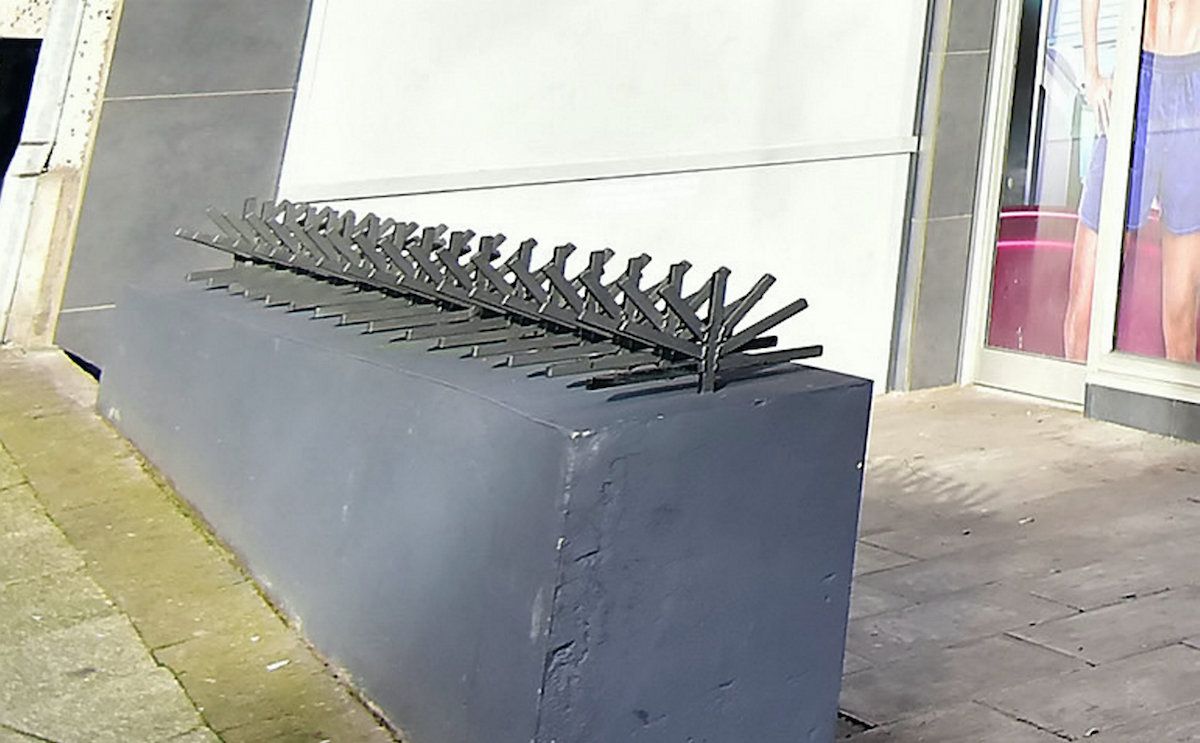 He said: "Obviously I'm well aware of the fact that problems like addiction and antisocial behaviour can come along with homelessness and can sympathise with business owners but this seems like a very cold and uncaring measure.
"If one was unaware of the presence of the system they could well be soaked during the night which could well be a death sentence at this time of the year."
https://www.thelondoneconomic.com/news/19-shocking-facts-homelessness-epidemic-uk/09/11/
https://www.thelondoneconomic.com/news/homeless-man-snubbed-starbucks-says-hes-overwhelmed-girls-kindness/18/01/