Following a parliamentary question by Green Party MP Caroline Lucas, the UK government has published its official guest list for Defence & Security Equipment International 2017 (DSEI), one of the biggest arms fairs in the world.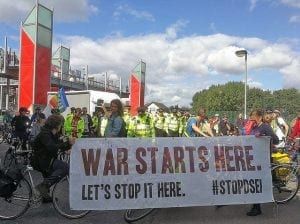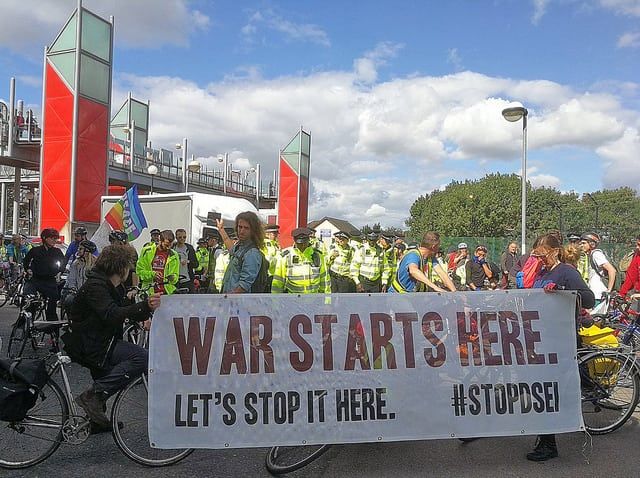 The controversial defence industry get together kicked off today in the Excel Centre in London's docklands with news that 100 protestors have been arrested around the site so far.
Scotland Yard said 102 people had been arrested so far mainly for allegedly blockading DSEI to stop exhibitors exhibiting their weaponry to attendees from all over the world.
Last year eight protesters were acquitted of trying to stop the fair in a court case that ruled there was "clear, credible and largely unchallenged evidence from the expert witnesses of wrongdoing at DSEI and compelling evidence that it took place in 2015".
The full list of guests, who will be wined and dined by our public servants include regimes with appalling human rights records. These include: Algeria, Bahrain, Egypt, Kuwait, Oman, Pakistan, Philippines, Qatar, Saudi Arabia, Turkey and United Arab Emirates and Vietnam. Exhibitors such as Israel will be allowed to pitch up their pavilions.
Israel has been criticised by human rights watchdogs for among other things supplying Myanmar with over 100 tanks, boats and light weapons. These sales have continued as the Burmese army have been implicated in atrocities against the Rohingya Muslim minority in Myanmar.
The government and military delegations invited by the Defence and Security Organisation, which is part of the taxpayer funded UK Department for International Trade include Saudi Arabia. Saudi Arabia is criticised heavily for the horrendous civilian casualties, famine and massive cholera epidemic linked to its bombing of Yemen. Russia is also revealed to be attending – the main weapons supplier of the Assad regime in Syria, where an unprecedented refugee crisis continues to destabilise the entire region.
"The arms companies don't care where their weapons go, all they care about is profit. The entire industry is driven by war and conflict: whether it is the UK companies that have made billions from the war in Yemen, or the Russia companies making a killing in Syria," explained Andrew Smith of Campaign Against Arms Trade (CAAT).
He added that the list of governments attending "includes a roll call of despots, dictatorships and human rights abusers. They will be greeted by civil servants and Government Ministers who are there for one reason only: to promote weapons. It's impossible to promote human rights and democracy while arming and supporting authoritarian regimes and tyrants."
Andrew also insisted that "DSEI would not be possible without the support of government ministers, politicians and public money. It's time to end Downing Street's complicity and shut down DSEI for good."
Government statistics show that over the last 10 years, almost 60% of UK arms exports have gone to the Middle East. A survey for CAAT the week DSEI brings thousands of arms dealers to London revealed that 76% of UK adults oppose the promotion of military exports to human rights abusers.
Caroline Lucas MP, co-leader of the Green Party, who asked the parliamentary question about who would be attending said: "DSEI is a dark stain on our country's already tarnished reputation. It's time that this festival of violence was shut down for good – and for the UK to engage in peacebuilding rather than trying to cement itself as the world's weapons dealer."
DSEI, run by Clarion Events, with full UK government support, attracts 1,500 exhibitors and 34,000 arms buyers, many from states currently at war or on the Foreign Office's own list of human rights abusers. At recent DSEIs, campaigners exposed availability of cluster-bombs and near-torture equipment, banned by international treaties.
DSEI was even condemned by London's mayor Sadiq Khan who said: "I am opposed to London being used as a market place for the trade of weapons to those countries that contribute to human rights abuses."
Here is the full list of attendees revealed in reply to Caroline Lucas' question:
Algeria
Australia
Austria
Bahrain
Bangladesh
Belgium
Botswana
Brazil
Brunei
Bulgaria
Canada
Chile
Czech Republic
Colombia
Denmark
Egypt
Estonia
Finland
France
Germany
India
Indonesia
Italy
Japan
Kenya
Korea (Rep of)
Kuwait
Latvia
Lithuania
Malaysia
Mexico
Netherlands
New Zealand
Norway
Oman
Pakistan
Panama
Peru
Philippines
Poland
Portugal
Qatar
Romania
Saudi Arabia
Singapore
South Africa
Spain
Sweden
Switzerland
Taiwan
Thailand
Turkey
UAE
Ukraine
USA
Vietnam
RELATED:
https://www.thelondoneconomic.com/tle-pick/really-funds-extremists-amber-rudd-rather-didnt-know/13/07/
https://www.thelondoneconomic.com/news/practice-torture-habitual-widespread-deliberate-egypt/11/09/
https://www.thelondoneconomic.com/tle-pick/free-hisham-al-omeisy-voice-yemen/25/08/