Government figures to be published today are expected to show that the price paid for electricity from offshore wind farms has dropped by more than 50 per cent in under five years – making offshore wind the lowest cost option for large-scale, low-carbon power.
The UK's offshore wind sector has transformed over the last decade. Government support, huge strides in home-grown innovation and increases in both turbine efficiency and blade sizes, have placed the UK as number one, globally, for installed capacity.
Wind turbines have more than doubled their power capacity since 2007. The current generation of 8MW turbines have 260 foot blades, spanning an area the size of the London Eye. With a single rotation, these blades generate enough energy to power a home for 24 hours. By the mid-2020s turbine capacities are set to double again, reaching 15MW. These advances in turbine technology are a big part of what has driven recent reductions in costs per megawatt hour.
Offshore wind farms can be built in just two or three years, minimising the risk of cost overruns and ensuring that technological advances are adopted quickly.
The sector is already delivering thousands of jobs in regions of the UK with some of the highest unemployment figures. UK offshore wind is also attracting billions in foreign investment, and securing hundreds of international contracts for British companies. Future growth potential is enormous as the global market is set to boom over the next decade.
Jonathan Cole, Managing Director for Offshore Wind at ScottishPower Renewables, said: "These ongoing cost reductions show that offshore wind is in pole position to be the foremost low carbon power source, with the UK as the global market leader. A strong offshore wind sector powers our economy with reliable and affordable clean power. It is creating highly-skilled jobs in industrial and coastal communities that will really benefit from such significant investments."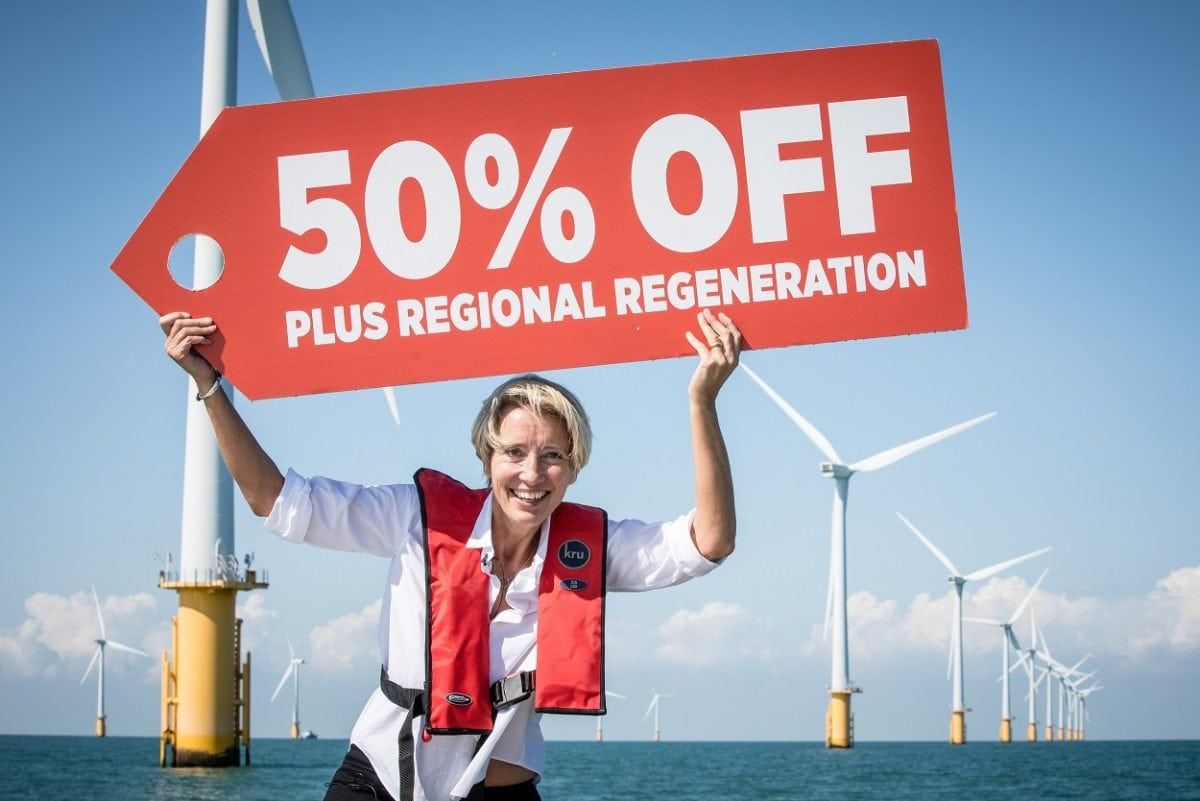 Representing the offshore wind industry, RenewableUK's Chief Executive Hugh McNeal, said: "The phenomenal growth of the UK's world-leading offshore wind industry is an industrial success story made possible by tens of thousands of tenacious innovators and game-changers all around this country working in renewable energy.
"Offshore wind is a key technology in reducing carbon emissions by more than seven and a half million tonnes a year – but in some ways the real story of the sector is industrial, as well as environmental.
"The spectacular fall in the costs of offshore wind, and the billions of pounds the industry has poured into our seaside towns, are signs that investing in renewable energy will benefit our consumers and our economy."
RELATED 
https://www.thelondoneconomic.com/news/renewable-energy-entirely-power-139-industrialised-countries-2050/23/08/
https://www.thelondoneconomic.com/tle-pick/banks-paid-back-cash-government-still-imposing-austerity/16/08/