Police believe racists are behind the vile vandalism of newly installed war memorial just days ahead of remembrance Sunday.
Graffiti has been sprayed at a newly erected statue of a Sikh soldier, in Smethwick, Birmingham, less than one week after it was put up.
It has now been removed but West Midlands Police are treating incident as racially aggravated criminal damage.
The words "Sepoys no more", the name given to troops in the colonial British Indian Army, was scrawled on the retaining wall of the monument – and a black line also put through the words "Great War".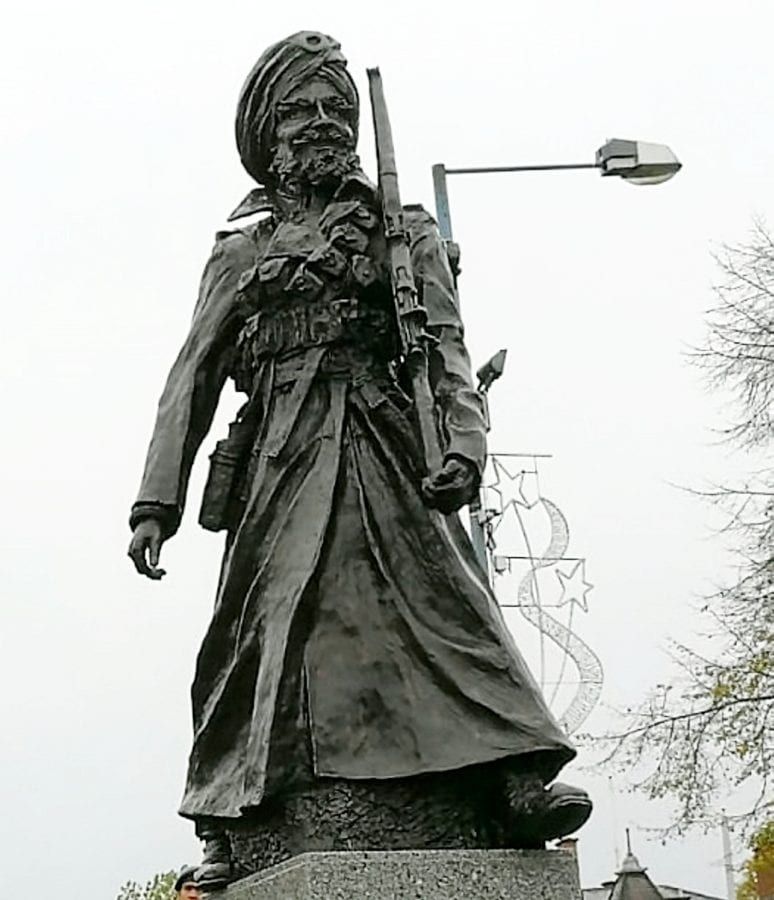 Dozens of people are expected to gather at the statue tomorrow to mark the centenary of the end of the First World War.
Sergeant Bill Gill, from West Midlands Police, said: "We understand that this attack has caused a lot of concern in the community and we are working to understand the reasons behind it and identify whoever is responsible.
"Officers had already planned to be at the remembrance event which is happening tomorrow at the statue.
"I'd urge anyone with concerns to speak to the officers attending the event."
The 10 foot high statue, and was only unveiled last Sunday, is believed to have been targeted in the early hours of Friday.
It is the first full statue of a South Asian First World War soldier in the UK.
Guru Nanak Gurdwara, the Sikh temple in Smethwick, Birmingham, commissioned the statue to honour the sacrifices made by South Asian service personnel of all faiths from the Indian subcontinent who fought for all Britain in the First World War and other conflicts.
At the unveiling last Sunday Jatinder Singh, president of the temple, said: "I'm absolutely so proud.
"The contribution of Sikhs and of all other faiths that came over from South Asia is immeasurable".
The monument was designed by Black Country sculpture Luke Perry.
CCTV is being recovered, and officers are working closely with worshippers and management at the temple.
Anyone with information on the incident contact West Midlands Police on 101 anytime.
Alternatively Crimestoppers on 0800 555 111.
By Ben Gelblum and Richard McAllister