Prime Minister Theresa May has written to the European Union to ask for a three month delay to Brexit.
She has sent a letter to Europe asking for Brexit delay until June 30.
The UK is due to leave the EU next Friday, on 29 March, May says in a letter to European Council President Donald Tusk she needs more time to get her withdrawal deal passed and ratified by Parliament.
May seems to threaten to quit as PM if MPs push for Brexit to be delayed further, she said: "As Prime Minister I am not prepared to delay Brexit any further than June 30."
The PM was hoping to ask MPs to vote over her deal for a third time, until that was overuled by speaker John Bercow.
Today Jeremy Corbyn accused May of leading the UK into "crisis, chaos and division".
"We are still legally due to leave the European Union in nine days' time," he said at PMQ.
May was  heckled with calls to "resign" from the Labour benches as she took questions.
Asked if the PM would resign, her spokesman said: "She believes that what she has set out in the letter, and what she's asking for in terms of that short extension to the 30 June, is the best way of seeing the deal ratified.

"She believes that is manifestly in the interests of the people of this country and that is her focus."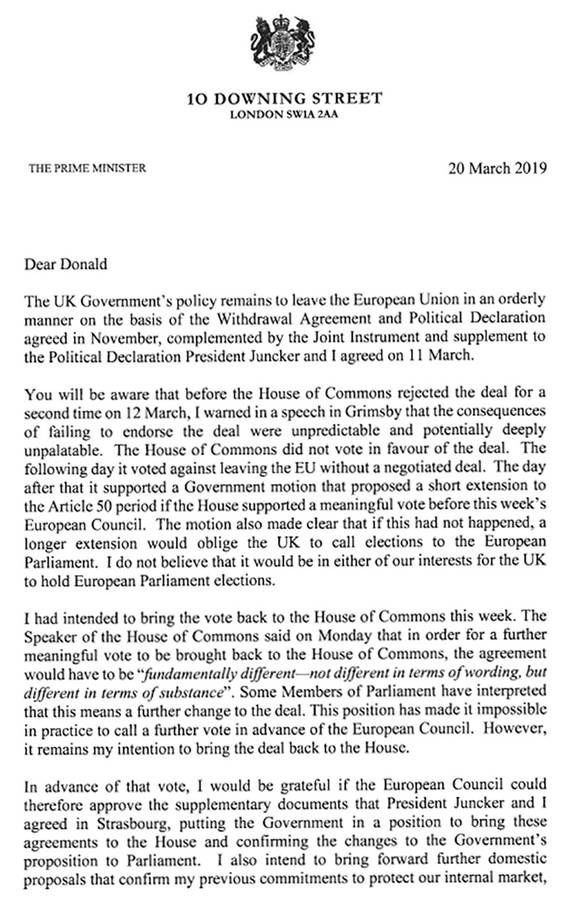 Commenting on Sterling's fall in reaction to Theresa May's decision to seek a short extension to the date UK leaves the EU, Andy Scott, Associate Director at JCRA, the independent financial risk management consultancy, said: "Sterling fell almost one percentage point versus the Dollar and the Euro as the UK and the EU appeared to be headed for a showdown over extending the Article 50 deadline."
"There are big question marks" over whether Theresa May should carry on as PM, says Conservative MP Nigel Evans – "trust is waning, it's ebbing away… she has failed"https://t.co/ZHsYNsi6zg #Brexit pic.twitter.com/WwBSUTOtl1

— BBC Politics (@BBCPolitics) March 20, 2019
Theresa May pointing out that no deal #brexit would still be a possibility at the end of any extension period.

— Vicki Young (@BBCVickiYoung) March 20, 2019