Over 500 workers at the Hinkley Point C nuclear site have refused to work and many are currently staging a sit in protest, in the staff canteen.
One construction worker, who didn't want to be named said: "The site was shut down from Thursday until late last night, due to the bad weather. However, the management have refused to pay our wages or any subsistence, and left us all out of pocket.
"The workers were told this via a text message and the people on Green (night) shift walked out last night, at 10pm, after they had read it. When we all arrived this morning at 7am, we also refused to work.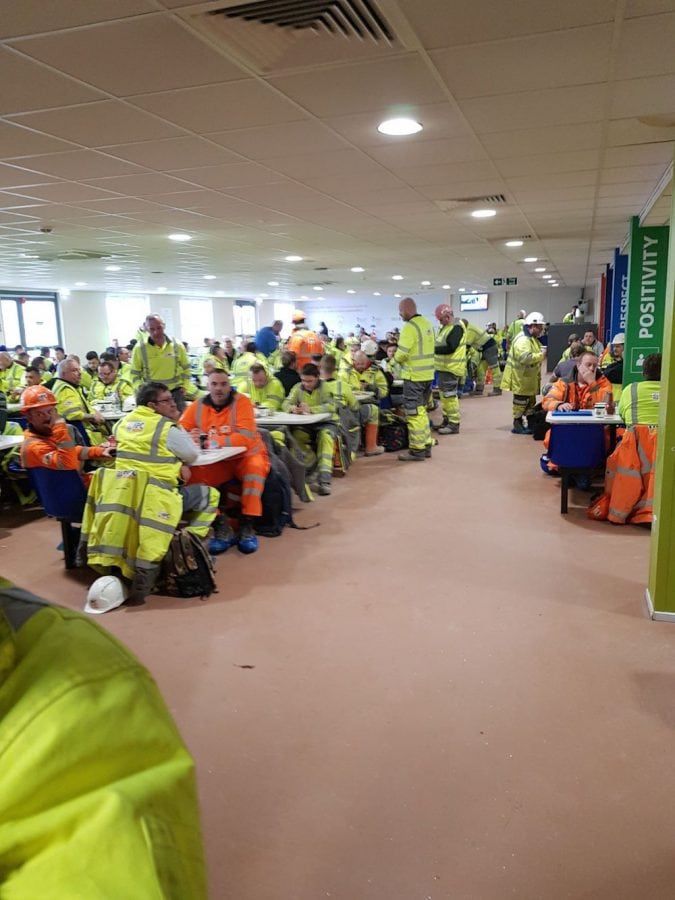 "We are all sitting in the staff canteen and are not going anywhere anytime soon, until this mess is sorted. I have personally lost out on over £1k and we still have to pay for our digs."
This isn't the first time employees at the site have considered strike action Last September over 95% of members balloted by GMB and Unite rejected a pay increase offered by the French energy company EDF and its contractor Bylor after months of discussions.
The controversial £18bn project at Hinkley Point will one day supply seven per cent of the UK's electricity.
Critics say the Government should be encouraging renewable power sources and cite the plant's cost on UK consumers.
The coalition government in 2013 agreed a price of £92.5 per megawatt hour of electricity at which it would purchase power from the new plant for 35 years once it is operational.
But the wholesale price of energy has collapsed in the past three years to around £45 per megawatt hour.
These guarantees could end up imposing an effective cost of up to £30bn on UK consumers – five times the original 2013 estimate, The National Audit Office has said.
Peter Hughes, South West Regional Secretary for Unite said: "It is completely unacceptable for Kier/Bam to decide not to pay its workforce while those workers remained available for work during last week's extreme weather and across the weekend".
"The current problems at Hinkley were not organised or caused by Unite but the actions of their employers; however the union is currently in intensive negotiations to seek a resolution to the issues with both Kier/Bam and the client EDF".
"Unite understands that workers were told last Thursday during the working day to return to their lodgings. The union's members were due to work the weekend and were available to work; although were instructed not to report for work due to the red weather warnings. On their return to site this week they were advised via text that they would not be paid Friday, Saturday and Sunday, the union continues to seek an acceptable and negotiated settlement to these issues".
"We have already seen the government in Scotland call out companies who have adopted such tactics and we agree that employees should not be penalised for following safety advice. The union urges the employer to observe common sense in this issue and pay their employees".
An EDF Energy spokesperson said: "The majority of the Hinkley Point C workforce are working as normal today. A smaller number of workers are disputing payments for bad weather and they are being encouraged to return to work.
"Employees who were unable to work at the site during recent bad weather will be paid in line with agreements signed with the trade unions.
"The safety of our workforce is paramount and a decision was made to close the site on Thursday ahead of the bad weather. Work was carried out over the weekend to ensure the site was available for a safe return to work today.
"We are proud of the 'best in class' pay and conditions for the Hinkley Point C workforce. We have created great facilities, offer career development and have done this in a way that is affordable for the project.
"We share a commitment with the trade unions and our contractors to provide the best standards in health, safety and welfare, and the highest standards of quality and productivity, as we work together to deliver this vital project for the UK."
https://www.thelondoneconomic.com/news/women-week-two-hunger-strike-indefinite-detention/02/03/
https://www.thelondoneconomic.com/news/ba-workers-strike-over-poverty-wages/10/01/