A newspaper in a city with prominent links to slavery has issued an apology after running a controversial front page more than two decades ago.
The Bristol Post's 1996 splash – headlined 'Faces of Evil' – includes 16 mugshots of black men jailed for dealing crack cocaine in the city.
Editor Mike Norton said the report "ostracised a large section" of Bristol's African and Afro-Caribbean community "with its black faces ranged in rows like slaves held in cages".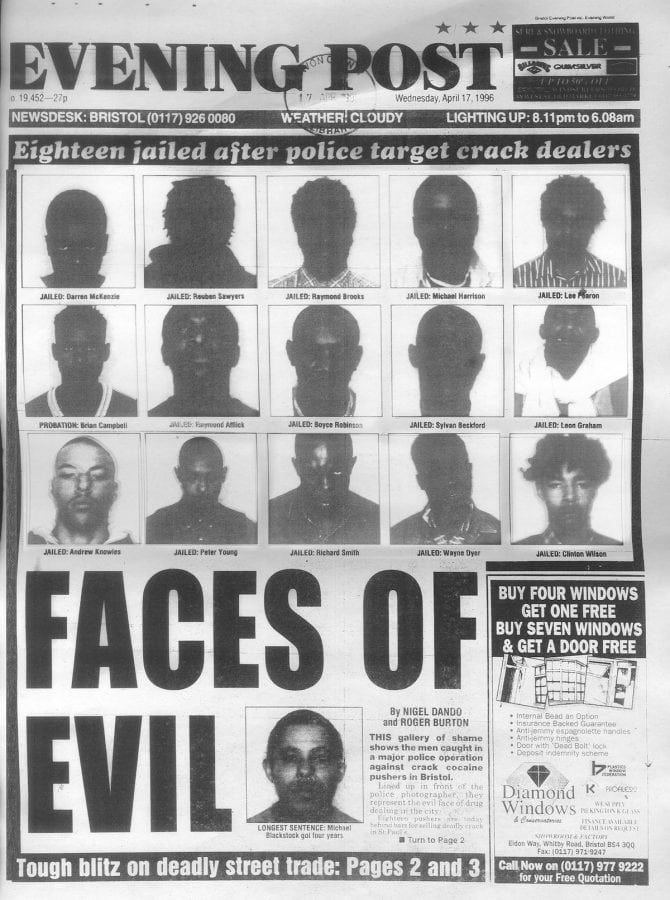 He wrote: "The Evening Post – as it was called then – was already disconnected from the city's black communities. It was another Bristol institution that the people in those communities didn't feel was for them.
"They already had a suspicion that the paper wrote about black people only when they committed crime."
The apology, published on March 7 (Weds), aligns with an emerging trend of city institutions distancing themselves with historic references to the slave trade.
Bristol's largest concert hall, Colston Hall, will change its name in 2020 after years of protests about the name's link to slave trader Edward Colston.
This includes a boycott by Bristol band Massive Attack who refused to play at the venue.
Last year anti-racism activists said Colston's "toxic" legacy – including a statue and even a sweet bun in his name – should be scrubbed from the city.
The 'Faces of Evil' splash, printed on Wednesday, April 17, 1996, was described as "huge mistake" by Mr Norton.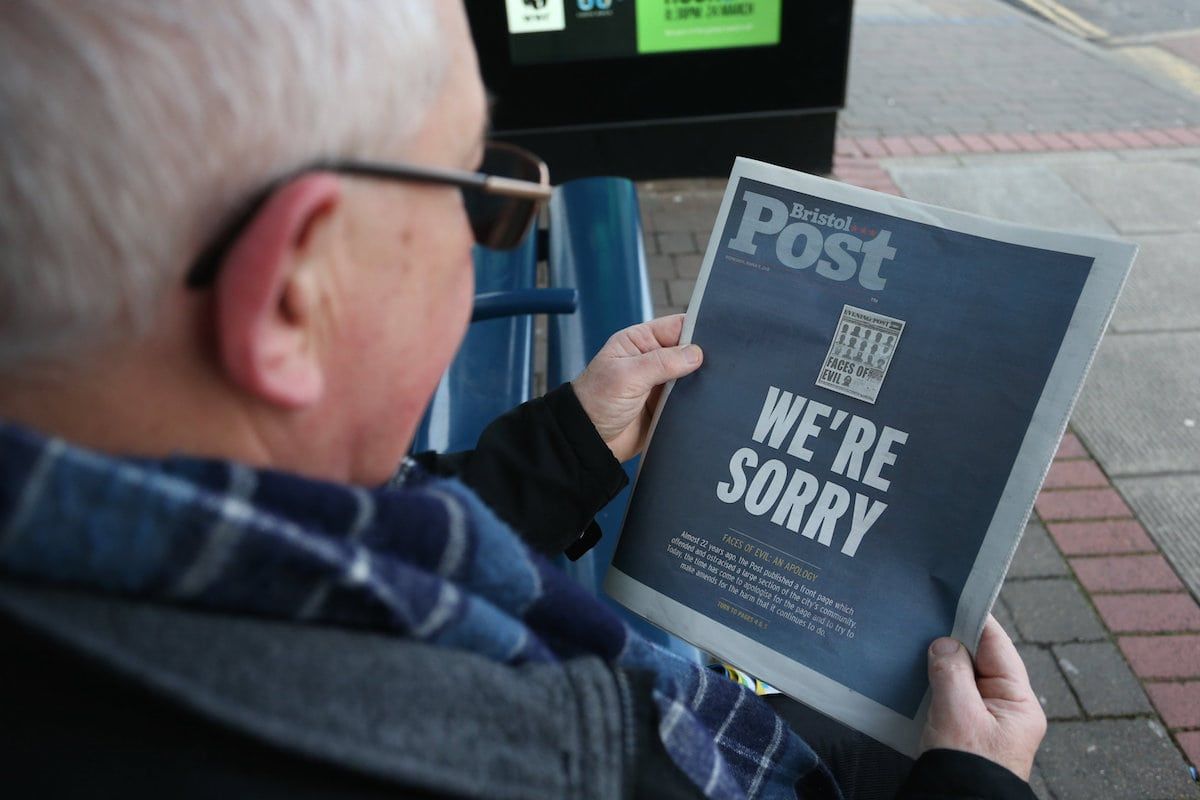 He said: "The effect of that page was so powerful that it offended and ostracised a large section of the city's community. So much so, that it continues to do so.
"Even now, if you go to St Pauls or Easton and ask about the Bristol Post, it won't be long before someone mentions the Faces of Evil front page of Wednesday, April 17, 1996.
"Many of them can still see its simple design in their mind's eye. Alongside that now-notorious headline stared back 16 police pictures of black men jailed for dealing in crack cocaine.
"I don't blame the journalists who conceived it. I wasn't the editor then but – if I had been – I'm sure I would have published the page, too.
"But it was a huge mistake. That one image essentially destroyed what little credibility and trust the Post had within Bristol's African and Afro-Caribbean community.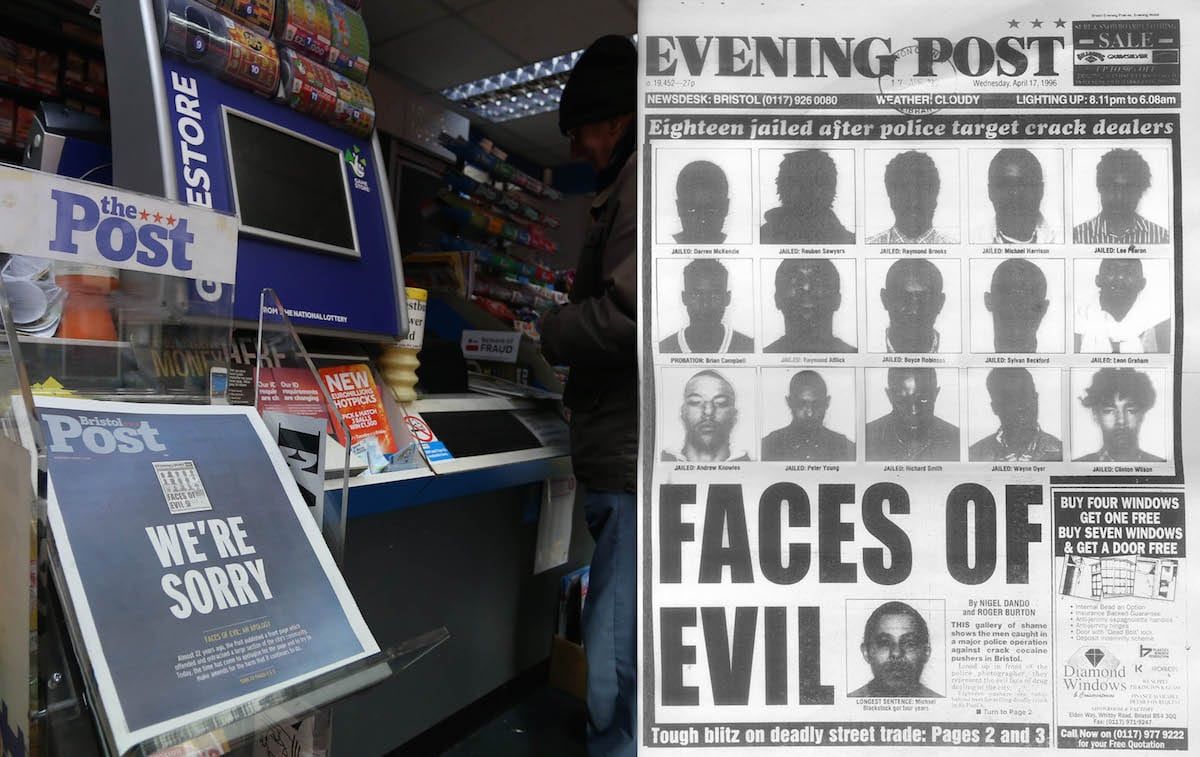 "So, today, I want to apologise for that page. I want to say sorry for the hurt it caused – and continues to cause – to an entire community of my city."
The headteacher of Colston's Girls' School – founded by Edward Colston – said he refuses to "obscure history" by changing its name in a letter to parents.
RELATED:
https://www.thelondoneconomic.com/opinion/revealed-the-extent-of-the-daily-mails-support-for-the-british-union-of-fascists/28/10/
https://www.thelondoneconomic.com/news/frankensigh-how-many-sun-journalists-does-it-take-to-read-a-book/07/03/