A van driver on trial for ploughing into a crowd of Muslims outside Finsbury Park mosque leaving one man dead in a bid to kill as many of them as he could had earlier hoped to kill senior Labour party figures including Jeremy Corbyn, the court heard.
Darren Osborne, 48, is accused of driving a hired van from Cardiff to London where he ploughed into a crowd, killing one man, 51-year-old Makram Ali, and injured others.
Mr Ali had collapsed on Seven Sisters Road and a group gathered to help in the early hours of June 19 last year, just moments before Osborne allegedly drove into them.
Jurors had heard he left a note in the van addressing singer Lily Allen, and branding Labour leader Jeremy Corbyn a "terrorist sympathiser" and Mayor of London Sadiq Khan a "disgrace".
Woolwich Crown Court heard after he was detained, Osborne said: "At least I had a proper go."
On Tuesday, Darren Osborne told the court that another man, whom he named only as "Dave"was at the wheel when the van drove into the crowd outside London's Finsbury Park mosque on 19 June.
Osborne said he met "Dave" and a man called "Terry Jones" at a pub in Treforest, South Wales, last Spring and discussed their political views.
Osborne said the plan became one to kill the Labour leader on a march they thought he was attending in London. He added it "would have been even better" if London Mayor Sadiq Khan had been there too.
"It would have been like winning the lottery," said Osborne.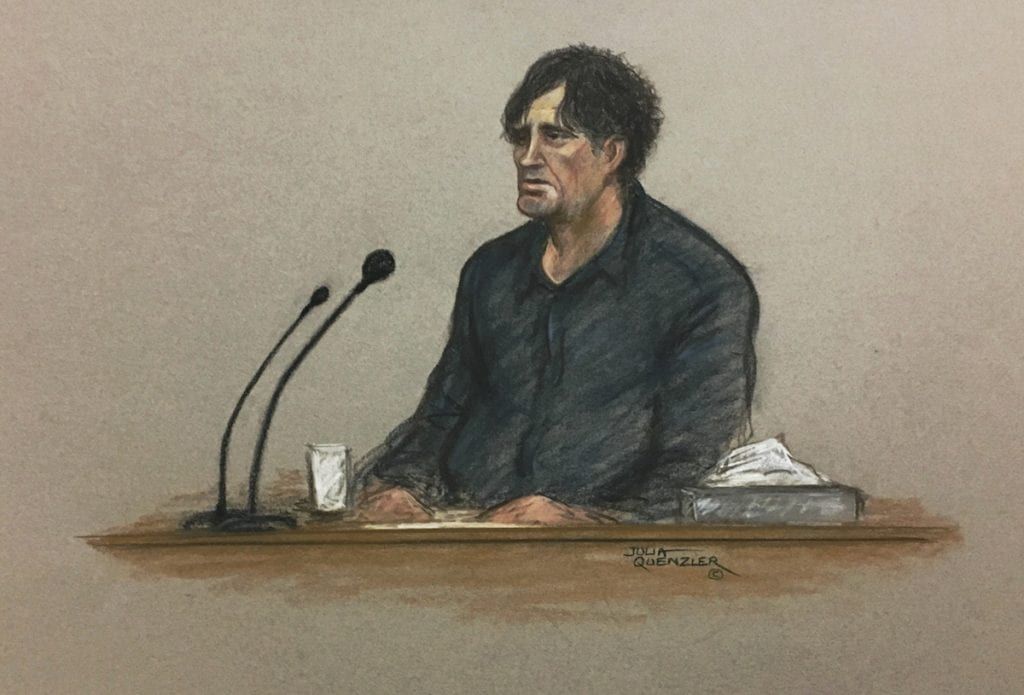 Osborne also said that he had originally planned to target a Labour politician in Rochdale called Hussain.
Asked by the prosecutor, Jonathan Rees QC, whether he planned to kill Jeremy Corbyn, Osborne replied: "Oh yeah, it would be one less terrorist [on] our streets."
Unable to find the Al Quds march event in London because of road blocks, Osborne told the jury that he met accomplices he named "Dave" and "Terry Jones" in Finsbury Park because it was Jeremy Corbyn's constituency.
Osborne told the jury that Dave jumped into the van and was driving when it ploughed into a crowd gathered outside Finsbury Park mosque where one of the congregation had been taken ill.
Osborne said that "Dave" carried out the attack as he lost his nerve and no longer wanted to attack anyone, but "Dave" fled the scene and he has no idea where he went.
But prosecutor Jonathan Rees QC told the court that Osborne initially told police that he was acting alone.
Jonathan Rees read a statement from Detective Constable Paul Dring who interviewed Mr Osborne under armed guard at University College Hospital, on the day of the attack.
The court heard that Osborne insisted: "I am flying solo, mate."
The court also watched footage from the body camera of PC David Jones, who is said to have handcuffed Osborne.
A man the prosecution says is Osborne was heard to say: "I lost control of the van."
According to the footage, Osborne answered "yeah" to the officer's question: "Were you the driver, were you?"
In witness statements read to the court Ibrahim Ikar and Abdul Matin Chowdhury said the man who jumped out of the van was the driver.
In a statement, Ibrahim Ikar said: "The van proceeded to speed towards the group standing around the man on the floor and crashed straight into them, scattering them to all sides.
"Suddenly a man jumped out of the van and tried to run off. He was stopped by the people in the street and was held until police arrived.
"The man who jumped out of the van was the driver. I didn't see anyone else come out of the van."
Abdul Matin Chowdhury said in a statement: "Makram was a very quiet and honourable man, and my son calls him an uncle.
"I saw Makram slip and fall down in the middle of the road. I went to try and catch him but I was on crutches myself.
"Suddenly I was hit from behind by what I now know was a white van.."
He said it "went right over" Mr Ali, adding: "I was thrown back into the rest of the crowd.
"I saw a white male get out of the cab of the vehicle.
"The white male got out of the van itself and then started to run towards the gated area. I shouted to people that he was fleeing, and everyone was saying catch him.
"He didn't get far as there was a gate and fence. Some of the people were able to apprehend him.
"I heard the man shout, 'I will kill all Muslims'. I heard him say this two or three times.
"At one point the man grabbed the trousers of another man in Islamic dress and said, 'I want to kill you'."
Mr Chowdhury said he was "certain" the man who got out of the driver's seat was the same man police put in the back of the van.
He added: "I have seen his face on television numerous times since and I can be sure this man was the driver."
Osborne, of Cardiff, denies murder and attempted murder.