A DJ stabbed to death at an 18th birthday party in Hackney has been named as Elyon Poku.
The 20-year-old was stabbed after the party attended by over 200 was gatecrashed after it was posted on social media.
Mr Poku, known also as DJ Nana Banger, was friends with Manchester United midfielder Timothy Fosu-Mensah.
Dutch Manchester United player Timothy Fosu-Mensah, 20, who is currently on loan to Fulham, led tributes to the young DJ, posting online: "RIP to you my brother… love U may god bless U @nanabanger."
The DJ is the 107th murder victim in the capital this year.
He was stabbed outside the downstairs garden flat in Stamford Hill in the early hours of Saturday.
A 17-year-old boy was also stabbed and a 24-year-old man suffered a head injury.
It was reported party goers filmed the attacks and posted the pictures online.
Police have arrested two teenagers aged 16 and two men aged 28 and 29 on suspicion of murder while an 18-year-old was arrested on suspicion of affray.
Murder squad Detective Chief Inspector Andrew Packer said: "We have been working hard this weekend to find out what happened at the party and the events that led to Elyon's murder in the early hours of Saturday.
"We have arrested four men but we still need the public's help.
"We believe there were more than 200 young people at the party which began on Friday evening and we are need to speak to everyone who was there.
"Even if you didn't witness the assaults, you may have some information that can help us determine how Elyon tragically lost his life."
Scotland Yard said: "Detectives are continuing to appeal for information following the murder of a man at a Stamford Hill party.
"He has been named as 20-year-old Elyon Poku from Stamford Hill.
"Elyon died after being stabbed during a party in the early hours of Saturday, 22 September.
"Two men and two teenagers have since been arrested in connection with the investigation and remain in custody but officers need to hear from everyone who was at the party as they may have information vital to their investigation.
"Police were called at around 0.50am on 22 September, to reports of a fight at a flat in Wilderton Road.
"Officers attended along with the London Ambulance Service and London's Air Ambulance, and found three men suffering serious injuries.
"Both police and paramedics administered first aid to Elyon before he was taken to hospital with stab wounds. He died at around 4.30am
"His next-of-kin have been informed.
"A post-mortem examination will be arranged in due course.
"A 17-year-old male was also found with stab wounds. He was taken to hospital with non life-threatening injuries.
"The third victim, a 24-year-old man, was found with a head injury. He too was taken to hospital with non life-threatening injuries.
"On Sunday, 23 September two men were arrested in connection with the investigation – a 28-year-old man was arrested on suspicion of murder and a 18-year-old man was arrested on suspicion of affray.
"On Monday, 24 September there were further arrests; a 29-year-old man and a 16-year-old male youth were both arrested on suspicion of murder.
"They all currently remain in custody at separate police stations in east London."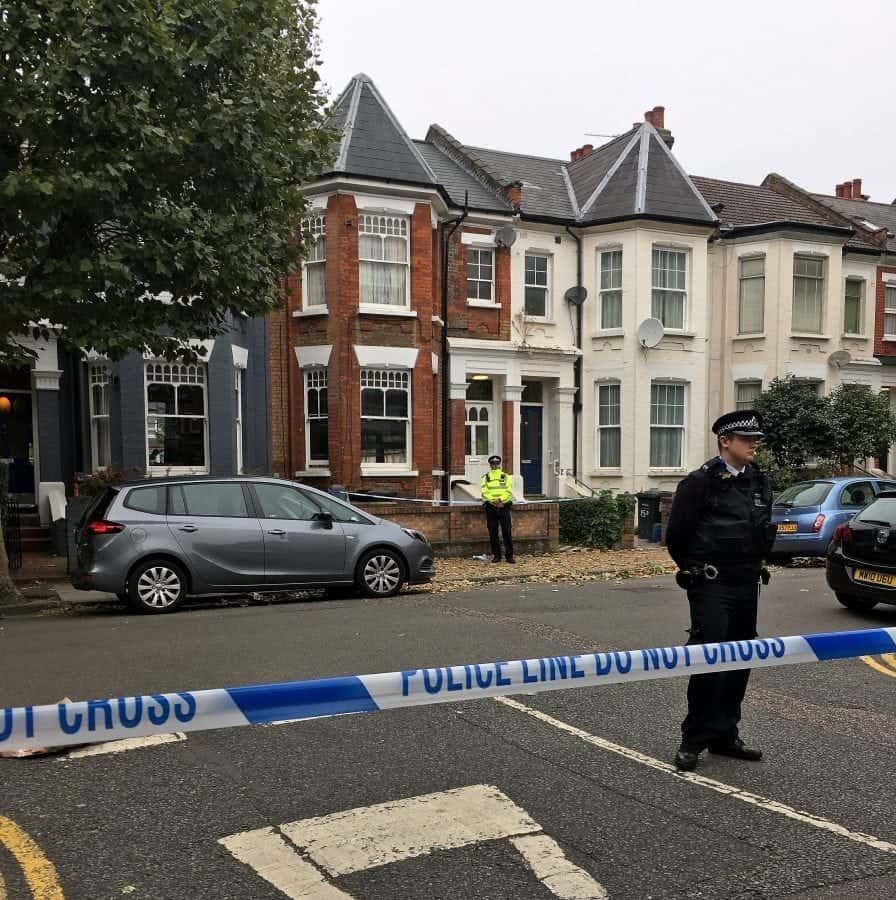 A next door neighbour said this morning the 18th birthday party had been organised for the son of her neighbour, who lives in the downstairs garden flat adjacent to her own property.
She said the mother told her this morning that it was the DJ who was fatally stabbed.
The woman said: "There was a party, it was the 18th birthday of my neighbour's son.
"They had a marquee in the garden, she had organised it all and told the neighbours it was all happening.
"She was being very neighbourly about it. It wasn't the son but unfortunately the DJ who has been killed.
"She told me this morning. She's had to leave the house now because it's a crime scene.
"It's very upsetting for them because I know how much time and effort has been put into this party. They are completely devastated."
She said that she thought that her neighbour did not know the people behind the attack, saying: "I think people from outside came in. She didn't know the people who did the stabbing."
The road was cordoned off today with police officers stationed outside the red brick property in an upmarket area of Hackney.
Forensic teams have been seen entering the property just before 11am.
His death comes just days after 25 year old Ali Al Har was stabbed to death in nearby Islington. Two men have now been arrested over his murder.