Labour MP David Lammy has said the US President is not welcome in the UK, after retweeting hate tweets from extremists Britain First.
In Parliament Labour MPs demanded the Home Secretary react to the hateful tweets but she refused to, to stand up and give a comment to shouts of "stand up" by outraged MP's.
"It appears that the President of the United States has, in recent moments, been retweeting comments from far-fight organisation Britain First – highly inflammatory videos, including some posted by an individual who I believe has recently been arrested and charged relating to certain serious offences," said Labour MP Stephen Doughty, asking if the Home Secretary or Foreign Secretary Boris Johnson would respond. But neither would.
A week after the deputy leader of far-right mosque protesters Britain First was arrested for hate speech, the hate preacher has been thrust back in the news unwittingly.
– This time because Jayden Fransen's islamophobic tweets have been retweeted by the President of the United States.
Donald Trump has been waging a war with the press and today urged people to boycott the CNN news channel, just after sharing Fransen's islamophobic tweets.
https://twitter.com/realDonaldTrump/status/935838073618870272
The first was a video claiming to show  "Muslim migrants beating up a Dutch boy on crutches", followed by "Muslim destroys statue of Virgin Mary" and "Islamist mob pushes teenage boy off roof and beats him to death".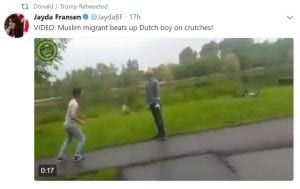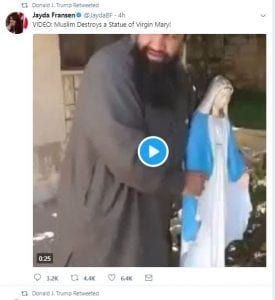 A Dutch paper has dismissed the first video as "fake news" saying Dutch police asked for it to be taken down from social media after an arrest was made.
Britain First has a large following on social media, with many having liked the group's Facebook page by accident. But deputy leader Frayden has been arrested multiple times for hate crimes.
This month she  was convicted of religiously aggravated harassment and she is also awaiting trial for inciting religious hatred and has also been charged over a speech she made in Northern Ireland.
Another of the group's founders, ex-BNP anti-abortion activist Jim Dowson is linked  to Loyalist paramilitary groups in Northern Ireland. He has been arrested for organising illegal parades in Northern Ireland which resulted in a series of violent incidents.
Leader Paul Golding, a former BNP councillor has been held four times by anti-terror police.
Politicians and political commentators have reacted with disbelief on both sides of the Atlantic.
"Trump sharing Britain First. Let that sink in. The President of the United States is promoting a fascist, racist, extremist hate group whose leaders have been arrested and convicted. He is no ally or friend of ours. @realDonaldTrump you are not welcome in my country and my city," tweeted Labour MP David Lammy for Tottenham.
He added: "Do not forget that the man who murdered Jo Cox shouted "Britain First". Trump has gone beyond the pale today."
Do not forget that the man who murdered Jo Cox shouted "Britain First". Trump has gone beyond the pale today.

— David Lammy (@DavidLammy) November 29, 2017
Brendan Cox whose wife Labour MP Jo Cox was murdered to repeated shouts of "Britain First" had to point out that "Spreading hatred has consequences."
Trump has legitimised the far right in his own country, now he's trying to do it in ours. Spreading hatred has consequences & the President should be ashamed of himself.

— Brendan Cox (@MrBrendanCox) November 29, 2017
"Trump has just retweeted videos from the fascist Britain First organisation. In a presidency marked by lows, this plunges to yet another depth," tweeted SNP MP John Nicolson.
Trump has just retweeted videos from the fascist Britain First organisation. In a presidency marked by lows, this plunges to yet another depth.

— JOHN NICOLSON M.P. (@MrJohnNicolson) November 29, 2017