The House of Lords could be replaced by bots with "deeper knowledge, higher productivity and lower running costs", a peer has said during a debate on artificial intelligence (AI).
Lord Londesborough speculated that AI could soon be advanced enough to deliver his speeches in his voice with "no hesitation, repetition or deviation" after analysing and processing his previous contributions on parliament.live.tv.
He asked the House of Lords if the prospect of being replaced by "peer bots" is either an "exciting" or an "alarming" one, before raising concerns about the impact AI could have on millions of workers in the UK.
The hereditary peer's comments came during a debate on the development of advanced AI, associated risks and potential approaches to regulation within the UK and internationally.
Several reservations were raised in relation to bias and discrimination, privacy, security, journalism and the impact the technology could have on jobs and wealth distribution.
Lord Londesborough, an independent crossbencher, said: "I was briefly tempted to outsource my AI speech to a chatbot and to see if anybody noticed.
"I did in fact test out two large language models. In seconds, both delivered 500-word speeches which were credible, if somewhat generic.
"But AGI, artificial general intelligence, will soon be able to write my speeches in my personal style, having scraped Hansard, and deliver it in my voice through natural language understanding, having analysed and processed my speeches on parliament.tv.
"And with no hesitation, repetition or deviation.
"Is it an exciting or alarming prospect that Your Lordships might one day be replaced by peer bots with deeper knowledge, higher productivity and lower running costs?"
As a few peers chuckled, Lord Londesborough went on: "Yet this is the prospect for perhaps as many as five million workers in the UK over the next 10 years.
"That said, the UK economy is in dire need of AI to address low productivity and growth and critical capacity."
Crossbench peer Viscount Colville of Culross, a freelance television producer, told peers that he had asked ChatGPT to write him a speech on the threat AI poses to journalism.
He said one of the paragraphs stated: "AI in its tireless efficiency threatens to overshadow human journalism. News articles can be automated and editorials composed without a single thought, a single beating heart behind the words.
"My fear is we will descend into a landscape where news is stripped of the very human elements that make it relatable, understand(able) and ultimately impactful."
Viscount Colville joked this was a "frighteningly good start" to his speech before raising benefits and concerns linked to AI.
He said: "The new AI technology is further exacerbating this financial threat to the whole industry; AI-generating companies able to scrape for free the information from news websites, which are already facing increasing costs of creating original journalistic content.
"Meanwhile, many AI sites, such as Microsoft's new AI service, are charging up to 30 (US) dollars a month."
Viscount Colville said there needs to be pressure on generative AI creators to ensure the information they are giving is "truthful and transparent", adding: "Leaders of our public service media organisations have written to (Culture Secretary) Lucy Frazer asking her to set up a journalist working group on AI, which will bring together the various stakeholders in this new AI world to work out a Government response."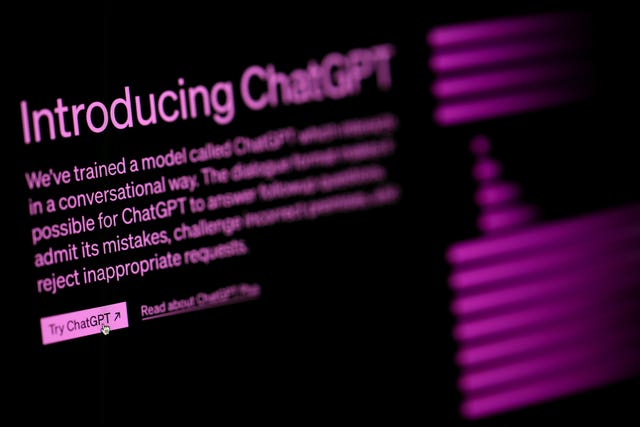 Labour former deputy leader Lord Watson of Wyre Forest said: "I think autonomous machines are probably as inevitable as the next pandemic, and our preparedness for that has to be as urgent and at a scale as we currently deploy on pandemic management."
Conservative peer Lord Fairfax of Cameron drew attention to the first global summit on AI, hosted by the UK, highlighting its critical role in addressing the challenges posed by the technology.
He said: "At the extreme, artificial systems may be able to solve strategic-level problems better than human institutions, could disempower humanity and lead to catastrophic loss of life and value.
"Godfathers of AI such as Geoffrey Hinton and Yoshua Bengio now predict that such things may become possible within the next five to 20 years.
"It will be critical for that summit to do two things: one, to get the right people in the room, and in particular for the tech giants not to be allowed to regulate themselves."
Responding, science minister Viscount Camrose said: "These advances bring great opportunities from improving diagnostics and health care to tackling climate change, but they also bring serious challenges such as the threat of fraud and disinformation created by deepfakes.
"We note the stark warnings from AI pioneers, however uncertain they may be about artificial general intelligence and AI biosecurity risks."
He noted the UK "already has a reputation as a global leader in AI", adding: "Through our work to establish the rules that govern AI and create the mechanisms that enable the adaptation of those rules, the Foundation Model Taskforce and the forthcoming summit on AI safety, we will lead the debate on safe, responsible AI innovation.
"We will unlock the extraordinary benefits of this landmark technology while protecting our society and keeping the public safe."
You may also like: Nurse! GB News takes to shouting at weather maps