Ahead of a vote on Theresa May's deal with the EU which has been attacked by all sides of parliament, the EU has confirmed that at this stage the only option MPs have is the deal on offer, Brexit with no deal or no Brexit.
Donald Tusk and Jean-Claude Juncker held a joint press conference at the G20 summit in Buenos Aires.
Addressing the world's press, Donald Tusk insisted that the EU member states were "prepared for any scenario."
"A few days before the vote in the House of Commons it is becoming more and more clear that this deal is the best possible – in fact the only possible one," said the President of the European Council.
"If this deal is rejected in the Commons we are left with, as was already stressed a few weeks ago by Prime Minister May, an alternative –no deal or no Brexit at all.
"I want to reassure you that the EU is prepared for every scenario."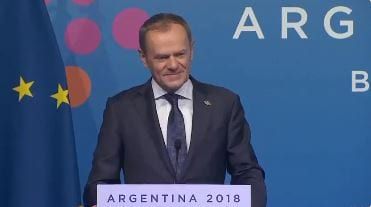 Tusk's words almost exactly echoed Theresa May's assertions to the House of Commons that renegotiating another deal is not possible.
The only options she told Labour leader Jeremy Corbyn were her Brexit deal, no deal or no Brexit.
With increasing support among MPs from all major parties for returning to the people with these options now that we can see what they involve in a second referendum, as well as both sides of the Brexit divide calling her deal the worst of all worlds as it makes Britain a rule taker and not a rule maker, May faces astruggle to summon the numbers to win a Commons vote on her deal.
The Bank of England and the Treasury have revealed data confirming independent analyses that leaving the EU with no deal would cause a devastating and lasting economic recession for the UK.
But the government's own data also confirmed that Theresa May's deal would leave Britain worse off than staying in the EU.
As MPs table amendments to the Commons vote on thenegotiated deal, it remains to be seen if it can win over sceptics on all sidesof the debate, and whether amendments to ensure there is not a no deal Brexit, and/ or the public get a final say in a People's Vote can muster a majority of MPs.