These pictures show the moment an elderly tea-lady was forcibly moved from her month-long post set up at a controversial fracking site by police.
Great grandma Jackie Brookes, 79, set up shop at the Kirby Misperton site in Yorkshire where she provided provisions of tea and home-made cake to both protesters and police.
According to North Yorkshire Police, she and other people were moved this morning because of fears that a nearby ten-foot high tower made of wooden pallets might collapse and injure them.
County council officials assessed the safety of the tower, where one of the protesters, known as Eddie, had been sitting for nearly a day, and police were last night (MON) in the process of moving it.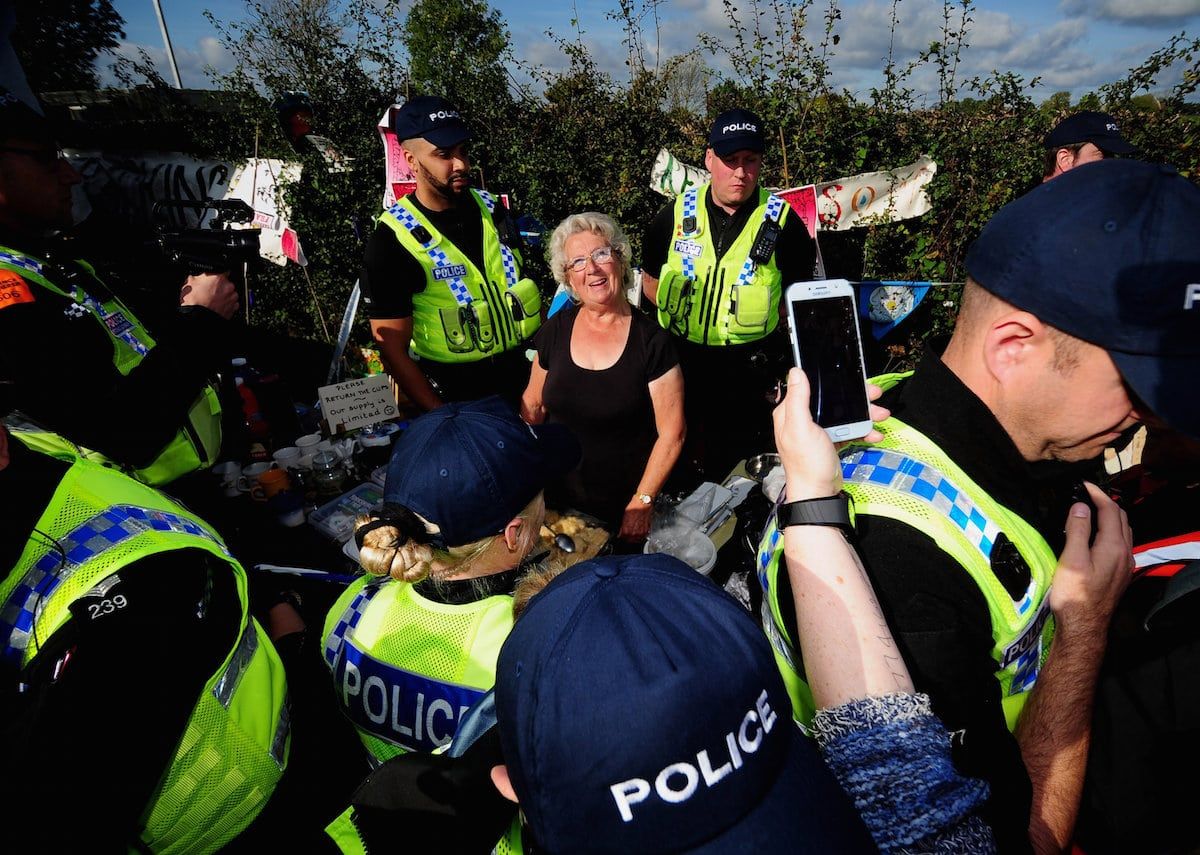 In a statement issued by the Kirby Misperton Protection Camp, the pensioner said: "I thought it was petty bullying, telling us that we could be crushed by that tower when we know darn well it's as strong as it can be.
"Eddie wouldn't be up there if he thought that it was going to fall down.
"So it's just another way of pushing us around, it's bullying tactics."
Superintendent Lindsey Robson, of North Yorkshire Police, said: "We have a duty to ensure the safety of everyone involved in protests at Kirby Misperton.
"Officers had to move several people away from a tower of pallets this morning, after we received advice from the local authority that it may not be safe.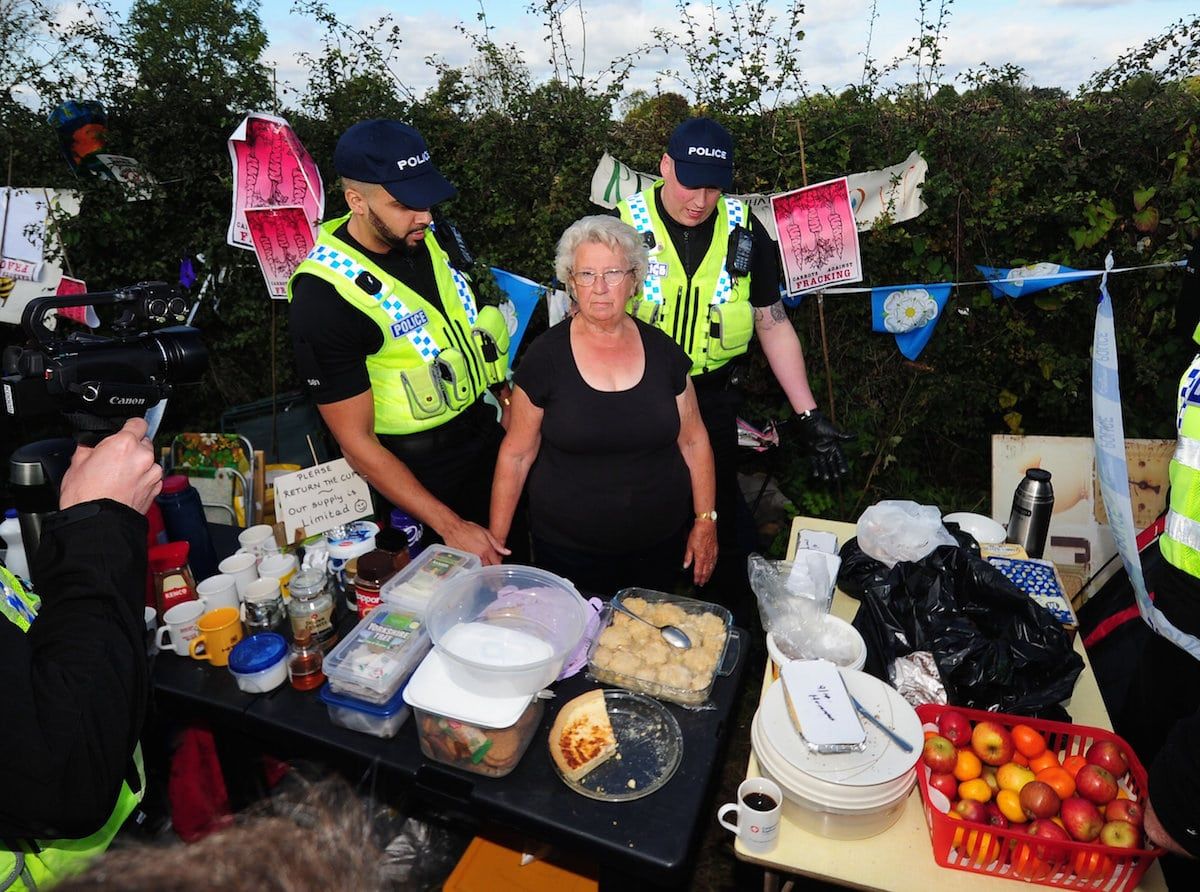 "While some people were unhappy, we spoke to them and asked them to move for their own safety, which they did.
"We will always act to protect people from harm."
But the move attracted anger from some protesters at the site, where Third Energy is to conduct a series of underground test fracks to produce gas for its nearby power station.
One wrote on Facebook: "I popped up to Kirkby Misperton this morning to stand in solidarity for a couple of hours with all the lovely people up there.
"I was having a chat and just about to get a cuppa from the wonderful Jackie (who is in her 80s and has been serving tea and home made cake to the protesters and police alike for the last month).
"All of a sudden a lot of police approached us demanding me and Jackie (and her table) immediately move further away from the 'dangerous structure' (that was too far away to hit us, even if it had spontaneously fallen over in our direction!).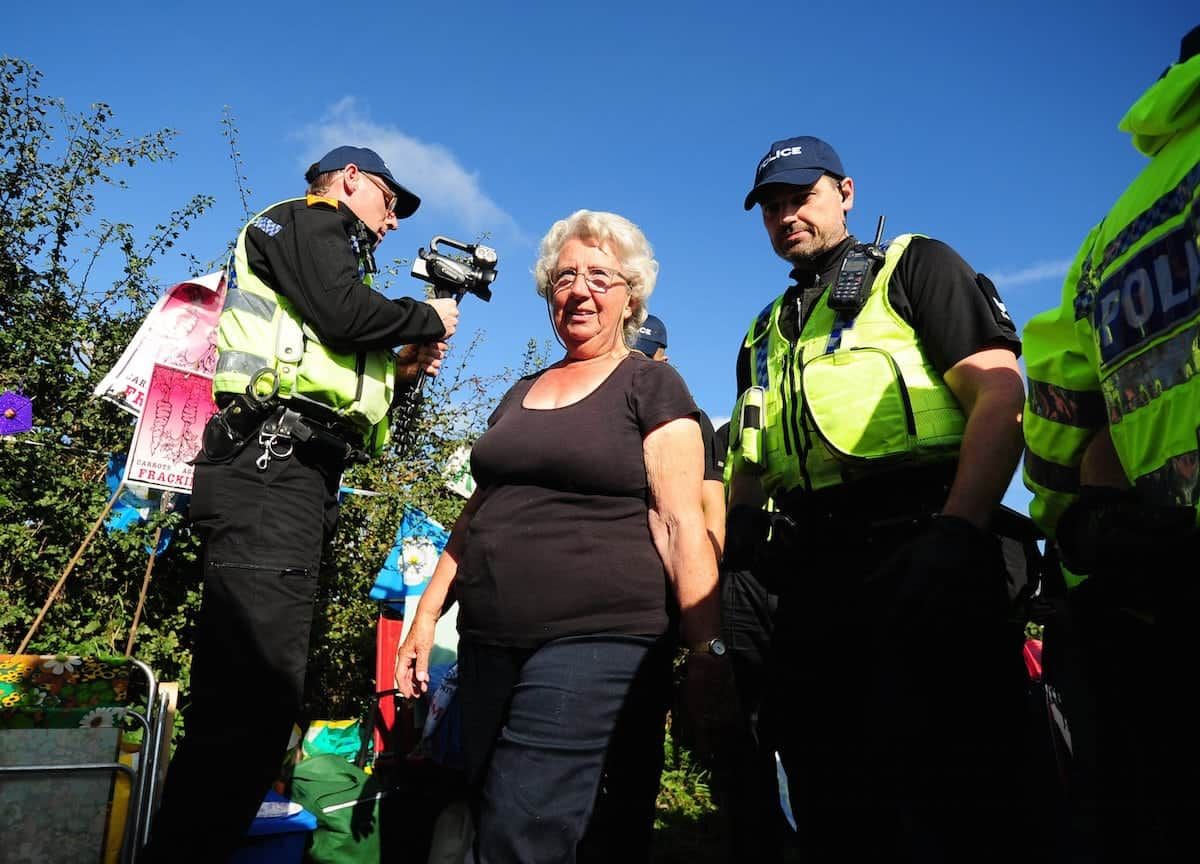 "I was ordered (farcically) to 'step away from the picnic table' (yes, really). When the indomitable Jackie refused to do exactly as she was told, the second she was ordered to; this is what happened next."
Anti-fracking campaigner Leigh Coghill said the police action was "completely disproportionate as to what is appropriate", adding: "The whole thing feels like a bit of a farce."
She said: "How have we come to this point where we have a great-grandmother who is serving tea and making breakfast being surrounded by police?"
More than 20 people have been arrested at anti-fracking protests in Kirby Misperton, where Third Energy was granted permission to frack in 2016.
These include women who locked themselves to a concrete-filled tube, and another person who protested on top of a lorry.
Fracking is designed to recover gas and oil from shale rock using high-pressure water mixture and the upcoming tests will see the company attempt the process at five different depths to see whether it is commercially viable.
https://www.thelondoneconomic.com/news/environment/yorkshire-sacrificed-to-fracking/24/05/
https://www.thelondoneconomic.com/news/why-grass-could-be-a-green-alternative-to-fracking/24/11/
https://www.thelondoneconomic.com/news/end-of-democracy-government-upholds-fracking-appeal/06/10/