Dozens of workers on London's multi-billion pound Crossrail project claim they have been 'sacked' just days before Christmas – after a dispute with bosses over a £5,000 bonus.
A total of 54 electricians were axed from their jobs yesterday by Balfour Beatty, the infrastructure company awarded a £70 million contract for Woolwich Crossrail station in south east London.
They claim they were 'sacked' by the company after voicing concerns over a finishing bonus of up to £5,000.
The electricians say Balfour is refusing to hand over a bonus even though the company was given the money for it by the government.
Workers protesting at the site today also claimed they have been 'stitched up' by the Unite union after it failed to solve the dispute.
Electrician John Schofield, 56, said: "The government have paid the money to Balfour Beatty, it's sitting in their bank account, they have made interest on it, so give it to us."
John, who has worked on Crossrail for seven months, said the 54 electricians were told last Thursday their jobs on the project would be axed.
He added: "Our union has stitched us up. Every single man here thinks that."
Many of the electricians are employed by Balfour Beatty directly, but will only be paid for the time they spend on site.
John claimed Balfour told axed workers they were no longer needed at the Woolwich Crossrail station because the project is 'winding down'.
He said: "They will just say the job's closing.
"I thought I'd be working here until at least next summer. We thought there was at least ten months' work left on here."
Gordon Bell, an electrician who has kept his job but was also at the protest this morning, also claimed Balfour bosses are trying to replace staffers with agency workers.
The 54 axed workers make up about half of its electricians on the Woolwich project, he said.
Gordon said: "They are trying to squeeze card labour out, the guys who actually work for the company.
"We asked for a finishing bonus because the lads have big rents to pay."
The majority of workers at the Woolwich site are from elsewhere in the UK, but live in east London while they work on the project.
They believe Balfour Beatty is withholding the bonus because it also has other high profile contracts on HS2 and Hinkley Point and doesn't want to set a precedent.
John added: "It's because we can say on Crossrail we had a bonus so we want it here too."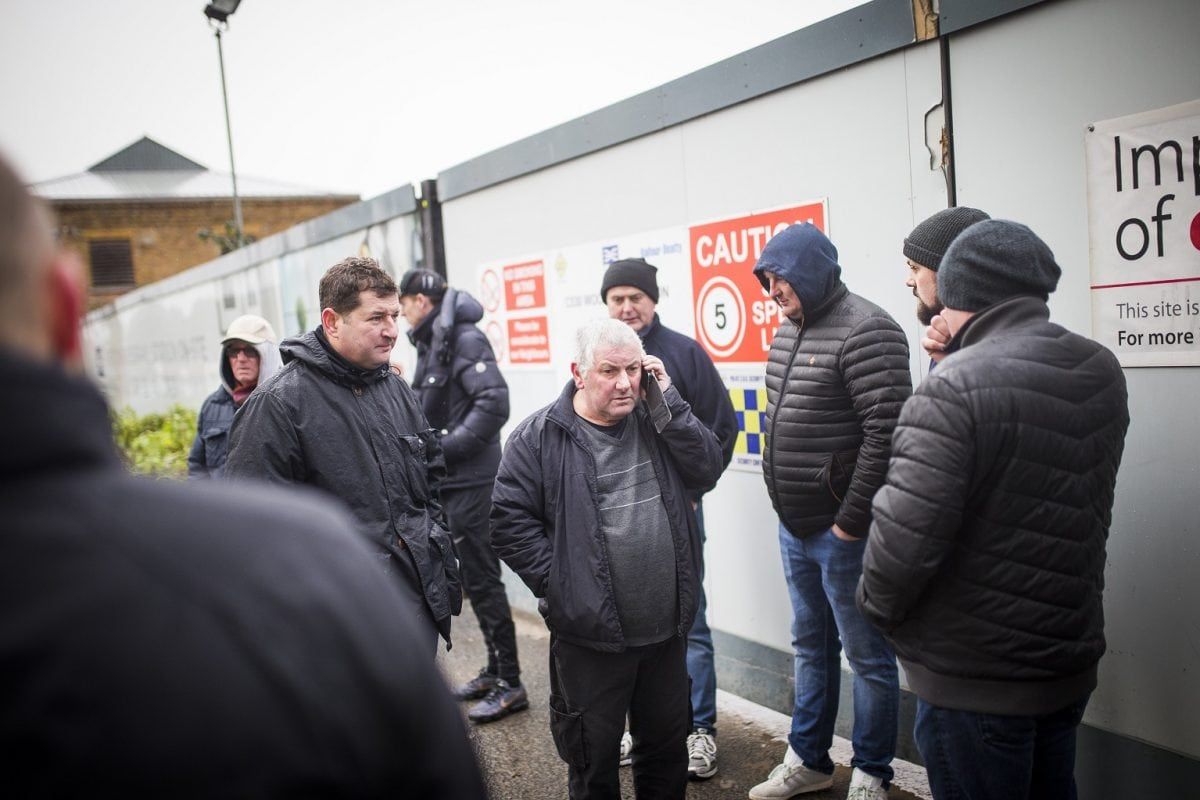 Some estimations have placed the expected Crossrail finishing bonus as high as £5,000 for some employees.
John said he believes it will earn the electricians about £10 extra per hour in total.
Balfour took on the Woolwich station project in September 2014 and said at the time it was a 'four year project'.
It is also responsible for £235 million Crossrail tunnel work between Whitechapel and Liverpool Street.
John said the Unite union advised electricians to go to a ballot over the finishing bonus payments, but claims bosses held a meeting with Balfour behind closed doors last week.
He added: "We asked what was said in the meeting and they said we never discussed anything.
"Our representatives weren't allowed in and they were told nothing was discussed."
RELATED: 
Amazon drivers forced to deliver 200 parcels a day and urinate in bottles as Jeff Benzos net worth hits $100 billion
Amazon drivers forced to deliver 200 parcels a day and urinate in bottles as Jeff Benzos net worth hits $100 billion
UK cities fall like dominoes for Uber as York joins London and Sheffield in refusing to grant licence
UK cities fall like dominoes for Uber as York joins London and Sheffield in refusing to grant licence
Hammond tried to hide report showing public sector wages below private sector, claims investigation
Hammond tried to hide report showing public sector wages below private sector, claims investigation
Theresa May suppressed NINE reports proving immigration has little effect on employment or wages
https://www.thelondoneconomic.com/news/politics/vince-cable-theresa-may-suppressed-nine-reports-proving-immigration-little-effect-employment-wages/06/09/
"Disturbing" figures show real wages dropped in 2017 proving Govt's economic incompetence
"Disturbing" figures show real wages dropped in 2017 proving Govt's economic incompetence