A disabled woman who died days after she was dropped by care home workers was a "victim of a catalogue of catastrophic failures", her sister has told an inquest.
Lyn Parker, 64, fractured her ribs and both arms when she fell at least 1.5 metres after two care workers tried to lift her from her wheelchair into her bed using a sling at Tudor Avenue Residential Care Home in Hampton, south London.
Ms Parker, from Kingston upon Thames, was on the floor for more than three hours before an ambulance took her to Kingston Hospital alone on January 15 2021, West London Coroner's Court heard.
Jurors heard on Tuesday that she was discharged from hospital with undiagnosed rib fractures and a fracture to her left arm.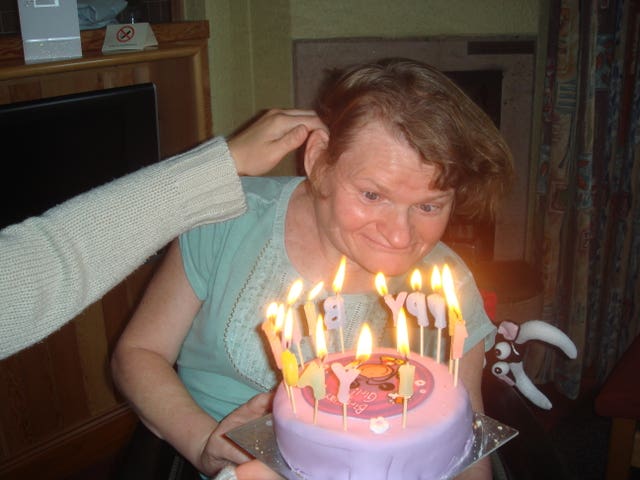 She was taken back the next morning after a carer found her left arm "swollen and black", treated for the "missed" fractures and admitted.
Ms Parker, who was non-verbal, died 10 days later at Kingston Hospital on January 25 2021.
A consultant at the hospital told the court on Tuesday that the main cause of Ms Parker's death was "aspiration pneumonia" and that the delay in admitting her to hospital would not have changed the outcome.
The court heard a statement from her sister, Kim Parker, on Wednesday.
In it, she told jurors: "(Lyn) was a victim of a catalogue of catastrophic failures and I just feel that what happened in the care home and what happened in the emergency department… her failure to be correctly triaged and diagnosed is still quite hard for me to take in.
"I felt I had to come here to this inquest with representations to ensure that Lyn's story is heard and the correct questions are asked to enable changes as a result so we can prevent the suffering that Lyn went through happening to anybody else."
Kim Parker said her sister received "life-changing injuries" in 2013 after a carer gave her "scalding hot food" and burned her throat, causing her to lose the ability to eat and drink.
After this incident, Ms Parker was said to be "prone" to aspiration and chest infection.
Regular hospital admissions following the accident prompted "best interest meetings" between medical professionals, carers and family, the court heard.
Kim Parker said: "We always came to the following conclusion – Lyn has a good quality of life and is a happy person. Her learning difficulties and disabilities should not influence the decision to resuscitate."
The sister added that the do not resuscitate (DNR) order "always" came up as a "new decision" whenever Ms Parker was admitted to hospital.
"I always felt each time I was fighting for her right to receive treatment and be allowed to live," she said.
Kim Parker called her sister's fall on January 15 2021 "the most dreadful thing" which "precipitated Lyn's tragic and untimely death".
"We were patronised and treated like idiots all the while we were aware that Lyn's learning disabilities counted against her in terms of treatment and the DNR decision was a continual threat," she continued.
Kim Parker said she received a phone call from a doctor at Kingston Hospital on January 18 in which she was told Ms Parker stood no chance of survival.
Giving evidence, she told jurors: "He called me around midnight saying… that it was distressing for Lyn.
"If I had insisted obviously I would have been saying that I would hurt my sister deliberately, which of course I wouldn't.
"So I accepted what he said."
The jury went on to hear that treatment was suspended but restarted the following day after the care home manager argued for it.
Kim Parker was shielding when her sister was in hospital in January 2021 and insisted she would have "been there like a shot" if she could have been.
In her statement, she told the court that Ms Parker was "so happy and fun to be with".
She added: "A profound lesson to us all as despite the most extreme challenges and adversity Lyn was always smiling and happy."
Coroner Lydia Brown has adjourned the hearing and will send the jury out to deliberate on Thursday.
You may also like: UK spends three times amount aid in Britain than in Africa