A former priest called a young member of a church choir a "p**** tease" and repeatedly sexually abused him in his rectory, a court heard.
Canon Terrence Grigg, 84, 'identified' five 'vulnerable' young men for sexual abuse and "used that vulnerability for his own sexual gratification".
The abuse of one victim, who was a member of the church choir, began when he was just ten-years-old, the court heard.
Grigg is charged with nine offences of indecent assault and two charges of buggery.
The allegations include "hugging on a sofa", "spooning", and Mr Grigg putting his hand on a boy's thigh in a restaurant.
Hull Crown Court, East Yorkshire, heard one complainant was given alcohol before allegedly performing a sex act on Mr Grigg.
Another victim was given money for "football stickers and pop" by Grigg, the court was told.
The charges relate to incidents said to have taken place between 1983 and 1996 involving five different under-age boys.
Mr Grigg, of Malton, North Yorkshire, denies all the charges.
He retired as priest in charge at St Mary's Church in Cottingham in 2004 having worked at the church for 20 years.
Opening the case, prosecutor Ms Claire Holmes said: "Terrence Grigg was the rector between 1983 and 2004.
"The crown say during these years he identified five vulnerable men and went on to use that vulnerability for his own sexual gratification."
In May 1984, Grigg masturbated in front of one of the boys before having anal sex when the victim was just 15-years-old, the court was told.
Between May and July 1984, at least ten further occasions where Grigg and the victim had anal sex, Ms Holmes told the court.
Ms Holmes said: "[The victim] was a part of the choir. In 1984 the victim and Grigg began a sexual relationship.
"In January 1984 they were sat in the rectory. Grigg sat next to him. Grigg asked the victim if he was aroused.
"They kissed and Grigg touched his penis under his clothing.
"Grigg then removed his clothing and masturbated until ejaculation."
Later that year, the pair had sex on "more than ten occasions" while the victim was just 15 years old, the court was told.
The victim, who Grigg allegedly called a "p**** tease", saw the relationship as "mutual" at the time of the abuse.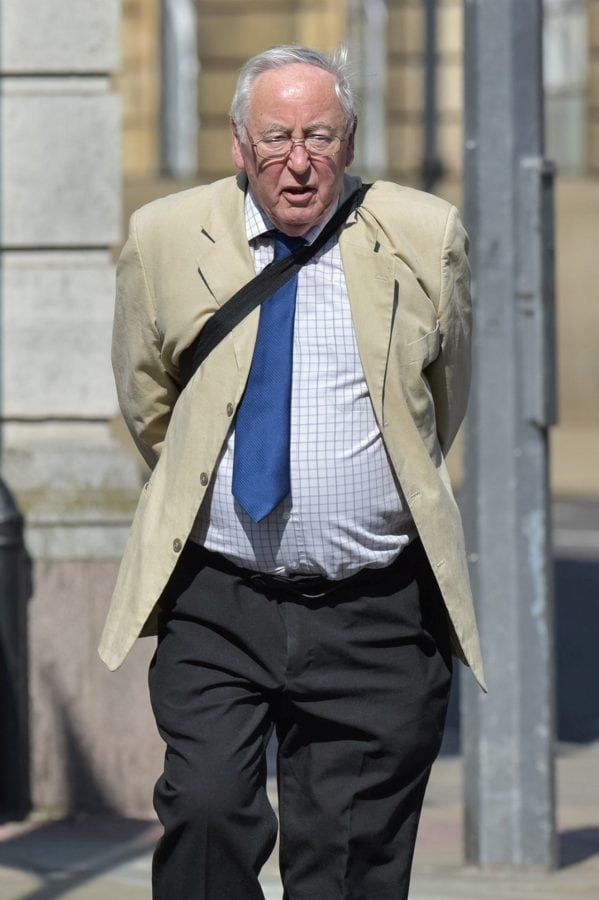 Multiple boys describe Grigg holding their hand and taking them on trips where they shared hotel rooms.
On one occasion, Ms Holmes told the court Grigg is alleged to have taken a complainant away and shared a room with separate beds – but Grigg got into the complainant's bed instead.
Another complainant says he took drugs to "block out" the abuse he suffered at Mr Grigg's hands, the court heard.
One of the complainants was able to give police exact dates of the alleged abuse because he kept a diary.
The youth used a distinctive "code" of lines and dots to record each sexual encounter with Grigg, the court heard.
Ms Holmes told the court there was "a common thread used of grooming and bragging" about each boy being in his company.
She told the jury of six men and six women the detailed accounts by the victims and similarities between cases would allow the crown to "prove his guilt".
Grigg sat motionless in the dock wearing a cream linen jacket, a white shirt and a navy blue tie and glasses.
By Ben Gelblum and Daniel Sheridan