As the UK government confirmed an extradition request by the US – so long as there are assurances that Julian Assange won't face the death penalty, the WIkileaks' co-founder's confidante Pamela Anderson branded Britain "America's bitch."
Shortly after the Ecuadorean Embassy in London allowed the Metropolitan Police to arrest the freedom of information campaigner, it was revealed that Assange is subject to an extradition request from the United States government over yet-unspecified "computer related offences."
A Home Office spokesperson said: "We can confirm that Julian Assange was arrested in relation to a provisional extradition request from the United States of America.
"He is accused in the United States of America of computer related offences."
This has been confirmed by the London Metropolitan Police, as well as the Home Office, outlining the extradition process he will face.
Many figures all over the world reacted in dismay, including actress Pamela Anderson who has visited Assange during his six years holed up inside the Ecuadorian Embassy in London, after Swedish rape allegations against him, which were later dropped.
Anderson tweeted: "I am in shock.. I couldn't hear clearly what he said? He looks very bad. How could you Equador ? (Because he exposed you). How could you UK. ? Of course – you are America's bitch and you need a diversion from your idiotic Brexit bullshit."
The actress who rose to form on TV's Baywatch added: "And the USA ? This toxic coward of a President He needs to rally his base? – You are selfish and cruel. You have taken the entire world backwards. You are devils and liars and thieves. And you will ROTT And WE WILL RISE."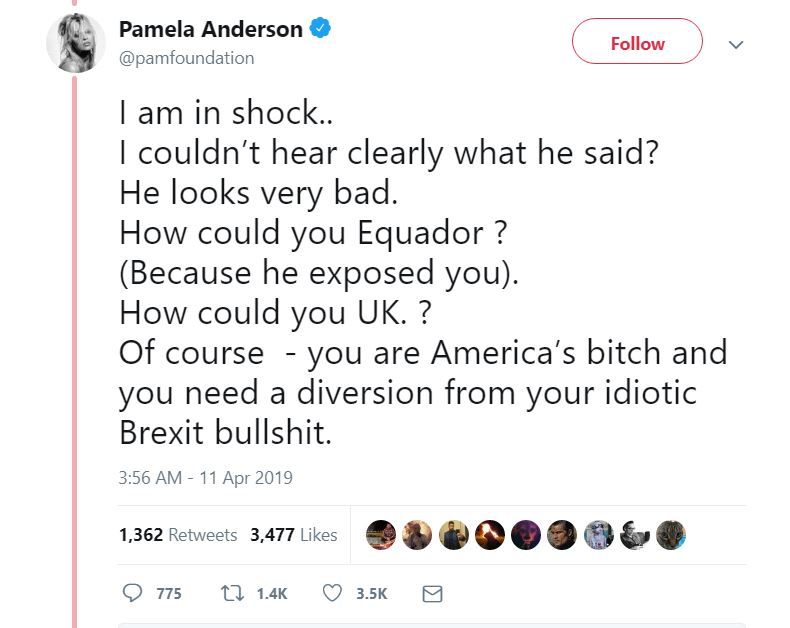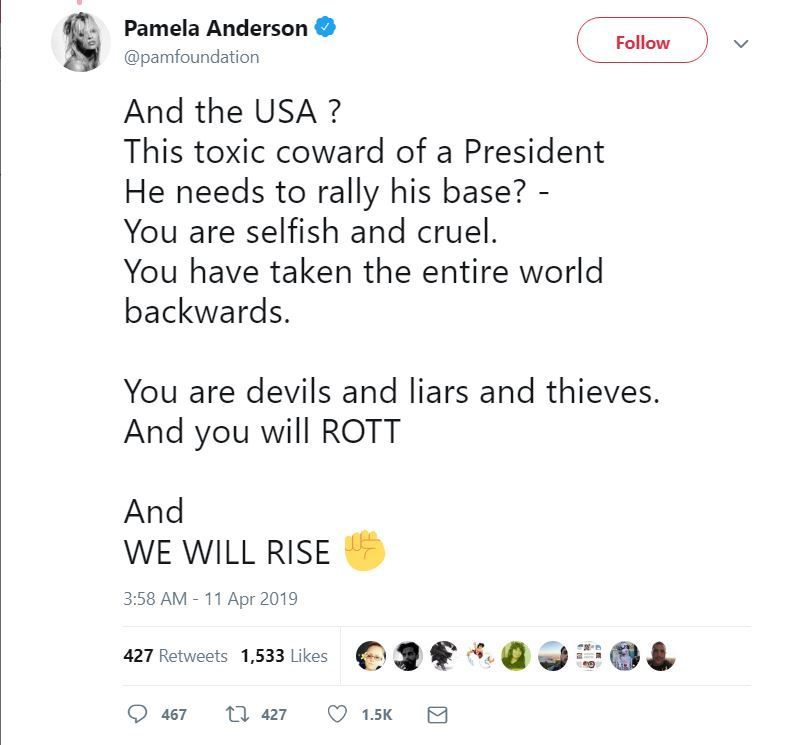 Scotland Yard said Assange, 47, was taken into custody at a central London police station and will appear in court 'as soon as possible'.
Assange, who was born in Australia, was wanted for failing to appear in court in June 2012, confirmed last year by a Magistrates court despite Sweden dropping their request to interview Assange over rape allegations.
Julian Assange was "further arrested on behalf of the United States authorities, at 10:53hrs after his arrival at a central London police station," revealed a statement by London's Met Police, adding:  "This is an extradition warrant under Section 73 of the Extradition Act. He will appear in custody at Westminster Magistrates' Court later today."
Blackmailers had allegedly threatened to release footage of his life inside the Embassy which may have prompted today's events.
Ecuador's president Lenin Moreno has denied that external pressure from other countries had influenced this decision concerning the status of Assange.
But just days ago Ecuador's president was reported as saying Assange had repeatedly violated the terms of the deal he had struck up with the embassy.
Julian Assange's arrest at London's Ecuador Embassy was also branded a "violation" of his asylum rights by veteran human rights campaigner Peter Tatchell.
He said: "Ecuador has failed in its duty to protect its citizen.
"He published evidence of American war crimes. He's a hero, not a criminal.
"The decision of the Ecuadorean government to hand over Assange to the UK police is a clear violation of his Ecuadorean citizenship and asylum rights.
"Assange's arrest will put him at risk of extradition to the US, where he will very likely face charges that could see him jailed for 30 or more years.
"A secret grand jury has been convened to prepare an indictment against Assange and key Trump officials have said that prosecuting Assange is a priority.
"Assange did not leak anything. He published the leaks of Chelsea Manning, as did other newspapers. Why is he signalled out."
Mr Tatchell said that the British government should 'refuse to do the bidding of the Trump administration'.
He added: "It should give public assurances that Assange will not be handed over the US authorities.
"His extradition to the US is not in the public interest."
Assange is expected to appear in custody at Westminster Magistrates Court later today after the grey bearded fugitive was carried from the Embassy in Knightsbridge earlier today and into a waiting police van.
The Wikileaks founder was forcibly removed from the Embassy, where he has been holed up since June 2012, by a team of police in Knightsbridge, west London.
a legal expert weighed in on the extradition prospects and implications of the Wikileaks man's arrest.
Extradition lawyer Thomas Garner said: "He has been arrested over a 2012 warrant.
"The court will deal with him for that breach.
"He is likely to receive a custodial sentence in the UK and it is now possible that the US will seek to extradite him.
"Last year there was a leak saying there is a secret indictment against Assange in the US. They will not confirm or deny this.
"But if there was to be an indictment it will be possible for them to request his extradition. Assange will contest that very strongly.
"He has said for years that Switzerland was using an allegation to force extradition to the USA.
"It's at least possible that there is an indictment in the USA."
"It is impossible to comment on what defence he may or may not have there, particularly given that we do not even know what if anything he might have been indicted with.
"Given Assange's public statements in the past it is clear that he would attempt to raise many bars to his extradition.
"The extradition court here would not come to any conclusions on the merits of the US case in the proceedings here.
"Its sole concern would be whether there are any legal bar to his being extradited to stand trial in the US. The process would take many months to conclude.
"If there were an extradition request from the US, given the likely complexity of the case, it is doubtful that any final hearing would be heard this year."
A Scotland Yard spokesman said: "Julian Assange has today been arrested by officers from the Metropolitan Police Serviceat the Embassy of Ecuador, Hans Crescent, Knightsbridge, on a warrant issued by Westminster Magistrates' Court on 29 June 2012, for failing to surrender to the court.
"He has been taken into custody at a central London police station where he will remain, before being presented before Westminster Magistrates' Court as soon as is possible.
"The MPS had a duty to execute the warrant, on behalf of Westminster Magistrates' Court, and was invited into the embassy by the Ambassador, following the Ecuadorian government's withdrawal of asylum."
UK police have said that WikiLeaks co-founder Julian Assange has been arrested.
He was seen being dragged out of the Ecuadorean Embassy by half a dozen men, protesting this morning.
He has been living in Ecuador's embassy in London for the previous seven years since he took refuge their from extradition for what he said were false rape allegations in Sweden.
"I would like to thank Ecuador for its cooperation & metpoliceuk for its professionalism. No one is above the law."
While on bail he took refuge in Ecuador's embassy in August 2012 to avoid extradition to Sweden for questioning over allegations over sexual offences, which he has denied.
Assange could still be extradited to Sweden as well as the US.
In 2015, Sweden's statute of limitations expired on several of the less serious allegations, and in May 2017, the Swedish chief prosecutor dropped the rape investigation, and rescinded the arrest warrant for Assange, but this was mainly because Assange had frustrated proceedings by hiding in the Ecuadorian Embassy..
Assange technically could still be charged with the more serious offense of rape in Sweden. The statute of limitations on this particular allegation expires in 2020, so Assange could still end up in Swedish custody.
If he is not extradited, Assange faces being deported – either to his country of birth, Australia, or to Ecuador, where he holds citizenship.
MORE FOLLOWS
By Ben Gelblum and Daniel Hammond