Anti-racism campaigners and faith leaders joined protestors outside the Home Office this evening in a protest at the Home Secretary recently whipping up a panic about dozens of refugees crossing the channel last month.
Sajid Javid made a point of cutting his holiday, declaring 100 or so refugees crossing the Channel a "major incident." –  Such numbers are not particularly high, and a fraction of the tens of thousands seeking asylum in the UK each year (- see figures below).
His high-profile visit to Dover, photographed in a patrol boat, is regarded a sign the Home Secretary is gearing up for the impending Tory leadership contest now Theresa May insists she will leave Downing Street after delivering Brexit.
But it may have backfired, with many criticising the Home Secretary when he suggested most weren't genuine refugees.
Such statements aren't just prejudiced but sound prejudicial to genuine refugees coming from a Home Secretary as that would be a decision made by a court after they receive a fair hearing.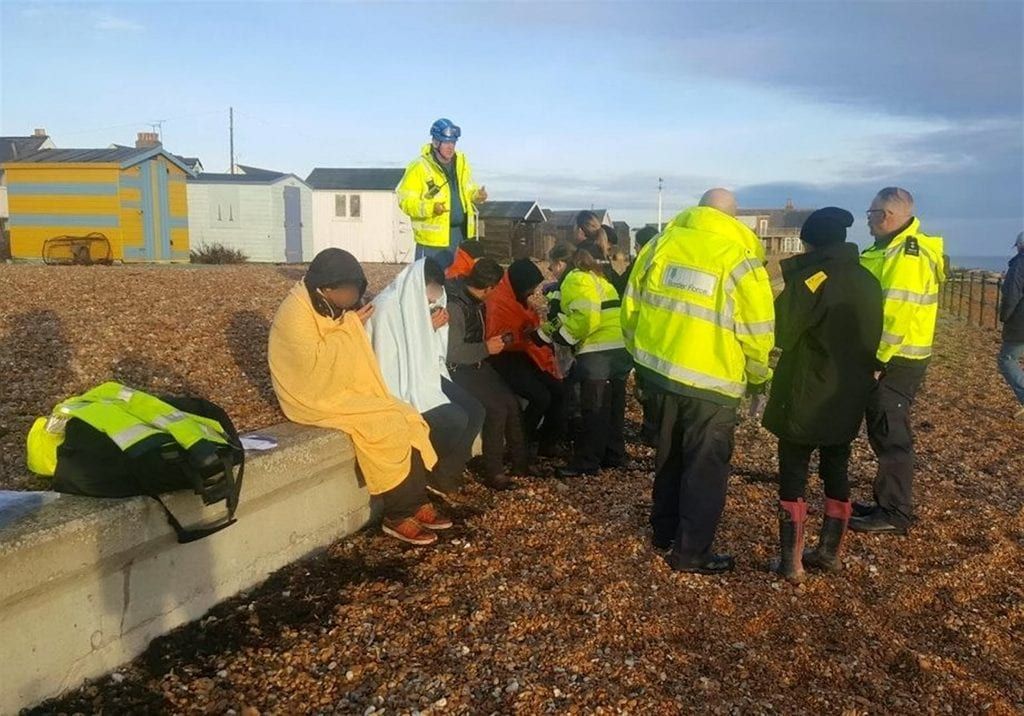 Most appear to be Iranian, so may well claim refugee status. 
Sajid Javid's comments suggesting that the government should make it harder for people to seek asylum in Britain have been branded as a "disgrace" by shadow home secretary Diane Abbott, and as "deeply concerning" by the Refugee Council.
Tonight's protest outside the Home Office in Markham Street, central London, was joined by emotive speakers including Rabbi Lee Wax, Ulrike Schmidt from Amnesty, speakers from Care4Calais and Stand Up To Racism and Michelline Ngongo, Labour councillor from Islington and herself a refugee from the Democratic Republic of Congo.
"The reaction to the Channel Crossing was utterly disproportionate, and purely an attempt to scapegoat and demonise refugees and sow racist division here. In reality, the number of crossings has decreased in recent months in Britain. Why is it that such a small number of people crossing has been treated as a major crisis, yet Javid and his Tory colleagues have done nothing about the crisis of record high homelessness, or the surge in people forced to rely on Foodbanks?" said Weyman Bennett of Stand Up To Racism.
"The response of Javid, the Tories and the right wing media, underlines that one of the challenges we face as an anti-racist movement is institutionalised racism propagated by the state. We should not allow the Tories to scapegoat refugees and migrants for problems created by politicians and their austerity agenda.
"The notion that former banker Javid has suggested that a group of desperate people fleeing war, persecution or poverty, who took it upon themselves to cross the channel in horrific conditions in the darkest depths of winter, may have not done so for 'genuine' reasons is frankly disgusting. It shows the level of detachment Tory politicians have from the reality of the lives of people struggling to survive in the most desperate conditions." 
Rabbi Lee Wax added: "I'm horrified by the treatment of refugees as though they wereillegal criminals. The Jewish community is all-too familiar both with being refugees, and with being scapegoated. It is morally unconscionable to use fear and xenophobia to whip up anti-immigration sentiment. We are standing together on Monday evening to protest, and to remind people that humanity, decency and morality in how we treat the most vulnerable is the hallmark of a civilised society."
Sue Clayton, director of Calais Children a Case to Answer, said "I spent a year in the jungle in Calais where children who had every right to be in the UK under the EU Dublin 3 regulation to be reunited with family were refused and ignored by the Home Office. In addition the government's shameful refusal to bring the legally agreed number of unaccompanied kids with no family to UK, under the Dubs Amendment, has resulted in some kids having died and many more lost, abused, trafficked and left hopeless, hungry and cold at the old Jungle site.
"This is why we sued the Home Office in the High Court in March this year for not following UK law—and causing death and suffering to children who deserved our care.
"The courts have not given judgment yet – despite a promised two months wait for a decision. It is now 10 months later and the kids are cold and suffering. Let's stop this shameful and cynical playing with the rules and causing untold suffering. Make the Home Office accountable!" 
Clare Mosely of Care4Calais, said: "Mr Javid has suggested that refugees picked up by UK authorities could have their asylum requests denied in a bid to prevent others from attempting the same journey. This is particularly concerning as refugees are protected by international law and should not be denied asylum iftheir life or freedom is at risk. These are people who have often suffered, torture, abuse, conflict and more.  It is deeply shocking that Mr Javid would consider using them as part of any political agenda; the UK's legal and moral responsibilities must come first."
How many migrants are arriving across the channel?
Around 230 migrants attempted the crossing in December, with half stopped by French authorities.
For the last couple of months around 100 refugees have arrived this way every month, with a total of 585 in 2018.
The Home Secretary copped a lot of flack for calling such numbers "a major incident." Labour MP David Lammy called Javid "desperate and cynical."
"This is not in response to genuine concern for human life," insisted the Tottenham MP.
"This is Sajid Javid imitating Donald Trump's 'migrant caravan' manufactured emergency to whip up fear before the Brexit vote. Desperate and cynical."
To put the numbers in context, a few hundred in a few dinghies is a fraction of over 30,000 asylum claims made in the last year figures have been made available for – 2017.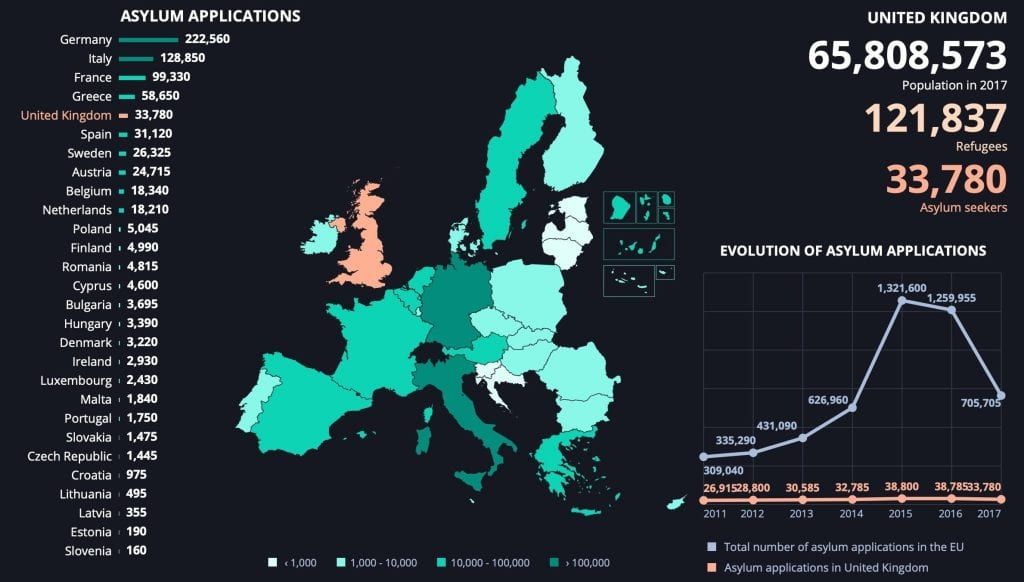 -And to put those numbers in context – which might give us a clue why European countries won't want us returning asylum seekers after we leave the EU's Dublin Regulation – Greece receive almost double as many claims – 56,650, France received 99,330, Italy 128,850 and Germany 222,560.